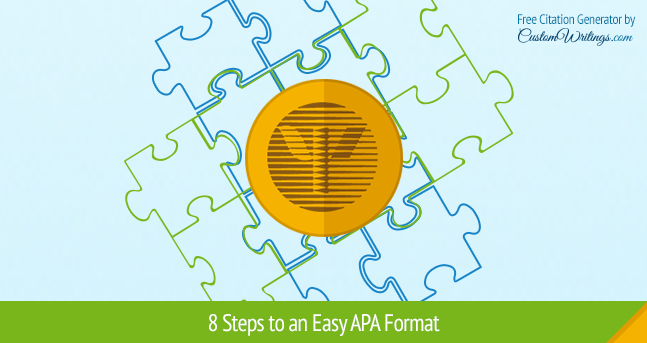 Many students are terrified of APA formatting. Citing sources in this style can be rather challenging for the average college student. Whether we like it or not, we must admit that the guidelines and rules provided by the American Psychological Association may seem confusing. However, if you want your paper to have any value and appear professional and well-crafted in the eyes of your professors, you have no other option than to make it work. A good-quality thesis, essay or dissertation should feature trustworthy sources at the end. However, these sources must be properly laid out for your paper to avoid plagiarism accusations and get a good grade. Here are 8 easy APA format steps to help you write a paper in the APA style.
1. Download an Updated APA Guide
First and foremost, you must download an updated APA guide. The latest version is the 6th edition of the manual. Over the years, the rules and regulations of APA have changed. That's why it is important to know about recent modifications. Note that this formatting style demands parenthetical citations too, not just endnotes and footnotes.
2. Make a List and Write down the Most Important APA Formatting Elements
Next, you should make some time to write down the most important APA formatting elements. If you're citing sources from a printed book, the following order of elements applies: author (author's last name, first name initials), publication date, book titles in italics (only the first word in the title should be capitalized), publication place and name of the publisher.
3. Take Notes & Assess Former APA Formatting Mistakes
Many students make mistakes when formatting their papers in the APA style. However, practice makes perfect so the best thing that you can do to refine your style is to learn from mistakes. Have a closer look at your past papers and highlight your mistakes. Use them as a guide and learn to avoid them in the future.
4. Make a Checklist
When formatting a paper in APA, you should make a checklist and then use it to verify your essay. Cross check every formatting element that's important and absolutely necessary, and then proofread it again to make sure you it is accurate. APA features many exceptions to the main rules, so if you don't know or can't remember how to cite a source, it's always best to consult the manual one more time.
5. Upgrade Your Knowledge by Assessing Your Colleagues' Mistakes
One of the best ways to upgrade your knowledge and improve your current APA formatting style is by assessing your colleagues' mistakes. Read their papers, obverse mistakes and write them down. This will help you improve your style as well.
6. Ask Your Professors to Correct Your Paper
You certainly don't want your paper to be full of mistakes. But it happens even to the best of us. What you should do is welcome their corrections and ask for more information on each correction made. This will help you understand APA a lot better, as well as avoid such mistakes in the future.
7. Practice Makes Perfect
We cannot stress this enough: practice makes perfect. We've said it before, and we're saying it again. If you want to understand the APA style you must consult the 6th edition manual over and over again, even when you're sure how to cite a source. Checking out the styles daily (or at least weekly) will eventually become routine, and you'll end up mastering APA.
8. Use Free Citation Generator
Free Citation Generator is an excellent online tool that you can use when writing papers or essays. It is completely free, and it will greatly help you cite sources correctly and accurately. All you have to do is follow the steps on the website; the formatting you need (in this case APA) will be automatically generated by the online tool.
We hope that these steps will help you make your academic writing with the APA style much easier. If you make them thoroughly, you will definitely benefit from them.