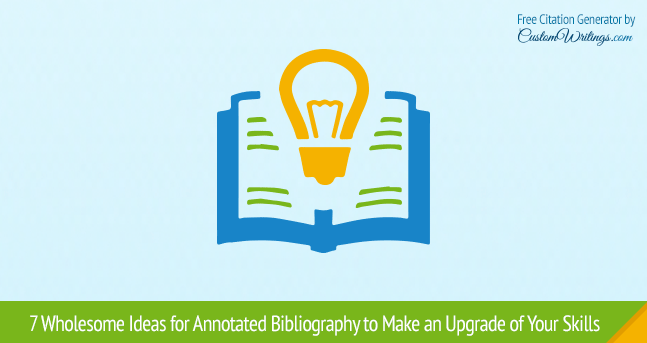 Wiring an annotated bibliography for a college paper can be challenging, and most students already know that. You can't rush the process because you risk making a lot of mistakes. After working a whole semester on a paper you don't want to end up with a bad grade just because you've missed a comma or formatted the name of an author incorrectly. You deserve more! Believe it or not, now you can learn to cite sources without losing precious time. Upgrade your skills and check out the following ideas for annotated bibliography. They will help you hone your current skills and have a polished, well-crafted annotated bibliography from top to bottom.
Make a List of All the Works You Plan to Include
When writing a paper for college that needs an annotated bibliography, you must be extremely well-organized. Draft a detailed list with all the works you're planning to include in your essay as it will help you cite sources and write the final bibliography.
Polish the List Mentioned above
Now that you have a first draft (in writing) of all books, journals and articles that you've used to write the paper, the next step is to polish the list. Double check the names of the authors and the titles. Make sure they're all correct and properly alphabetized.
Begin the Annotation & Decide on a Style
Start annotating each source by assessing each author's background and credentials. In case there's any special bias of the author, make sure to include it. If the author admits to having any particular bias, it is important to be mentioned. As far as the style and format is concerned, your professor is usually the one to inform you which style you should be using. (APA, MLA, Harvard or Chicago).
Outline the Topic Covered
Next, start outlining the topic covered and make sure it applies to your research paper. Prior to starting however, answer yourself this: why am I using this source? Am I using it as a reference or as an authority in my research?
Define Your Audience
A properly laid-out annotated bibliography can say a lot about the paper. Before getting started, you might want to define your audience and make sure that the level of difficulty of your paper and sources cited matches with the audience.
Watch out for Special Features When Citing Sources
In general, annotations are meant to inform the reader of the relevance and quality of the source used. After you've cited your source in a given format, it might be a good idea to keep the annotation as succinct and as informative as possible. The reader should be able to understand what point you're trying to make after having read the descriptive paragraph under the source.
Use Wikipedia to Help You Hone Your Skills
Believe it or not, Wikipedia can help you hone your skills at writing annotated bibliography. Check out this link and prepare yourself to master all the tricks of the trade. The more attention you pay to details the better chances you have to craft the most informative and interesting essay. At first, it will be challenging; but with the tips provided you'll surely be able to make it work.
We all know how difficult it can be to cite sources and write annotated bibliography for our college papers. The good news is there's help available for you online. The Free Citation Generator is a great tool that you can use. It supports main formatting styles; it is also free and really easy to use. Why not give it a try?