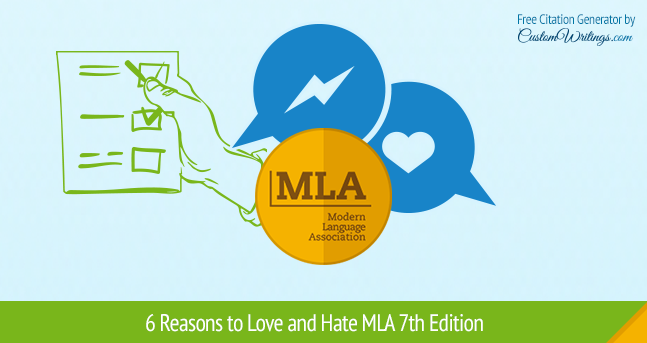 The 7th edition of the MLA (Modern Language Association) handbook for writers or research papers recently came with a few very important updates. Some students will hate these changes; others will love them. The writing style is aimed at students who need to write papers and the give proper citations to original sources.  Here are 6 reasons to love or hate MLA 7th Edition, the choice is up to you.
Underlining vs Italics
Works that are complete no longer require underlined titles. Students must use italics instead. While some will love this change as italics is a more elegant type of font, other students will probably hate it. Underlined titles may seem more compelling; whereas italics may not seem that attention grabbing.
E.g. Fitzgerald, Scott F. This Side of Paradise, Scribner, 1998. Print.
Publication Medium
Every research paper should feature citations at the end. However, now students must list the type of a source used, whether it's web, DVD, audio, print, etc. When using web entries as a citation source, the publication medium has to appear before the access date. Not all professors are fond of their students using the Internet when writing research papers though; and that's because that can seriously affect the quality of the paper.
Optional URLs
Most students love using the internet to cite sources. MLA 7th Edition now suggests skipping URL citations for web sources. While this might seem like an excellent idea, some teachers still ask students to reference them. The MLA template comes with a very clear note: "Optional. Ask teacher" as far as URLs are concerned.
Continuous Pagination
In case article page numbers in periodicals are not successive, students are allowed to list only the first page, and then add a "+" sign. For instance, if you're citing a source that starts on page 10 goes through page 20, and ends on page 30, it's now okay to list all pages used as "10+". However, if the article or study you're citing begins on page 200 and ends on page 300 without any interruptions, the source must be listed as "200-300".
Missing Data Indication
Often times, students are confronted with the task of citing specific sources. However, they might have to deal with missing data. What do you do then? Skip and move on if the information you've found is incomplete? Well, if there weren't MLA 7th Edition, you would have to do so. But now it allows you to use that source anyway if you indicate the lack of data with proper abbreviation:
"n.d" should be used when the source doesn't have a publication date;
"n.p" should be used in case the source doesn't have a publication place or publisher;
"n.pag" is for sources without page numbers.
No Subscribing Library
When using online database citations, it's no longer necessary to list the location and name of the subscribing library.
Example: MLA 7th Edition Handbook for Writers of Research Papers, New York: MLA, 2012. Print
Going through different citation styles and having to adapt your own writing to new requirements can be tough. The MLA 7th Edition is not meant to impede with the rules you already know, but to help you make researching and writing papers a lot easier. So, do you hate it or love it?
And to make sure that you do love it, try our Free Citation Generator! It will help you prepare proper citations in no time at all!