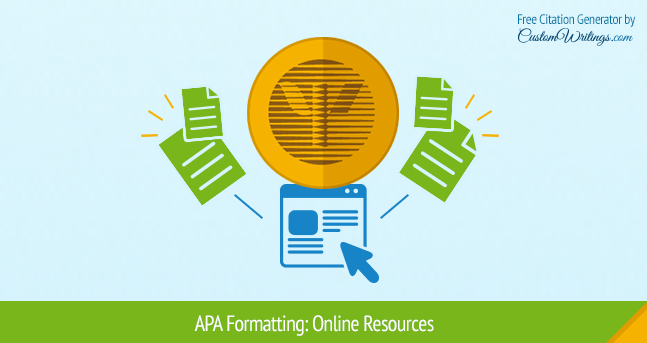 APA (American Psychological Association) formatting can be difficult to understand, as it is a style of writing that is constantly changing. This style of writing and citing sources is most often used in social science classes, like psychology. This does not mean that this citation method can only be used for articles and other sources related to psychology. However, it is most likely that you will be required to use this style of formatting for psychology classes.
Since online resources (articles, blog posts, etc.) are popular sources for essays and other papers, this article will focus on how to cite websites. We will look at examples of how to cite articles with and without authors, articles published by companies, and blog posts.
How to Make APA Formatted Citations
The following section will give the basic formatting styles of each type of citation, followed by an example of a website cited in the specific APA style. An example of the citation used within the text will be listed after the example of the citation.
It should be noted that the date of publication can also be replaced with the article's most recent update. If there is no date given, you can use the website's copyright date for the article date published. If no publication date is given anywhere on the website, you can use n.d. in the date spot.
A Website with an Author Given:
Author last name, first initial. (Year, Month Date Published). Article Title. Retrieved from URL
A Website with no Author, but Published by the Company:
A Website with no Author Given:
Article title. (Year, Month Date of Publication). Retrieved from URL
Blog Post:
Author Last Name, First Initial. (Year, Month Date Published). Article Title [Type of blog post]. Retrieved from URL
Article from an Online Database:
Author Last Name, First Initial. (Year, Month Date of Publication). Article Title. Journal Title, volume number, page range. Retrieved from URL
Electronic Books:
This citation should only be used if you found the source online, not if you are reading a book that is also available online. If you are using a book that is ONLY available online (in digital forms) used "Retrieved from URL" if you are using a book online that is also available in print, use "Available from URL."
(Denham & Lobeck, 2012)
Online Citation Generators
There are several online citation generators that can create APA formatted citations for you. With many of these citation websites, you can simply copy and paste the website's URL (if you found your source online) into the website or you can manually input the sources components (author, article, date, etc.) to make your citation. Our Free Citation Generator can well be used to simplify the whole formatting procedure.
Other Types of APA Citations
The citation examples in this article are some of the most commonly used online source types. However, if you used an online source that was not listed in this article, you can always use an online citation generator to make a citation for you, or you can look at style guide websites, like the Purdue OWL, to learn how to cite other sources in APA, including both online and hardcopy citation sources.
We hope that this article can help you with some of your basic APA citation needs.