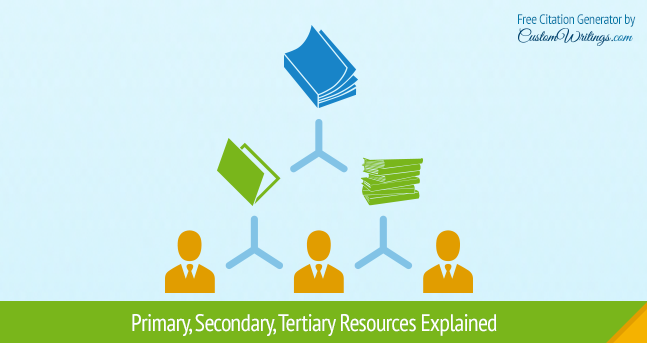 When researching the topic, it is crucial for students to comprehend the difference between sources from where they can derive information. These sources enable students to conduct thorough research and look into every aspect of their assigned topic. Thus, it results in writing a cutting-edge research paper.
Sources are classified into three categories: primary, secondary and tertiary. We will briefly explain each category and the differences between them.
Primary Sources
Usually they are firsthand documents. They include the study of the original data, ideas and theories. The student is encouraged to look into creative works, firsthand records of events and published results.There are various ways to extract information from primary sources:

Students may conduct face-to-face interviews with writers whose books they are researching on.
They may study the diary and letters of the victim if the topic is on a criminal case.
Researchers may analyze original artworks, photographs, speeches and works of literature relevant to their subject.
For students studying science, conference proceedings are a reliable source of primary information.
Lab notes can be considered a valuable tool for in-depth research on the assigned topic.
Other potent tools are technical reports, patents, preprints and theses.
Secondary Sources
The information found in secondary sources is simply a summary of the information from primary sources. Data from the primary sources is analyzed, studied and reviewed into compact and specific information. This makes it easier for the researcher to spot particular ideas relevant to their topics.Secondary sources contain commentary and discussions on primary source information.

Students may read biographies of authors, musicians, artists or whoever the research is based on.
They may look into articles in newspapers related to criminal cases.
Dissertations, monographs and indexes are also credible sources of secondary information.
For medical students, textbooks are an effective way to gather secondary information. Students can easily study their topic by finding the right chapter in the book.
Feedback and reviews by others will give students substantial insights on their subject.
Tertiary Sources
Tertiary sources provide verified information which has been gathered from other sources. The data is synthesized and published in a more convenient form, making it easier for students to interpret and use it.Tertiary sources present a summarized and filtered version of materials gathered from primary and secondary ones.

Dictionaries are the most dependable sources of tertiary information. A straightforward definition of the topic may help students comprehend their subjects easily.
There are subject-specific encyclopedias available for students to use accordingly. They can look into encyclopedias for a useful overview and better understanding of their subject.
The difference between each source can also be explained through examples:
| | | | |
| --- | --- | --- | --- |
| Subject | Primary Source | Secondary Source | Tertiary Source |
| Art | Sculpture | Sculpture critical review | Article on the artist in encyclopedia |
| Literature | Poem or novel | Essay on some topics in the work | Encyclopedia info on the author |
| Chemistry | Chemical patent | Book on chemical reactions | Table of related reactions |
| Physics | Einstein's diary | Biography of Einstein | Dictionary of relativity |
Each source has different interpretations which may change according to the subject. An individual document may be a primary source for one subject and a secondary source for another.
It is important for students to be familiar with these sources to save time and energy spent on research and collecting information. If you know the right places to look at, chances are, you will find what you are looking for.
And if you want to save time preparing your bibliography in a particular citation style, use our Free Citation Generator. It will surely help you!