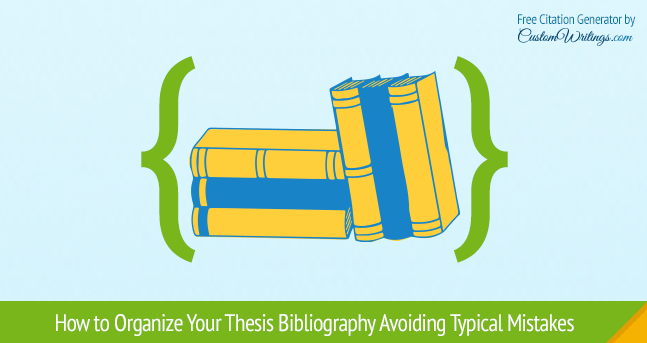 Many students make mistakes when writing bibliography for their thesis. Some don't bother learning the formats, whereas others find it really difficult to understand them: MLA, APA, Harvard and Chicago. Theses are papers based on research, which can often exceed 60 pages. That being said, it's only natural for even the most devoted student to make mistakes when including bibliography.
Getting it right the first time is tough, but not impossible. Here are some useful guidelines on how to write a thesis bibliography without making the most common mistakes.
Make a List with All the Sources Cited
It is important to have a complete list of sources for your thesis in order to avoid accusations of plagiarism. Make the list as you write the paper, and double-check it after you've finished it. This way you'll be sure that your paper is backed up by proper sources.
Stick to a Format
Wring a bibliography for a thesis can be done in several different ways. This usually depends on the theme of your paper. Usually, professors provide their students with guidance; they're the ones to tell their students which formatting style should be used – Harvard, Chicago, APA or MLA. Note that each format has its very own set of rules for adding bibliography.
Check for Updates When Citing Sources
Formatting styles for writing theses and bibliographies abide by a set of strict regulations. However, in time these rules can change. It is important to check for updates regularly in order to be sure that you're formatting your paper correctly. For example, the MLA Handbook for Writers of Research Papers recently went through an upgrade, and now students must familiarize themselves with the new changes present in the 8th edition when adding bibliography to their thesis.
Choose the Most Relevant, Current and Up-to-Date Sources
A thesis is not a long article you can just rewrite from a website. It is a detailed paper that demands thorough research based on up-to-date, relevant information that can only be taken from trusted sources like books, journals, official documents, and reputable websites.
Alphabetize Your Sources
When adding bibliography for a paper, the student is required to alphabetize the sources used. This way the thesis looks polished and well-organized. Formatting styles recommend students to cite their sources after the author's last name. The rules may differ and you will be required to assess the rules of each formatting style required for your paper.
Support a Statement with Cited References
Many students choose a good source for their thesis but don't know how to back up their claims when adding bibliography. Be careful as adding a source to your thesis, but not actually using it in your paper can truly decrease the quality of your thesis.
Last but not least, to avoid common mistakes when adding bibliography, you should use the Free Citation Generator. This online tools supports main formatting styles, thus saving you time when having to add sources for your thesis bibliography.