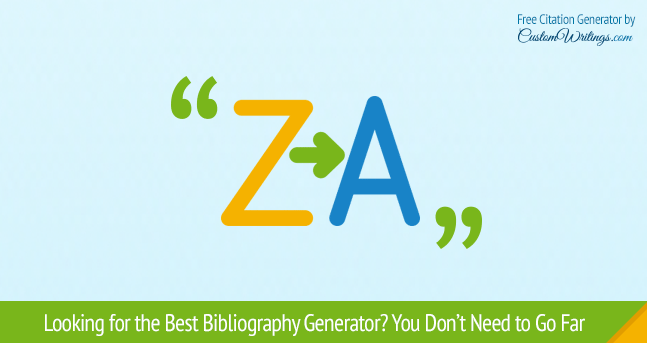 Are you having issues writing bibliography for your essay or college paper? Don't worry; you're not the only one. Most students are going through the exact same issue. Some of them don't really care about this aspect and choose to cite sources at random. Others, on the other hand, are extremely meticulous, and actually want their work to be qualitative and properly cited.
Writing bibliography is not as easy as it seems. It is important to pay attention to every detail, especially when citing sources. For an essay, dissertation or thesis to be 100% original, it must feature qualitative sources from books, research papers, and websites that provide accurate information. Sadly, we all know how difficult it can be to write bibliography. The formatting is complex and most students don't want to spend another few hours citing sources after having already spent days writing the paper.
Fortunately, there's a way we can help you ease this process. If you are looking for the best bibliography generator, know that it is very difficult to find one because every tool has its own advantages as well as drawbacks. But we can recommend you a decent citation generator that students can use to cite source and add bibliography to their papers in the right format. Here are some guidelines on how to use it.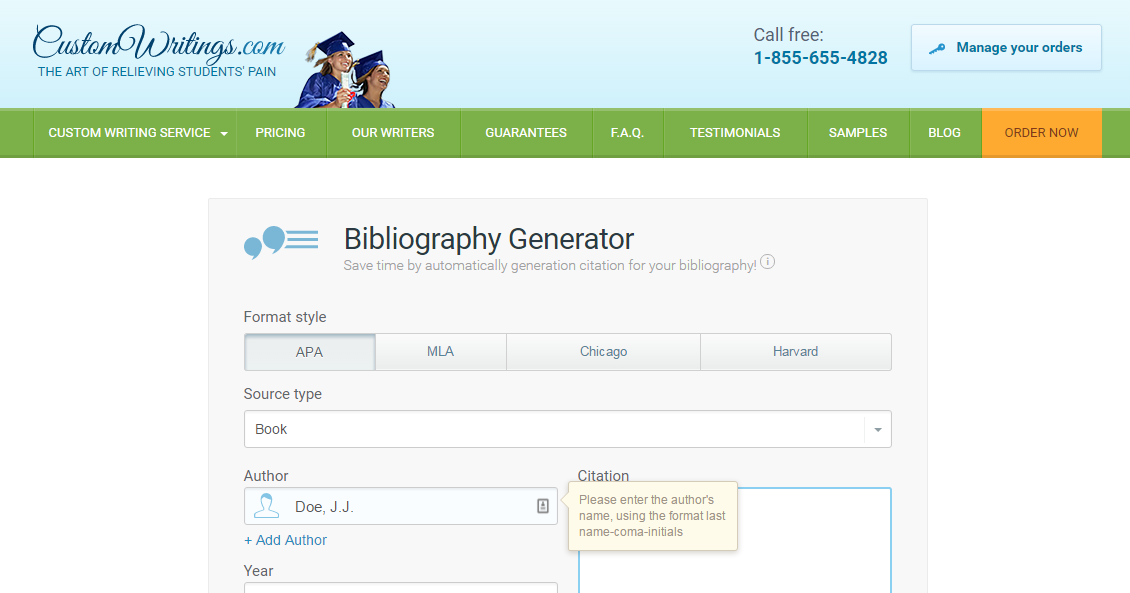 2. Choose a Format Style
Next, students should choose a formatting style. The tool supports APA, MLA, Harvard and Chicago styles thus helping you cite sources correctly and accurately.
3. Choosing the Source Type
Then it's time to choose a source type. Most trusted sources are books, journals, e-books, research papers and official websites. Choose one and then move onto the next step.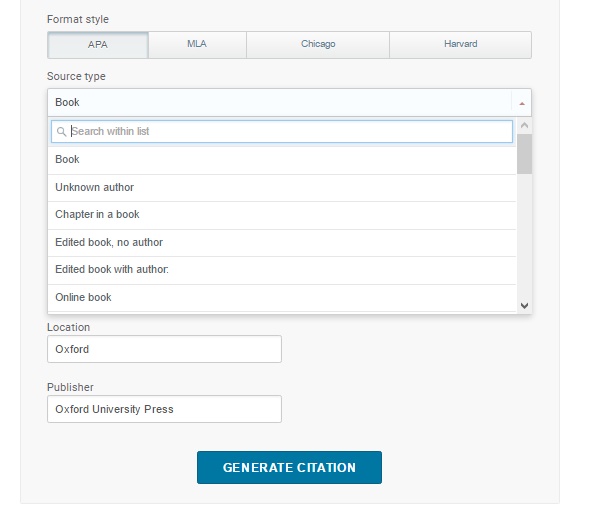 4. Introduce the Name(s) of the Author(s)
After you selected a type of the format and source, you must introduce the name or names of the authors. When writing the name of an author, make sure to use the following format: last name, coma, initials.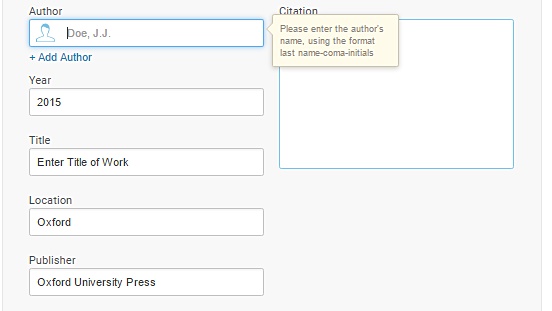 5. Mention the Publishing Year & Title of the Work
When taking information from a book or research paper, you are advised to look for the publishing year as well. Then you need to write the title of the work. Make sure to write the full name as it appears on the original book, journal, website, etc.

6. Don't Forget about the Publishing Location & Publisher
You're almost done! Now you need to insert the publishing location of the source cited and write the name of the publisher. That's it! Hit "Generate Citation" and based on your chosen format, your citation can be found in the box on the right. Unlike APA, MLA requires some additions. Students will also be required to include the book's number of edition, and type of recording – print, e-book, Kindle, DVD, etc.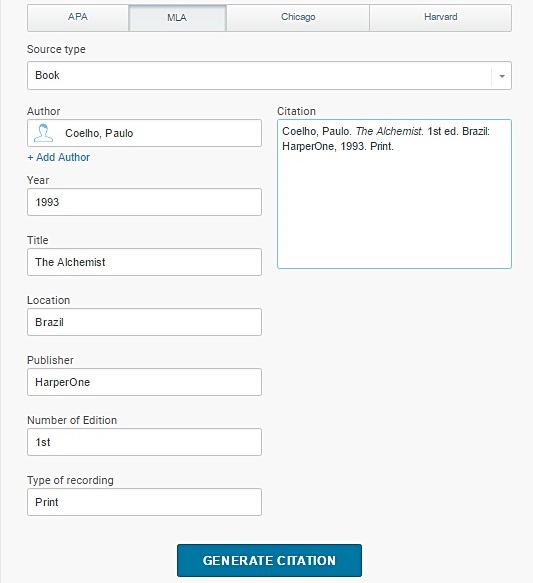 Using a bibliography generator to cite sources can be incredibly helpful for students. Believe it or not, adding bibliography at the end of a paper is challenging. You need to pay close attention to punctuation and formatting style when writing the title and name of the author of a paper. However, with Free Citation Generator everything will be clear, and all you need to do is to make a few clicks for your source to be cited perfectly.