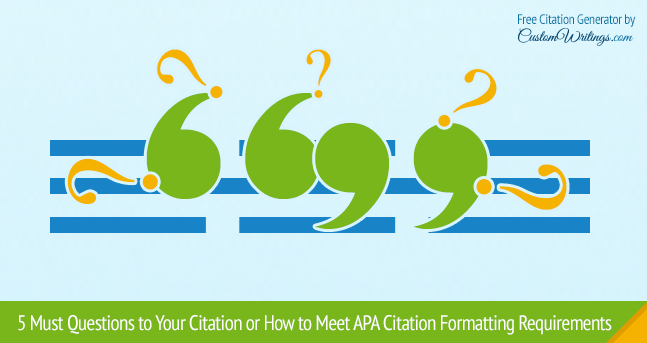 When citing sources, a writer must be extremely careful not to omit any valuable information. APA citations, in particular, must be added with extreme caution at the end of a paper. However, since students can use different sources for citations, it's understandable that they might get confused on how to write them. The APA citation type has different formatting styles, meaning that it's perfectly normal to get confused every once in a while. Before doing anything else, dwell upon these 5 questions you need to answer to make sure you meet the correct APA citation formatting requirements.
1. What Is Your Name?
When citing sources in APA format, the first thing you need to include is the name of the person who has written that source – the author. The last names must be written in full, and only initials are used for the first names, followed by dots.
Example: Smith, G. (publication year, month). Publication name.
These rules apply when citing books, journals, magazines, newspapers, or articles taken from websites.
2. When Were You Born? (Tell how to write the publication year)
Most sources used for citations have publication years. Just like everyone has a year of birth, books and articles have a time of creation. Following the name of a publication, in APA format, a student must also add the publication year.
Example: Smith, G. (2005). Publication name.
3. What Are You Interested in?
Writing the name of a publication in APA format might seem a bit challenging. But if you pay close attention to detail, you'll notice that the process is actually pretty simple. When citing books, the name has to be written in Italics. Make sure to capitalize only the first word of the publication.
Example: Smith, G. (2005). Patience is bliss. City of the publisher and Country.
Don't use italics when citing an article from a magazine or newspaper. Nowadays, students are extremely fond of citing sources from websites because these are easier to access. The same format applies:
Author name. (Publication year). Publication title. After the titles make sure to include the URL of the website under the following format: retrieved from Website Name.
4. Where Are You from?
As individuals, we all have names, years of birth, interests, and places of birth. The exact same thing applies to the papers that we use as sources in our theses or dissertations. In APA, style you need to be resourceful. It's not enough to write down the name of the author and the title of the book. You have to search and find where that particular publication has come from.
Example: Smith, G. (2005). Happiness is Bliss. Chicago, Illinois.
5. In What State or Country Do You Live?
Last but not least, a source cited in APA ends with the country where the book or journal was published. If the source you plan to use was written in the US, then you need to include the city and the state. If it comes from another country, you have to put the name of the city, and then the name of the country.
Example: Smith, G. (2005). Happiness is Bliss. Paris, France.
Citing sources can be quite easy if you use these simple tips to check it. Do not neglect this useful guide! Learn these questions and be always sure that your citations are perfect.
To sharpen your skills at citing, you can use a Free Citation Generator. For sure, your professor will ask you to cite any source you have used in the paper, such a service will help you learn how to do this properly.