Understanding that you will get a low GPA after high school is a tough experience, but not the end of the world. You still can get into college with a low Grade Point Average. In this article, you can learn how to get into colleges with a low GPA and what low GPA colleges are close to you in your state.
What Is a Bad GPA in High School? Does It Mean I Have No Chance of Getting Into Colleges?
Grade Point Average is a summation of all your grades through the high school years, divided by the number of credits you took. This point is important to your college application options, as it presents your academic achievements and diligence to the admission committee. Usually, a bad GPA in high school means that you scored lower than 3.0. Even after getting bad GPA scores, you still can get into some colleges.
How do high schools and colleges calculate GPAs?
Your high school can use different grading systems, such as A-F letter grades or different variations of numeral grades (100-0 or 5-0 systems). However, if you wonder what is a bad GPA in high school, the general correlation of grading systems and GPA grades is as follows:
"A" on the letter grade, "90-100" or "5" on the numeral grade, and a "4.0" GPA score are considered high scores for school students.
Average or "satisfactory" scores
"B" on the letter grade, "80-89" or "4" on the numeral grade, and "3.0-3.9" GPA scores are average for most students who get accepted into college.
"C," "D," and "F" on the letter grade, everything below "80" on the numeral grade, and everything below "3.0" GPA grades is considered a low academic achievement for the student.
Pro tip
You can get into college with as low a GPA as 2.0.
Lowest GPA to get into college. What is the absolute minimum?
If you wonder what is the lowest GPA to get into college, it's 2.0. However, the majority of colleges usually consider only the students who scored at least a 3.0 GPA grade. Even the colleges that accept low GPAs usually do not consider students with lower grades.
Still struggle to write a perfect paper? Leave it to professionals!
What happens if you have a low GPA in high school?
This question typically comes along with several other common worries of students, so it would be better to answer them in a nutshell.
Q: What happens if you have a low GPA in high school? Can you get into college with a low GPA?
A: As a consequence of getting a low GPA, you will have fewer options and programs to apply. Also, the colleges that remain available for you will likely have a lower average ranking for education quality. However, there are "low GPA colleges" that you can apply to.
Q: I did bad in high school but I want to go to college. Can you get into college with a 2.0 GPA?
A: Yes, you can. Although applying to colleges will be more complicated for you than for the average student, getting accepted into college is still possible for you.
Q: What if my GPA is too low for college? Can I somehow improve the situation after scoring a low GPA in high school?
A: Your chancing of getting into a specific college depends on a few more factors apart from GPA. Here are some factors that will make you more competitive before applying to college:
Search for colleges that require SAT or ACT tests instead of GPA results. Search for what is the lowest GPA to get into college in your area. Maybe what is "low" for you is acceptable for the admission committee.
Work on preparing for the SAT or ACT
Develop a strong college application essay. Make sure it precisely fits into the particular program you are applying to.
Participate in extracurricular high school activities and consider volunteering.
Get leadership experience to make yourself a more interesting candidate for college.
Q: What colleges with low GPA requirements can I apply to?
A: There are a lot of colleges you can apply to, even if you have a low GPA. To start with, you can check these: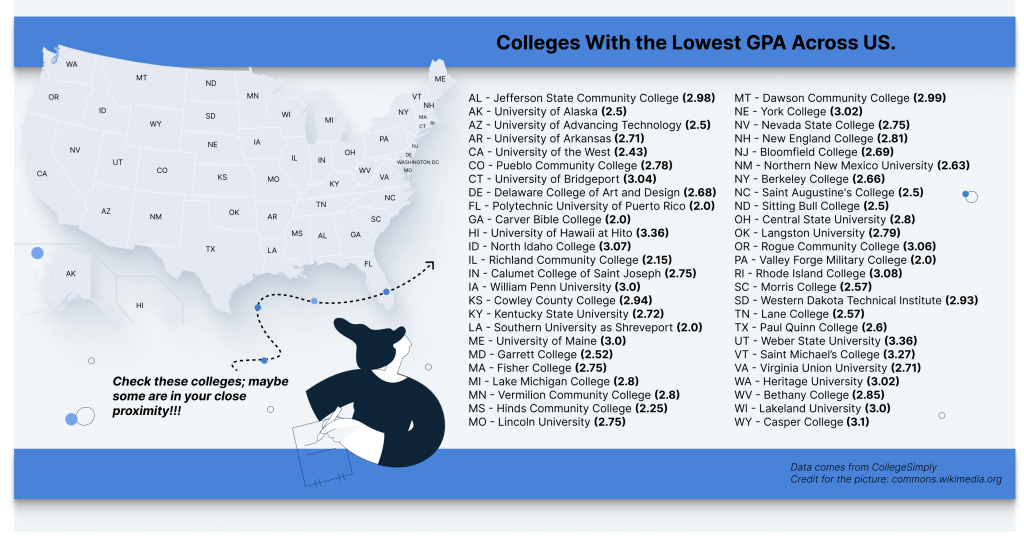 Q: How can I accurately calculate my GPA?
A: You can use the College GPA Calculator. All you need to do is put your course titles, your scores, and the number of credits. You can get results either in percentages or the letter score system.
Why is my GPA so low?
If you ask, "Why is my GPA so low," you have most likely skipped the introduction parts of your high school courses. That is when teachers typically present all grading and curriculum plans to students. Here are a few major reasons why your GPA can be low:
You missed many classes or assignments. You get scores by collecting them through the course, completing your assignments, and showing up to classes. Probably, you have missed some, which resulted in your grades dropping.
You had poor study habits and schedules. You may be a studious person and try hard to do all your assignments. However, if college students have no sustainable study routines, it usually negatively affects their grades.
Your assignment grades were consistently low. Your GPA results from your annual or semester marks, and these come from your daily performance in school. A low GPA means a low academic performance in your classes.
How to Get Into College With a Low GPA
First, let's clarify that "How to get into colleges with a low GPA?" and "How to get into college with bad grades?" are two slightly different cases. The first one applies to those who already received a low GPA and the second supposes that you are still studying and worrying about your future GPA. Now, let's consider both cases.
How to get into college with bad grades in high school? You have bad grades, but still have time
Remember that even a few months of diligent studying can improve your grades. College admissions are usually long-term processes, so you can work on standard college tests or try to drastically change your grades. Most schools have a career counselor, so the best thing you can do is ask for help. Contact your teachers and say that you are ready to work hard and want to perform differently from now on. Ask whether there is anything that you can do.
How to get into colleges with a low GPA? You have no time left
First, make a list of all colleges with no GPA requirements (they will ask for ACT or SAT tests instead) or the lowest GPA colleges near you. Second, work hard on preparing for the SAT or ACT. Third, make yourself a competitive applicant by gaining or remembering your leadership, volunteering, or other extracurricular activities. Collect everything that makes you outstanding and put that on your application portfolio.
Сolleges That Accept Low GPA and the Ones That Value Other Criteria
If you have a particular college in mind and wonder is your GPA good enough to try applying, it would be best to contact someone from the college's admission board. However, if you have no idea where to start, here are a few universities that have more lenient admissions criteria:
The average GPA that the University of Arizona accepts is 3.39, which is a below-average result. It means that you can have mostly B's and some random A's and easily get accepted. Moreover, the minimum bar is even lower if you are an undergraduate transfer student. In that case, you can apply, having a minimum 2.5 GPA score.
The University of Alabama has a flexible admission system for those who, for some reason, have low GPAs but still want to get into a good college. The system works as follows:
If you have a 2.00-2.49 GPA score, you need an 18 or higher/ 950+ ACT/SAT score to be considered
If you have a 2.50-2.90 GPA score, you need a 17 or higher/ 910-949 ACT/SAT score
If you have a 3.00-3.49 GPA score, you need a 16 or higher/ 870-909 ACT/SAT score
Kansas State University accepts students with a minimum 3.25 GPA score. However, you can skip the GPA requirement if you meet the criteria of a 21 ACT score/1060 SAT score.
Low GPA Colleges. How Can You Not Miss Your Last Chance?
GPA in college is not an absolute or the only measurement of your prospect as a student. You must know precisely what qualities, skills, and talents the particular college values in applicants. For instance, the Harvard College Admissions Committee considers also the applicant's ability to take advantage of available resources: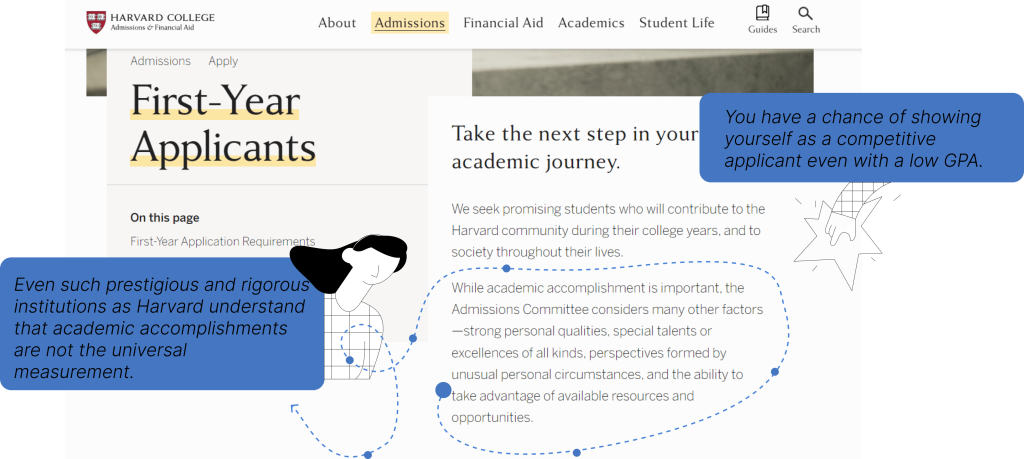 Prestigious colleges usually understand that no matter how good a person's education is, success depends solely on one's capacity to apply knowledge to practice. Hence, if you have a low GPA score but still want to get into college, think closely about what other competitive qualities you have.
If guides and tutorials don't help you write, try our secret method!