One of the most popular essay topics among students is "My Life" where every student tries to describe his/her life in details – which problems exist, what priorities, and outlooks he/she has, etc. It can also be called an autobiographical essay but no in the pure form where you provide the reader with autobiographical details – when/where you were born, at what school you were studying, etc. It's a little bit different.
To write a good descriptive essay about life, you should be able to describe some key elements of your life:
Mindset
Environment
Relationships
Everyday activities
Hobbies
Experiences and many other things that make up your life
Start writing an essay on your life after reading this article – it contains useful information on what to write about in the given essay. It can be needed for an admission essay or any other assignment at school, college or university. Besides, you are offered a well-written essay sample on the topic "My Life". Follow it and finish any task with ease!
What Makes a Descriptive Essay on Life so Valuable 
Life essays are important for the development of self-confidence. When people write a daily journal, they reflect on their strengths and weaknesses. The same practice helps them to analyze their actions. Later, their decisions become more informed and thoughtful. Writing essays on life is the same as retelling the story for the literature class. Students get used to identifying the key ideas of the plot. They also share insight into morals. Essays on life contribute with a similar benefit. Moreover, it's more applicable to reality because they teach the authors by their own experiences.
Another crucial benefit of papers about students' living routine is their opportunity to speak up. Not all people are good at self-reflection. The latter is vital for becoming able to defend personal points of view. Imagine if the person doesn't know how to interpret their own desires, impressions, and emotions. Will they be able to stand for their values in reality when the time comes? Educators can also specify the topic of the life essay. As a result, some students will evaluate their friendship style or work ambitions for the first time. Each life essay topic has a strong potential for opening the writer's eyes on something important.
Still struggle to write a perfect paper? Leave it to professionals!
The Diversity of the Life Essay Genres
Deep psychological analysis. There's no need to begin with any unusual genre. This one is the most significant either. Self-reflection is a path to exploring psychological secrets. Human nature is full of light and dark sides, although these definitions are subjective. Essays on life empower the writer's ability to recognize individual psychological specifics. When they become good at writing essays on life, their communication skills improve too. The reason is that learning about personal mental state allows understanding and reading others' minds too. A life essay is always a prosperous field for new findings in the psychological sphere.
Personal philosophy definition. Have you ever been asked to describe your own philosophy of life? Indeed, everyone has got a special attitude to their destiny. Some people struggle to reveal the higher meaning behind the world's order. The others are interested in the opposite – they'd like to make complex things sound simple. Essays on life provide you with a chance to think about the basis of your unique philosophy. What are your primary values and how do you integrate them with daily actions? Do you want to change your life or to preserve something dear? This is where you can think about what brings sense to your existence. "What does the the story of my life essay have to be about?"
Self-irony and entertainment. Self-reflection turns you into your best friend and motivator. If you can look at your mistakes or struggles with humor, you win. The more you proceed with such essays on life, the harder it is for others to stop you. Furthermore, the tactic lets you enjoy the opportunity to learn. Failures are not bad until they teach and inspire us to do better. You'll also thank yourself every time you reread a life essay after a while. The cheerful or even sarcastic tone will warm your heart up eventually. Remember – leadership is being positive in a negative situation. And power is to face your fears and weaknesses instead of pretending that they don't exist.
Inspiration Sources for Your Essays on Life
There are multiple incredible pieces which can show you how to write essays on life. What is more, such literature works serve as a major inspiration for following their example. A lot of people are interested in writing about life after reading A Moveable Feast by Ernest Hemingway. "Writing an essay on my life? Easy!" That's how one of the greatest essay writers of all times would say. Hemingway's book is full of remarkable stories from the writer's life. He meets other famous celebrities and describes glamorous events in different countries. He shares some gossip, but everything sounds natural. You're reading your friend's story and want to share something from your side in response. A range of famous people intend to write more autobiographical books, though. Nonetheless, they're still worthy of reading to survive in this rough society. For example, Michelle Obama confirms a range of unpleasant moments from her youth in Becoming. Indeed, her ability to ignore them proves to others that they can overcome difficulties too.
Another world-famous essay on life is Angelina Jolie's My Medical Choice. Years ago, she encouraged thousands of women around the planet to proceed with a medical check up. The actress was open about her genetic predisposition to cancer. Her mother's example has influenced her sufficiently. Jolie has decided to do complicated surgery and to share her choices with the public. The act helped her readers to become unafraid of the same medical steps which scare people usually. This is an example of how being sincere prevents judgment and attracts love. Celebrities suffer from the never-ending attention to their private lives. It makes it even more difficult for them to be open about individual morals and values. Jennifer Anniston has written a similar essay, For The Record,  on pregnancy. It was challenging for her, but she found strength to be straightforward.
What Can You Tell About Your Life: 5 Key Points to Include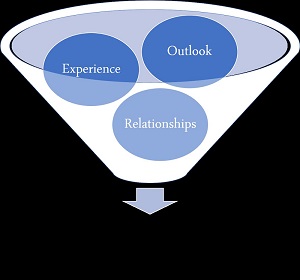 The main question you should ask yourself is "What would be interesting for me to know about the life of any other person?" Imagine you want to know more about your favorite actor or singer. What will you ask him/her about? As it is possible to find out most of the factual information with the help of the Internet today, there is no need to ask about the age, date or place of birth. It is better to focus on the following points while writing a descriptive essay "My Life":
What is my attitude toward life?
How do I perceive my life?
Which life experiences influence the way I face today's world?
What do I want from life?
Do I enjoy my life to the full or not?
Today, I write my essay for college but what kind of future do I see for myself?
Answering these key questions in your essay, you become closer to the fulfillment of the main goal of essay writing – to describe your personal life vividly. Besides, you can answer some other questions that are also relevant to life. For example,
Is there any challenge in your life that you should overcome or you've already overcome?
Have you ever dealt with failures in your life?
Do you learn from the real-life experience?
What's the relationship between you and your family?
Who are your friends?
How do you spend your free time?
Do you have a passion or hobby in your life?
Have you traveled outside of your country, city?
Mind all the aspects that could reveal your life to the reader to the fullest extent – let your personality come through an essay. Look at how it is done in the essay sample below!
Essay Sample – My Life Is …
Life is beautiful and yet life is not a bed of roses. Though it is full of ups and downs, it has many facets of blessings and successes. To some people, life is hard, cruel and merciless. Thes people see life as punishment throughout their entire lives. They, therefore, resigned themselves to fate, believing all is finished. To them, nothing that they do can ever be good. They take delight in committing crimes and maiming others to avenge their ill-fortune. They lost every sense of direction and most times, some of them go as far as committing suicide, just to escape the injustice life has meted out to them.
But there are those who see life as a challenge, a channel of discovery and innovation, a prospect for success and a gateway to wealth. To them, life is sweet, colorful and kind. No matter the situation these people find themselves, they keep pressing on, believing in a cause, a cause to succeed and get the most out of life. No wonder an adage says, "Where there is life, there is hope." Personally, I belong to these people who enjoy life.
The will to succeed or fail lies within an individual jurisdiction. You can live life to the fullest with utmost satisfaction and fulfillment if you determine with all your mind, body and soul to succeed. On the other hand, life can be miserable to you if you take everything for granted and wait on fate to play itself out. The setting of goals and strategic plans that will strive no matter the odds which may move against you is one of the basic things needed to get the best out of life. These goals which must be result-oriented should be followed up consistently even if things seem blurred or unyielding at first.
Also, the mind is the center of everything. It controls your thoughts and beliefs. A focused mind has never failed. A positive mind helps one to discover talents and potentials. Great men and women, both living and dead, had their minds focused on something and nothing deterred them from achieving their dreams. Each of them had a belief, should I say faith, which they held onto, they nurture the belief, focused all their attention and live on it. And today, we have benefited in one way or the other from their inventions and great ideas.
Life is a challenge. And for anyone to succeed in life, he/she must be ready to show the stuff they are made of. He/she must be ready to sacrifice time and build up the mind frame toward success. What is happening in our environment should not influence or affect us in our daily quest for success in life. Instead, we should control the happenings around us.
Life is so easy, yet many people rush and miss what they want to achieve in life. Don't rush in life. Take one step at a time. Each step should be properly planned before being launched. Steady, balance, mark and shoot. And before you know it, the sky will become the beginning of your success.
All the great men of today, has one way or the other tasted the other side of life but they did not cower. Instead, they were renewed to redefine their goals; they ride on with faith, believing in their potential, focusing their mind on something, knowing fully well that in every black cloud there is always a silver lining.
I take life to be very simple and do you know what? Life is to be enjoyed. What about you?
As you see this essay is a chance to express your life philosophy and values to the readers and give them a sense of who you are. For example, the admissions committee can make sense of you as a potential student in a college you're applying to or vice versa. So don't pass up this chance to reflect your personality in this essay by describing what your life is like in details and how it has shaped you.
The 'Into', 'Through', and 'Beyond' Approach to Writing an Essay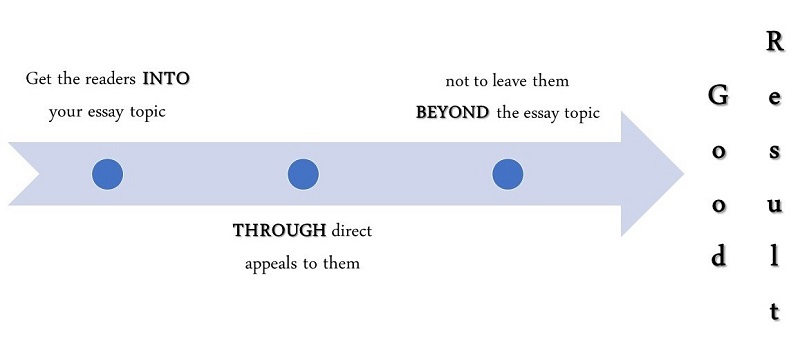 Certainly, you need to describe your life in this essay. But what is a sense when there is no relevance to the reader? Indeed, this topic is quite philosophical to involve others in its discussion. It is true there is no possible way to discuss it on paper, but still, it is possible to touch on the reader. Despite the fact that you should tell about your life in your personal voice, you should address the reader directly. Look at how it is done in an essay sample. The final words deserve a special notice – it is a direct question referred to the reader. Be sure it will play a positive role!
Summary
So, now you have the right framework for writing the descriptive essay on the topic "My Life". Don't waste time and start writing immediately – the early start makes easy stages!
If guides and tutorials don't help you write, try our secret method!