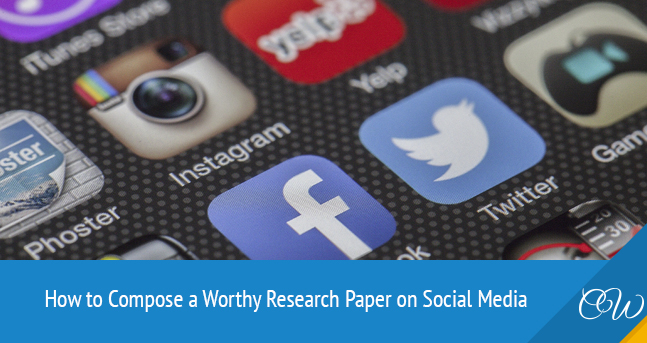 One can hardly find a person who has never used social media. Twitter, Instagram, Facebook, LinkedIn, WhatsApp, WeChat, and other social platforms let people communicate, find good friends, learn new things, get a job, purchase things, study, learn languages, and do a number of other things. Still, it's not so easy to find interesting research paper topics on social media.
Research paper on social media is a typical academic task for students. That's quite difficult to investigate the topic being addicted to social media. Contemporary students cannot imagine their lives without virtual chatting, likes, and comments. That's why tutors often ask them to write an objective academic paper on the positive and negative influence of social media.
How to Start
There are 5 things a student should do before starting writing a research paper:
Find a catchy issue for the discussion and compose a striking title. For example, you can discuss the following topic "How to Limit Your Child's Time on the Internet when You Personally Cannot Spend a Day without Facebook and YouTube".
Look for a piece of evidence, facts, and statics on reliable sources. One shouldn't take information reading someone's blog because a person supplies it with subjective data. Such sources lack objectivity and should not be applied to a college paper on social media.
Study the requirements of the college and do everything exactly as they ask.
Find a proper sample of the paper devoted to social media and study it.
Remember that your paper should include some innovation or at least a unique point of view.
If you have chosen the topic, done thorough research, learned the requirements, and thought of some original solution to the problem, it's high time to start writing the paper.
Mind Your Structure
One should create an outline because it helps to ponder over the problem and create a proper logical structure. Each research paper has its introduction, body, and conclusion. Some papers require bibliography and appendices. The introductory part should also have a thesis statement. It usually consists of one or two sentences and reflects the key issue of the problem. For example, "People spend up to 9 hours per day messaging and viewing posts on social platforms. There must be places which prohibit the use of social media in order to prevent Internet dependency."
Still struggle to write a perfect paper? Leave it to professionals!
All parts of the paper should support the main idea given in the thesis statement. So, the introduction should give the statistics or some facts proving that many people depend on the Internet and that there should be some way out of the situation.
The body paragraphs should give possible ways to solve the problem. For instance, a student may suggest providing cafes, parks, and other places which can create a cozy and pleasant atmosphere so that nobody would dare to think of chatting and entertaining on Facebook or any other social platform.
The conclusion should sum everything up. For example, a student can say that social networks are useful but there is the need to distract attention from the Internet activity.