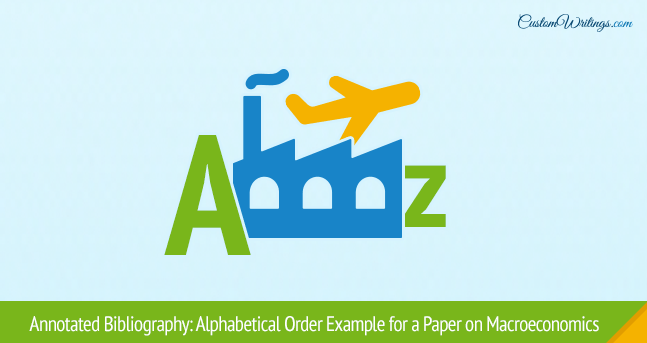 They say that you have to write an annotated bibliography to better get acquainted with the topic of your research. Usually, your professor asks you to do that before you start working on the actual paper, and, indeed, you find out more about the subject of your analysis, spot what has already been done in the field and how you can contribute to it.
The reason students twitch every time someone mentions annotated bibliography is that there are certain rules you have to follow while writing it – formatting details, a particular structure, and alphabetic order. Why is the last one so important? Because that's the detail that students often get fried on and lose points: they mix up the order, sort out the sources by the first name of the author or the title of the piece (the right option is the author's last name), etc. Make sure you avoid these sneaky errors and have a look at our sample list of annotated bibliography (alphabetical order strictly followed) formatted in APA. If you have another citation style for your paper, look up its rules.
Dullien, S. (2017). Macroeconomics in Context: A European Perspective. Routledge.
The book is an up-to-date, comprehensive source of information on macroeconomics that is regarded not in theory, but in contexts connected with history, modern events, people's well-being. It deals with European economic crisis, unemployment, and most importantly Brexit which is the subject of my research.
Kraay, A. (2012). How Much Does GDP Increase When Public Spending Increase? Research Digest, 6 (4), 3.
The author summarizes his book in this article which touches upon the GDP increase in developing countries. The most significant data included in it and connected with our scientific macroeconomic exploration is that it develops the notion of public spending increasing the GDP.
Peach, Rich, Linder. (2013). The Parts Are More than Whole: Separating Goods and Services to Predict Core Inflation. Federal Reserve Bank of New York, 19 (7).
The article considers a model for a better and more accurate prediction of core inflation and factors that may influence it – mainly import prices, labor market, and economic expectations. This model, if used correctly, can provide high-quality forecasts for the market.
Still struggle to write a perfect paper? Leave it to professionals!
Tickamyer, A. (2017). Rural Poverty in the United States. Columbia University Press.
This is an extensive analysis of the poverty in the rural areas that captures the period starting from the Civil War to the present. It attempts to determine the reasons of such a modern state, uses the experience to avoid mistakes and builds new theories that might help to avoid rural poverty in the USA.
As you can see from these examples, in a brief description you express the main subject matter of the source and explain how it contributes to your research. You basically persuade your supervisor or the committee that it is good enough to be on the (alphabetically structured!!!) list of your references and be used to explore your topic. The length of these descriptions may depend on your university requirements, but usually, it's no more than 2-3 sentences. So, gather your references and go ahead!
If you are in search of an annotated bibliography writing service, you can rely upon our experts who are available 24/7 for assistance.