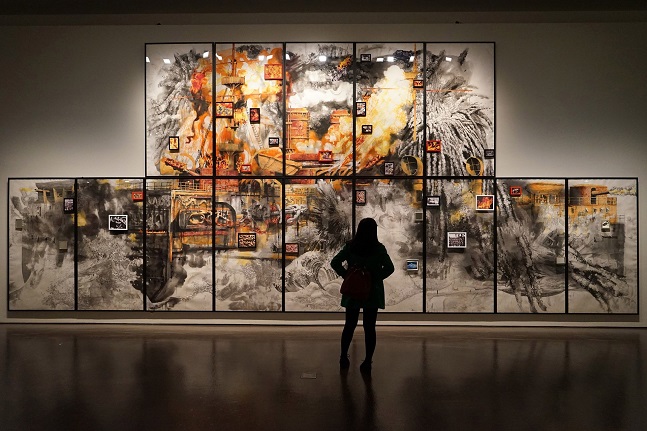 Museums are primarily educational institutions. Through many years, they have been clichéd to be boring because people perceive them as entertaining facilities (which they are not). And with the winter coming closer, you may want to consider some alternatives to walks and late outdoor evening. So, why not get your friends and visit some interesting exhibitions? Who knows, maybe apart from having a great time you will learn some useful information that will not only make you a more intelligent person but also help your college studies! Your impression from visiting a museum depends much on your expectations, and if you build up the right "looking forward," you might spend time with use and pleasure.
Iowa City has a number of great museums – every student can find a place suitng his/her tastes and preferences. Here is a list of city's most interesting educational spots with brief descriptions of their December-January exhibitions. Start planning your winter months now!
The Museum features different cars made during the period from the beginning of the XXth century till the 1970s. Many vehicles have their original parts and clothes, meaning that they haven't been under restoration yet. The exhibition constantly hosts 80-90 cars, and part of the selection sometimes changes thanks to the private owners who donate or purchase the displayed items.
This museum can take a couple of hours for sure as vintage cars are something you need time to get a view of. Visitors advise taking the camera with you because there is plenty of cool shots you can take with antique vehicles. So, wait no more! Go and plunge into the atmosphere of the 40s, 60s or any period you like most.
If you want to dive a bit into the history of Mormons, Johnson County Museum is the perfect place to do that. In fact, it's a 4 in 1 package:
Johnson County Historical Society Museum: it contains about 10 thousand artifacts that tell the story of Mormons.
Plum Grove Historic Home: it is a house that belonged to Robert Lucas, the State of Ohio Former Governor. It gives a chance to glimpse at lives of people in 1850s and visit beautiful gardens.
1876 Coralville Schoolhouse: see how pupils studied in those years!
Poor Farm and Asylum: the name is intriguing as the place itself. It shows how the government started caring for mentally ill citizens and which methods were used to help them (farm work, fresh air, etc.).
Coralville Old Town Hall: the building was used by the public for nearly a century. This is the place where important decisions of those times were made. Come and feel the American spirit of the XXth century.
Throughout January and December there will be some festivals and events planned by different organizations. Some of them are free, and if you're interested, check out the calendar here.
University of Iowa Museum of Art
This museum has 4 different locations all of which don't take up a lot of space. But, in spite of little room available, the museum staff managed to skillfully display the artworks in a way that highlights their beauty, value and significance. Permanent collections include the American and European art of the XXth century, African art, contemporary art, works of Iowa artists, etc.
As for December 2017 and January 2018, there will be interesting exhibitions about the grains culture, the evolution of agriculture and the works of a contemporary African artist. These are some entertaining and interesting things to explore!
Being the only Iowa City Natural Historic Landmark, Old Capitol Museum represents the history and aims at educating the public about its culture and legacy. It often serves as a hall for temporary exhibitions. In December/January, you have the opportunity to visit several of them – National Geographic Photo Arc and Faces of Iowa through the Early Lens. In addition, the museum hosts different events that won't leave you bored in winter. Check them out!
So, are you ready to get loaded with culture, history and art? There is no shortage of that in Iowa City. Make your December and January more thrilling and enrich your knowledge about the town you live in. See you in one of those places!