Is it possible to graduate from college in less than four years? Yes, absolutely! You just need to earn the required credits within a shorter time. This is a brilliant opportunity for students like me, who enter college as adults with an obligation to their spouse and child. However, I missed it back in the day and later regretted it, much. Mechanical engineering is not a piece of cake, you know. To keep up, I had to spend an incredible amount of time on my majors, not to mention that I also had to care about my minors and general education courses. If I had taken advantage of the CLEP tests and passed the general education courses in advance, everything would have been much easier and cheaper, which is no less important. Later, I heard a lot about these exams, and out of curiosity, I gathered so much information about them that I could even tell you how to prepare for a CLEP test. Are you interested? Then keep reading!
What is CLEP, and What Are the Best CLEP Study Guides?
Before you learn how to prepare for a CLEP test, I'll tell you a little about the exam itself. The acronym CLEP stands for College-Level Examination Program. The tests have been around since the 1960s. Thousands of colleges and universities across the country accept their results. They aim to gauge the knowledge of future or current students in various subjects. In total, you can take the exams in 34 subjects, from literature and history to science and math. The rule of thumb is that these are general education courses or introductory courses of lower difficulty. After passing the CLEP tests, you can skip these and go straight to more difficult ones, saving time and money on your studies. After all, you must pay for each course to gain credits, which is a big drain on your wallet, especially when you already have a family — just a note from a married man. However, I think that even if you don't have such a serious commitment as I do, saving an extra penny won't hurt anyone, right?
Another great thing about the CLEP tests, I think, is that literally everyone can sit for them: high school students, international learners, scholars planning to take a gap year, students resuming their studies, military personnel, and others.
The test taker should only have knowledge and not be afraid to get college credits for it. Generally, you can get from 3 to 12 credits for one CLEP exam if you know how to prepare for a CLEP test.
Yes, these tests are really cool. If you already plan to look for a place to take the College-Level Examination Program test, there's something more you should know. To forget about the History of the United States class, for example, you must pay $89. There are no free CLEP tests. However, their price is less than 10% of the traditional course costs in college. You'll also lessen the time for attending lectures and writing complex academic papers to earn credits.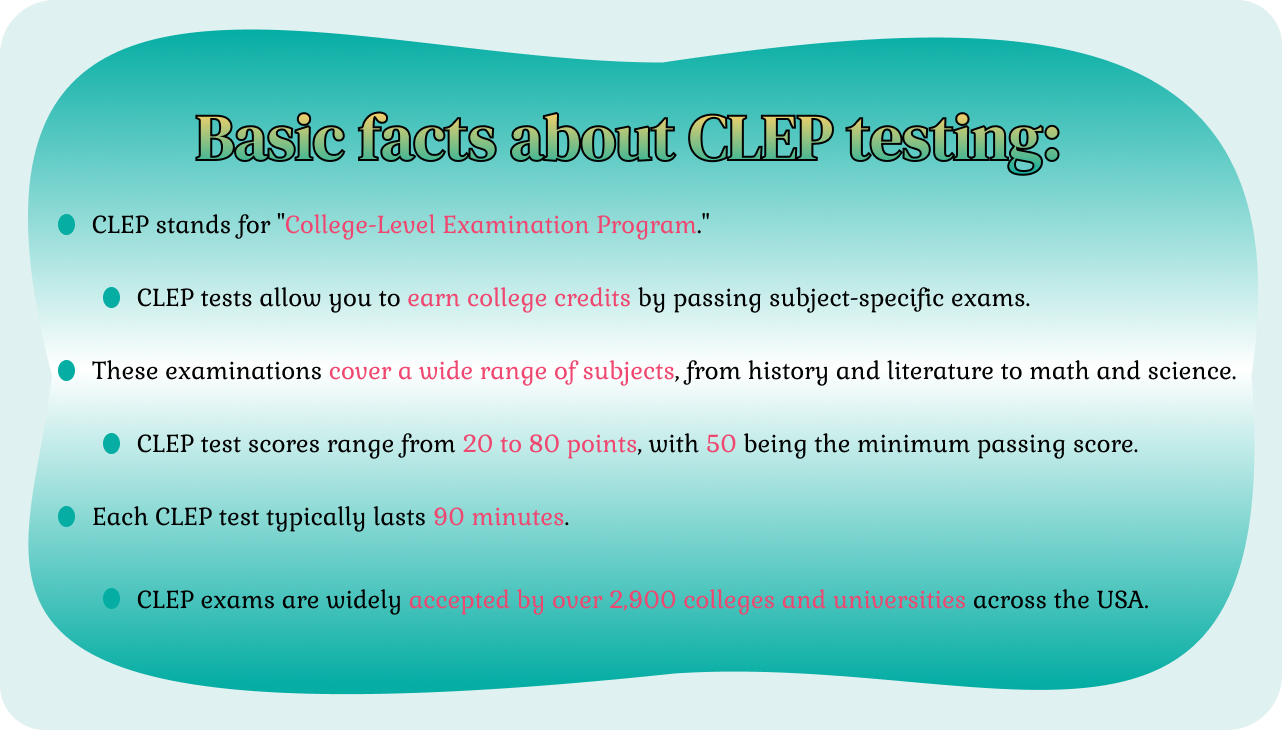 How to prepare for a CLEP test and What are the best CLEP study guides?
To prepare for CLEP in the best possible way, take advantage of specialized study guides. You may pay attention to the options mentioned below:
The Official CLEP Study Guide. On the guide creation worked directly the organization responsible for administering the CLEP examinations, the College Board. It offers free CLEP study guides and valuable information about the exam format.
The REA CLEP Test Prep. The Research and Education Association (REA) provides many College-Level Examination Program preparation guides. They are known for their comprehensive content and detailed explanations.
Peterson's CLEP Success. Peterson's study guides are famous for thoroughly covering College-Level Examination Program exam materials and helpful test-taking strategies.
Mometrix CLEP Study Guides. Mometrix offers a range of College-Level Examination Program study materials. The organization provides books and online resources to help test takers pass the exams.
InstantCert CLEP EXAM Prep. With a subscription to the InstantCert Academy, a person receives flashcards and practice exams aligned to the College-Level Examination Program subjects.
In fact, there are a lot more resources to prepare for CLEP. It's up to you to choose yours. Just focus on your learning style and the specific College-Level Examination Program test you plan to take.
How to prepare for CLEP exams? You should definitely check out user reviews on your chosen study guide option to get insider information. It's also wise to consult with your teachers or counselors.
What Is the Best CLEP Study Guide?
I can't precisely answer the question, "What is the best CLEP study guide?" People's opinions will vary. However, besides the ones I mentioned earlier, you can also use the following to prepare for the CLEP:
Khan Academy offers free online courses and training videos on a variety of subjects. The platform has not overlooked those covering the CLEP exams. Khan Academy's interactive lessons can be a starting point in your College-Level Examination Program preparation.
Quizlet is a universal online platform. Here, users can create and access ready-made flashcards and study kits on various topics, including College-Level Examination Program subjects. You can find user-generated study materials for the CLEP tests you are about to take.
Colleges and universities offer CLEP test preparation materials and resources. These usually include study guides, practice exams, and workshops. It's a good idea to contact your institution's academic support services to find out what resources are available.
The overall passing score for CLEP is 50 out of 80. However, college requirements may vary. When you contact your school's academic support service for resources to prepare for the exams, ask about the passing scores.
Mometrix test preparation: Is it worth it?
Momentrix has been providing learners with the best CLEP test prep materials for over two decades. During this time, the organization has gained the affection of millions of users. The platform enjoys an excellent reputation. If this resource is your answer to the question, "How to prepare for a CLEP test?" Then, you'll have a wide selection of 30+ exceptional CLEP test preparation courses in your service. Momentrix's courses combine a study guide and flashcard system for extensive learning.
How to Prepare for CLEP Exams Thoroughly
As a person who has been looking for information about the CLEP exam and is an experienced 4th-year student, I want to tell you about the most effective ways to prepare for the tests. For your convenience, I'll divide them into two sections: one with the actual tips for the CLEP and the other on how to prepare for any exam you have in college.
How to prepare for a CLEP test? Learn all the secrets
Take online courses. You should definitely consider registering for online courses related to the subjects of your CLEP exam. This will make your preparation complete and multi-faceted.
Use different practice exams. Take at least a few practice exams in your subject. This way, you will better understand the test format and the question types.
Check if your school of choice accepts the CLEP scores. Consult with an academic advisor before registering for CLEP tests. This is extremely important. Although more than 2,900 schools recognize CLEP scores, you need to make sure that yours is one of them. Also, some schools limit the number of credits you can earn by taking CLEP examinations.
How to prepare for a CLEP test? Check if you have a valid ID and the required registration card for each CLEP test you plan to take. Without these documents, they will not allow you to sit for the exam, and all of your work goes to waste.
How long to study for CLEP — the best method to prepare for CLEP test revealed
As an experienced student, I know that preparing for an exam can seem overwhelming. Over the years, I have developed simple rules to get ready for any tests. I hope they will be useful to you.
Make a study schedule and stick to it. Break the learning material into parts. Try to understand what you are reading instead of cramming it.
Use good resources. Find reliable, trusted textbooks and online resources to help you prepare for the exam.
Try flashcards. They are extremely helpful in preparing for the test. Use them for the most challenging concepts for you.
Practice regularly. Take preparatory tests and quizzes to get used to the exam format.
Take care of your health when you prepare for CLEP exam. Eat right, get enough sleep, and drink enough water. A healthy body means a healthy mind.
Think positively. Believe in yourself. All the hard work pays off.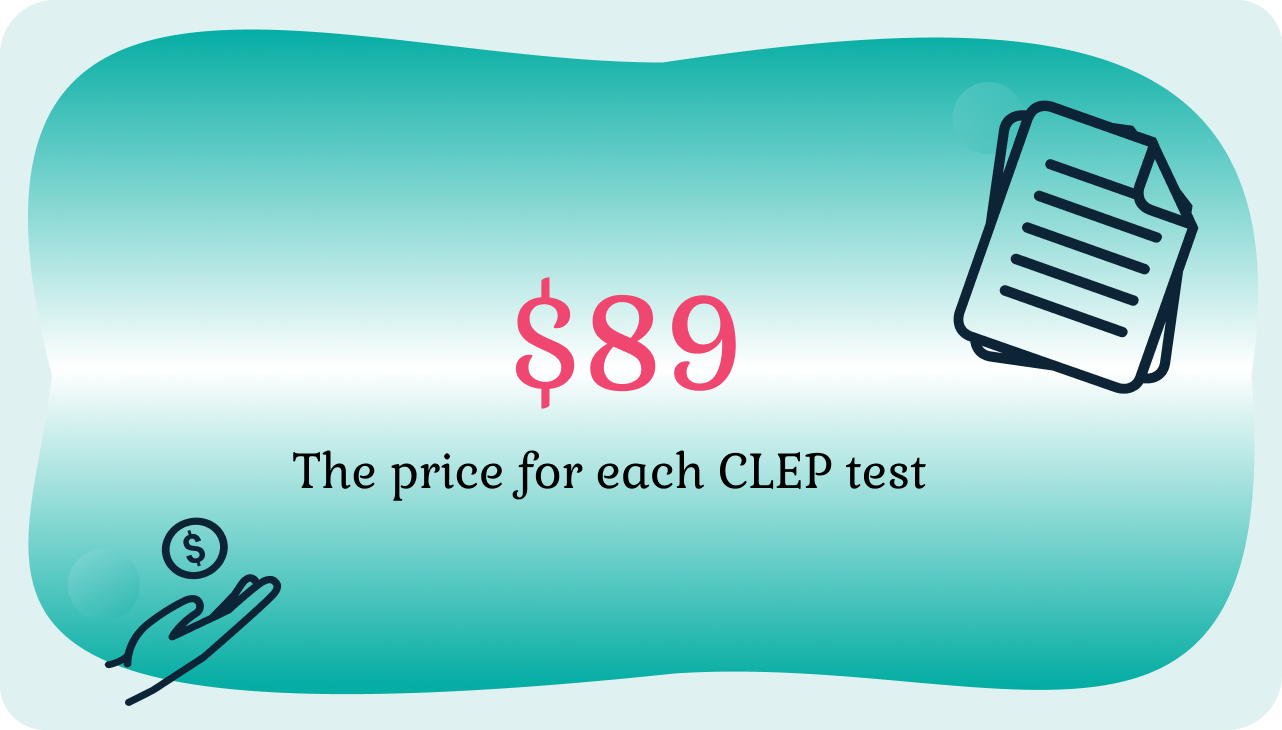 Free CLEP Practice Tests: Are There Any to Consider?
CLEP practice tests can be both free and paid. Both options will provide the necessary skills and introduce you to typical questions and the test structure. However, as you can already tell, I don't like to overpay for things. Therefore, from a practical point of view, I would personally choose the given resources:
Modern States provides a wide variety of free CLEP exam preparation programs, including practice tests, lectures, tutorials, and more.
The College Board's official CLEP website offers sample questions for each CLEP exam, giving you a feel for the test format.
Peterson's provides free practice tests for selected College-Level Examination Program examinations to help you gauge your skills.
Study.com offers a 30-day free trial for prospective CLEP test takers. It includes access to their practice tests and study guides.
Free-Clep-Prep.com provides a set of free CLEP practice tests and study resources.
How to Pass CLEP Exams with Ease
Of course, to pass the exam successfully, you need to prepare for it thoroughly. However, when you are in the middle of the testing, do not lose your spirit and do not panic. Here are some tips that will help you cope with the test.
Be careful. The most painful mistakes in the exam are always from inattention. Read the question carefully before pressing the button.
Use the Review button. Before you finish the test, go back to the beginning and review all your answers.
How to pass CLEP exams? Answer each question. According to the rules of this test, you will not be penalized for wrong answers. Don't be afraid to make a mistake, and answer all the questions.
Use guessing strategies. If you are not sure about the accuracy of your answer, guesswork is better than skipping the question altogether.
Look for clues in the exam questions. Sometimes, part of the answer is hidden in the question itself. Stay attentive and catch such opportunities.