Studying in the United States is a cherished dream for countless young people across the world. Year after year, the "land of opportunity" warmly embraces bright minds pursuing world-class schooling. In the academic year 2021-2022, this number nearly reached the impressive milestone of 1 million young adults. To turn their dream into reality and become students, prospective applicants must navigate a difficult, multi-stage preparatory procedure before securing their spot in their coveted educational institutions.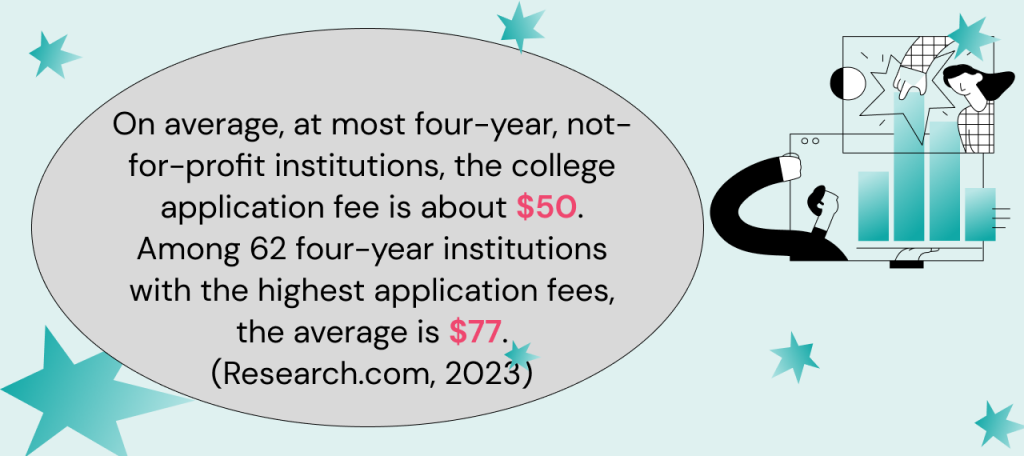 To ensure you are completely prepared for the fall intake in USA 2024, read our thorough guide and arm yourself with all the information you need to confidently begin your adventure as an international student in the United States.
Intakes in the USA 2024: Fall, Spring, and Summer
U.S. universities eagerly await your applications during three distinct periods: Fall, Spring, and Summer. While these intakes are named after the corresponding seasons, there's a crucial nuance to consider. 
"To secure a spot in the spring semester, for instance, you must diligently handle all required documents well in advance, from July to December of the previous year."

Akari Saito, an undergraduate Marketing student
The same proactive approach applies to the other two student admission periods. Let's delve into the specific timeframes and deadlines for each intake, so you can gain a clear understanding of when to begin your preparations.
Fall intake
The closing date for an application

The

application deadlines for Fall 2024

vary among institutions, although they normally occur between

November 2023 and March 2024.
Start

August or September 2024

Duration

The fall semester usually runs from August/September to December.

Advantages

The widest range of programs and courses available.

Numerous scholarship and financial assistance possibilities.

Immersion in campus life with a lively student community.
Spring 2024 intake
The closing date for an application

Applications are typically accepted from

July 2023 through December 2023

, with deadlines varying.

Start

January or February 2024

Duration

The spring semester usually runs from January/February to May.

Advantages

Smaller applicant pool, potentially higher enrollment rate.

More time for preparation and planning after high school graduation.

Opportunity to start with a lighter course load and adapt to college life.
Summer intake
The closing date for an application

Summer enrollment deadlines vary, and not all colleges provide formal summer enrollment. Some institutions may offer rolling admissions or specific summer programs.

Start

May or June 2024

Duration

Summer semesters are usually shorter and last from May/June to August.

Benefits

Possibility to accelerate your studies and graduate earlier.

Fewer students on campus, potentially more individual attention from teachers.

There are specific summertime courses and internships available.
Pursuing a specific admission option is a significant decision, and here's why. Firstly, universities provide various programs and courses based on these timeframes. Additionally, the number of available places for international students can differ across intakes. These factors play a crucial role when deciding on the right intake option. Meeting the 2023 application deadlines is another critical aspect. If your application is submitted too late, it won't be considered, and you'll miss the chance to become a student at an American university for that period.
Fall Intake in USA 2024
: A Roadmap to Follow
As mentioned earlier, fall admission, or September admission, kicks off in, you guessed it, September. The start date of the autumn semester differs per university. Therefore, it's critical to keep track of it on your educational institution's official website. It's worth noting that the majority of international students opt for this autumn intake. Perhaps they're captivated by the picturesque charm of autumn leaves on campus? Jokes aside, there are several reasons for this preference, which we'll delve into later.
For now, let's provide you with a roadmap to follow. We've outlined what you need to do, when to do it, and how to successfully and timely prepare for fall admission, making your dream of becoming a respected student at a top-notch university a reality. To make it convenient for you, we've organized the preparation process by month. So, let's get started!
When?
What to do?
Apr-Jul

2023

Head over to the Student and Exchange Visitor Program (SEVP) portal and explore the universities actively recruiting international students. Take your time, pay close attention to the requirements and tuition fees, and create a list of educational institutions that align with your preferences and goals. Be thorough in your research to find the perfect fit for your academic journey.
May-Sep

2023

Thoroughly research which tests are necessary for successful enrollment. In many cases, educational institutions mandate successful results from IELTS, PTE, or TOEFL to assess your English proficiency. If you're applying for a bachelor's degree, you'll likely need to sit for the SAT or ACT exams. For those seeking a master's degree, the GRE and GMAT tests showcase your academic abilities. Give it your all and strive to excel in these exams to reach the highest points possible. Your performance can greatly impact your admission prospects, so preparation and dedication are key.
Oct 2023
This is another crucial phase in your journey. Now's the time to put in the effort to prepare all the required records. Make certain you have a compelling, well-rounded academic resume, prepare your transcripts, don't overlook your test scores, and request letters of recommendation. Be thorough in checking with the admissions office or the university's official website to confirm if there are any additional documents needed. Attention to detail and organization are vital during this stage to present a comprehensive and impressive application package.
Nov 2023-

Jul 2024

The moment you've been eagerly anticipating is finally here. Don't hesitate; take action and apply to universities with awesome campuses. Wait, hold on! While the appearance of the university matters, it's crucial to make an informed decision and focus on schools that genuinely align with your needs. Consider critical factors such as tuition fees, the availability of your desired courses, and the degree you aim for. Additionally, if your college conducts admissions interviews, be sure to prepare for them, and don't forget about the necessary paperwork. This stage demands meticulous attention to detail and thoughtful consideration to secure your spot at the perfect university for your academic journey.
Jan- Jul

2024

Get the exciting news of your acceptance from the college, which is celebrating the addition of such a capable student as yourself to their community. Look for important information regarding potential financial help or scholarships available to overseas students in the confirmation letter. Don't hesitate to apply for these opportunities! It's your chance to substantially alleviate your financial responsibilities and enjoy better peace of mind. The best part is, you can start the process of applying for an F1 visa, as you're already halfway to becoming a proud first-time student in the United States.
Top 10
Fall Intake Universities in USA
As mentioned, one of your first steps is to go to the SEVP portal and pick the school that's right for you from their list. To make things a bit simpler, we've put together a collection of the top US universities based on the QS (Quacquarelli Symonds) resource. They're highly regarded worldwide for analyzing higher education (yes, their opinion matters a lot). So, let's dive in and get to know them!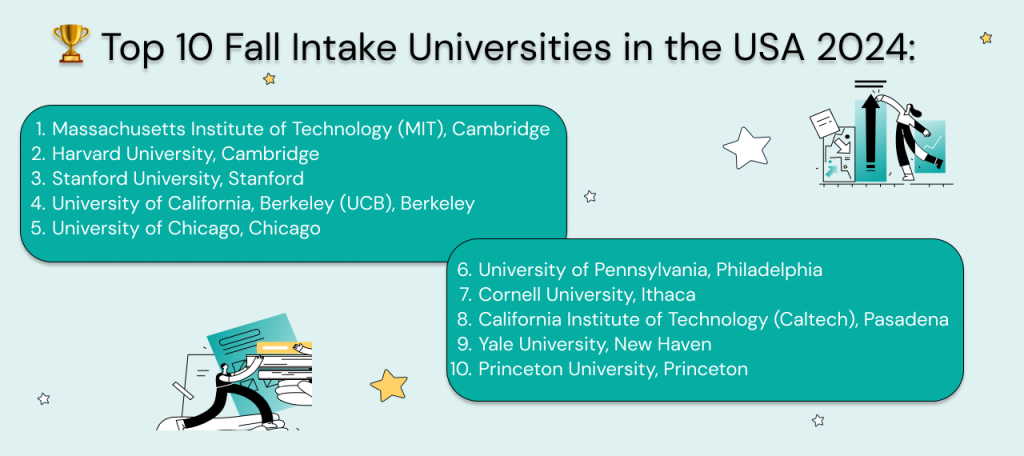 Massachusetts Institute of Technology (MIT), Cambridge
The top spot goes to the renowned Massachusetts Institute of Technology (MIT), a highly esteemed educational institution, with a perfect score of 100 points from QS. If you aim to study at the leading contender for the best university in the world (and the United States), be sure to submit your application by January 5 for Regular Action (RA) or by November 1 for Early Action.
Harvard University, Cambridge
Following closely behind the top spot is the well-known Harvard University, which holds the fourth spot in the ranking. The researchers awarded this exceptional university a total score of 98.3. If you're considering applying for the autumn enrollment, remember that the Fall admissions in USA 2024 deadline is by November 1 for Early Action or January 5 for Regular Action (RA). 
Stanford University, Stanford
Completing the Holy Trinity on our list is Stanford University, just by a narrow margin. It secures the lucky number 5 position on the QS list with a total of 98.1 points from its analysts. If you're interested in attending this top-tier university, remember that the deadlines for fall 2023 are November 1 for Early Action or January 5 for Regular Action (RA) for the fall semester. Don't wait too long, act quickly!
University of California, Berkeley (UCB), Berkeley
The University of California has secured 10th place in the Quacquarelli Symonds ranking, with a total of 90.4 points. If you're interested in receiving a high-quality education under the sunny skies of California, be sure to submit your application by November 30.
University of Chicago, Chicago
Next in line is the University of Chicago, which earned a worthy 11th place in the world's best universities ranking. With a respectable overall score of 90.3 points, this institution offers a chance to study with masters of their craft. To ensure you don't miss this vital opportunity, apply by November 1 for Early Action or January 5 for Regular Action (RA). Act promptly and seize the chance to be a part of this prestigious university!
University of Pennsylvania, Philadelphia
The state of Pennsylvania made its mark in the ranking of fall intake universities in USA with the outstanding University of Pennsylvania, which earned 12th place. With an impressive score of 89.4 total points, this higher education institution provides you with a top-tier education. If you're determined to study here, don't wait too long. Make sure to apply for the fall semester by November 1 for Early Action or January 5 for Regular Action (RA).
Cornell University, Ithaca
At the 13th spot in the world ranking of the best schools, we have Cornell University in Ithaca. With a total score of 89.3 points from Quacquarelli Symonds analysts, this university stands out. If you're considering applying as a prospective student for the September semester, keep a close eye on the 2023 application dates. Make sure to submit your application to the Admissions Office by November 1 for Early Action or January 2 for Regular Action (RA). Stay on top of those deadlines to secure your chance at Cornell University!
California Institute of Technology (Caltech), Pasadena
If you dream of studying at the California Institute of Technology (Caltech), you'll be glad to know that this esteemed institution is ranked 15th among the top universities with the best academic reputation and faculty-student ratio worldwide. It has received a total of 87.8 points. To apply for admission to this school on time, remember the university application deadline 2023: November 1 for Early Action or January 3 for Regular Action (RA).
Yale University, New Haven
Yale University, a prestigious higher education institution with a remarkable history spanning over 300 years since its founding, is ranked 16th in the rankings. QS researchers have awarded it an overall score of 87.7. Apply on time and seize the opportunity to become a promising student at this world-renowned school. The deadlines for fall 2023 are November 1 for Early Action or January 1 for Regular Action (RA).
Princeton University, Princeton
Princeton University, another top-notch US higher education institution, holds the 17th spot in the 2024 Quacquarelli Symonds ranking. This private school from New Jersey received a commendable total of 87 points, with an outstanding academic reputation earning 99.8 points. The university eagerly awaits your applications, as long as they are submitted by November 1 for Early Action or January 1 for Regular Action (RA). Don't miss this chance to apply to a prestigious school!
"The university deadlines for Fall 2023 vary among universities. It is crucial to research and identify the specific deadlines for each institution you wish to apply to. Typically, they are November 1 for Early Action or January 1 for Regular Action (RA)."

Xiu Zhang, an international student in the USA
Pros & Cons of Applying for
Fall Intake in USA
Naturally, the motives for choosing the fall admission process differ from student to student. However, it is possible to identify the typical pros and cons of applying to an educational institution during this period. Let's get acquainted with them.
Pros:
Internships and job opportunities.

Students who are seriously considering employment during their studies do have many more options in the fall. Most companies are looking to hire students starting in September. If you are determined to get an internship in your future profession, starting in the fall is the best option.

Established support systems.

When you begin in September, you'll have easy access to orientation programs, academic counseling, and support services on campus. That's because Fall enrollment is the most common among universities, and they really make sure everything is well-prepared for students like you. So, you'll get all the help you need to start your college journey on the right foot.

Easier integration.

Fall enrollment is a great opportunity to make friends. Since most students start school in September, campuses and student dorms are filled with young people like you. Therefore, you'll obviously have more opportunities to meet someone new and interesting during this period.

Research opportunities.

One sure way to make your student resume stand out is by getting involved in research. If you start in the

fall of 2024

, you'll have a great chance to work with professors and mentors on research projects. Since the academic year is in full swing during the Fall, there are more opportunities available for you to get involved in meaningful research experiences. This can really add strength and value to your resume and academic journey.

Familiarity with campus facilities.

Starting in the Fall is awesome because it's when most students enroll, and universities really go all out to make sure everything is set up perfectly. If you begin your studies in September, you'll have the best chance to explore all the campus facilities, resources, and services when they are running at their best. This means you can get familiar with everything the campus has to offer right from the get-go, making it easier to settle in and make the most of your college experience.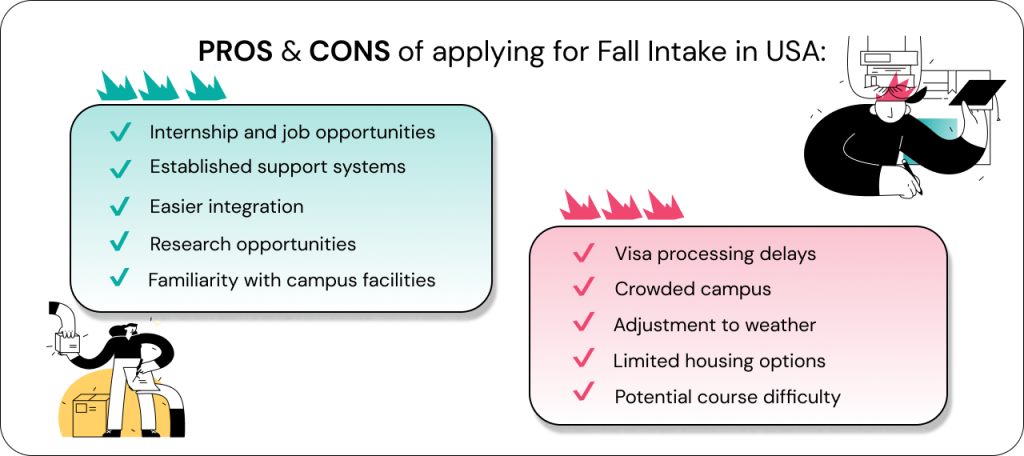 Cons:
Visa processing delays.

The most critical aspect of starting your studies in the United States as an international student is getting your visa. Even if you're accepted into a university, if your visa and all the necessary documents aren't ready on time, you won't be able to make it to campus when classes begin. Since the

Fall intake 2024

is super popular and attracts a lot of applications, there's a chance that your visa processing might take longer than expected. So, starting the visa application process early is essential to avoid any delays and ensure a smooth arrival for your studies.

Crowded campus.

There are always two sides to every situation. On the one hand, having lots of students on campus and in the dorms means you have a great chance to make some awesome friends and share your college experience with them. But, on the flip side, the increased number of students can lead to overcrowded classes, and it might be more challenging to get the professor's attention when you need it. So, it's a trade-off you should keep in mind while considering the Fall intake.

Adjustment to the weather.

If you're coming from a different climate zone or country, starting in the Fall might mean having to adjust to the seasonal changes in weather, which can be challenging for some individuals.

Limited housing options.

While starting in the Fall might increase your chances of securing on-campus housing, it could also mean that some of the more desirable housing options have already been taken by students who started earlier in the year.

Potential course difficulty.

Some students might find that the coursework in the Fall semester of 2024 is more intense compared to other semesters, as professors aim to cover more material before the end of the academic year. This can be particularly challenging for students who are still adjusting to university life and academics.
Tips For a Successful Application Process for Fall Intake in the USA 2024:
Start early.

Begin researching universities and programs as early as possible to ensure a well-planned

2023 application

process.

Prepare the required documents.

Collect all the required documentation, such as academic transcripts, letters of recommendation, and standardized test results.

Create an outstanding statement of purpose.

It must highlight your academic accomplishments, professional objectives, and reasons for attending the university.

Meet English language proficiency requirements.

Complete English knowledge exams, such as the TOEFL or IELTS. Achieve the required minimum score for admission.

Pursue scholarships and financial aid.

Investigate scholarship options provided by colleges and other organizations to help fund your study.

Proofread your application.

Double-check that your application for

fall intake universities in USA

is error-free and shows you in the best light.

Apply to multiple universities.

Apply to a mix of dream, target, and safety schools to increase your chances of acceptance.
Fall
2024 Intake
: FAQs
Q: What documents do I need to prepare for a Fall Intake?
The list of documents you need for admission to an American university might vary a bit from one school to another. But, typically, it includes these important papers:
Completed

2023 application

form

Official academic transcripts and certificates

Letters of recommendation from teachers or professors

Standardized test scores (SAT, ACT, GRE, etc.)

English language proficiency test scores (TOEFL, IELTS, etc.)

Statement of purpose and/or personal essay

Resume/CV showcasing extracurricular activities and achievements

Passport and visa documents for international students

Proof of sufficient funding
Q: Can I submit applications for both the Fall and Spring semesters?
Yes, several colleges offer both Fall and Spring semesters, giving students more options for initiating their academic careers.
Q: How long does the 2023 application review process take?
Depending on the university and program, the application screening procedure might take from several weeks to a few months.
Q: How do I check my application status?
The majority of fall intake universities in USA offer web pages where candidates may check the status of their applications.
Q: Can I apply for scholarships after being admitted?
Of course, you can apply for a scholarship if your university provides such programs for international students.