Every learner has to write an essay several times a year. If a person studies languages or literature, it will be necessary to create such papers pretty often. Process writing belongs to the simplest ones. Such an assignment might be a must for STEM disciplines as well.
Students need to explain something using a form of instruction. Nevertheless, it is important to do that right and correspond to academic standards. That is why it is necessary to know how to start a process essay, write, and finish it. What is that? How to write it? This article will guide you.
Step 1. How to Write a Process Paragraph to Meet the Requirements
It is necessary to differentiate between plans and process essays. A plan includes lists with steps. For example, people usually use receipts when cooking or creating pills. What should a process essay look like? Just like any other writing, it has several paragraphs depending on the number of words. The longer it is, the more paragraphs it has. Paragraphs separate different ideas and help to improve the readability of the text.
Another mission of a paragraph is to introduce and develop the idea and draw a conclusion. That is why educators tell students to have an introduction, a body, and a conclusion in their academic writing. The main difference between an essay and an average instruction is the manner of guiding. Instructions require simple imperative sentences, as a rule. Essays demand more complex sentences and lexical units. Besides, formatting must be appropriate as well.
A useful checklist to avoid mistakes.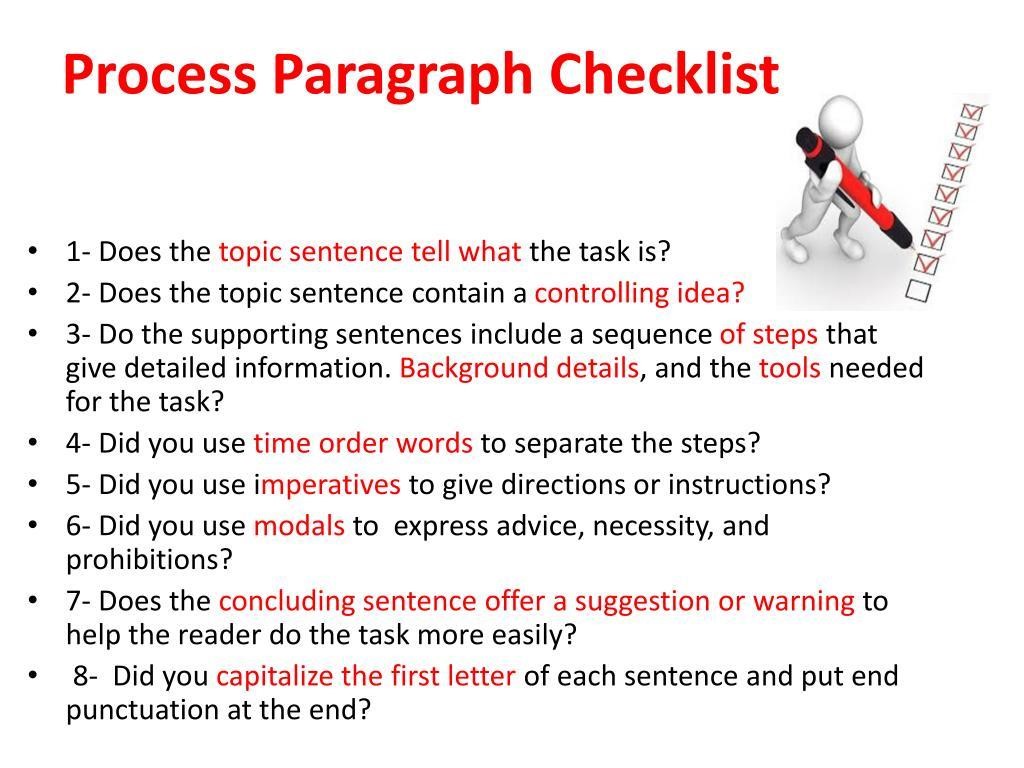 Step 2. Get Ready for Writing
Several tips from experts might help you get ready for writing.
1. Reflect all ideas on a piece of paper.
It is hard to select a good idea for college papers. If a student lacks time, it will be better to write things that seem to be familiar and interesting for a student and the target reader. Then, one needs to evaluate them and decide which one is the best.
It may look like this: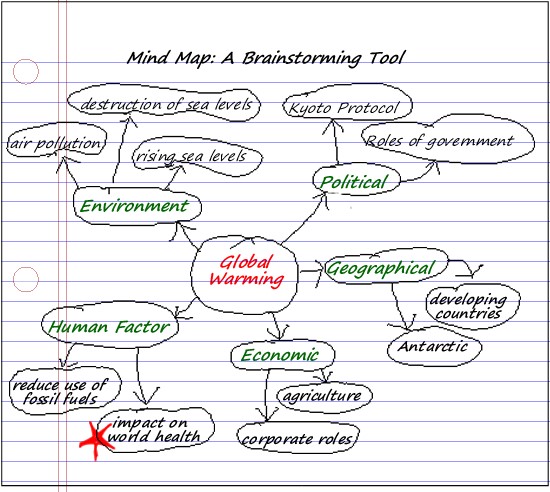 2. Brainstorm to collect ideas
When one has chosen an idea, it will be necessary to make it stunning for readers. So, the next step is to investigate the literature to create a draft of the future writing.
An example of brainstorming:
Still struggle to write a perfect paper? Leave it to professionals!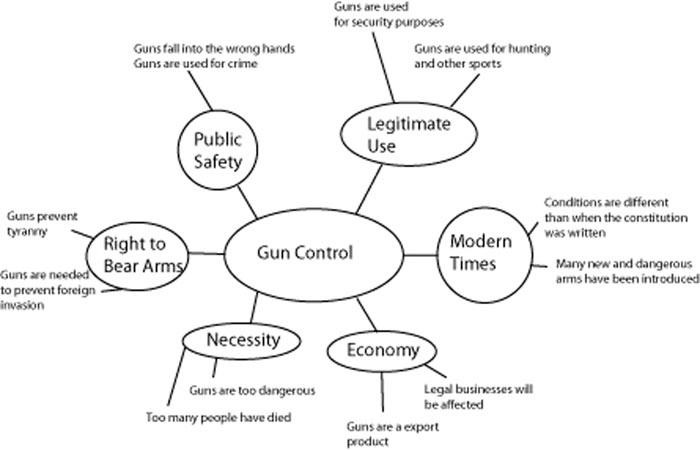 3. Order
Structuring and logical flow are essential. So, one should number hints in chronological and logical order. If something is missing, it will be necessary to look for the required data in sources.
Step 3. Compose an Outline
Students often neglect this step. A smart outline frames the paper and helps to write logically. To begin with, a student should mention the main idea in the first paragraph. Then, one should enlist components required for the process essay. These could be ingredients, steps of new things creation, etc. After, a student needs to stress the value of the paper. Then, one mentions all steps, including different instructions. Finally, a person summarizes everything and highlights the value of the introduced writing.
Consider this sample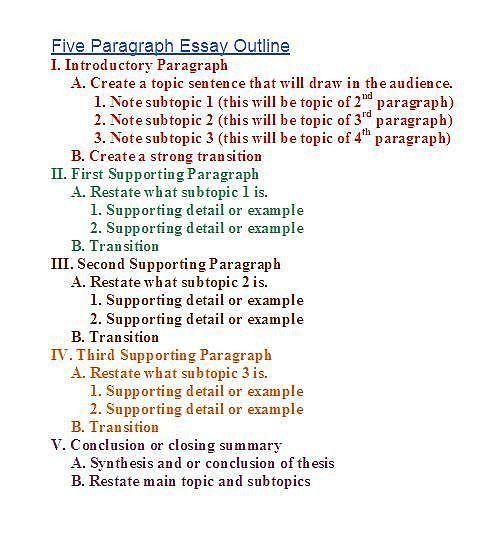 Step 4. Start Writing the Body
When one has a ready plan, it will be easy to write a process essay. One just follows the plan and fills in the corresponding information. Unlike average receipts and plans, an academic paper needs a proper language complexity. For example, a report of a university student differs from a school student whose language is simpler. University learners must use more terms, compound sentences, and avoid cliché phrases and jargon.
Professionals recommend getting acquainted with examples. There are pretty many sample papers on the Internet. One may check educational websites and writing agencies that boast sound reputations. One should avoid blogs provided by non-professionals. A person risks getting a low-quality text that does not have the correct structure and language.
A writing process includes the following components.
write a body
proceed to the conclusion
compose an introduction
Why is such a writing process successful? First off, a person provides a body because it develops the idea. A student tells everything he or she knows in this part. The best option is to support each strong saying with facts or shreds of evidence. When a person finishes its creation, a learner will definitely know the strongest point of the composition. Thanks to that, a student will manage to make a catchy introduction and a strong conclusion.
A short crib on writing a paragraph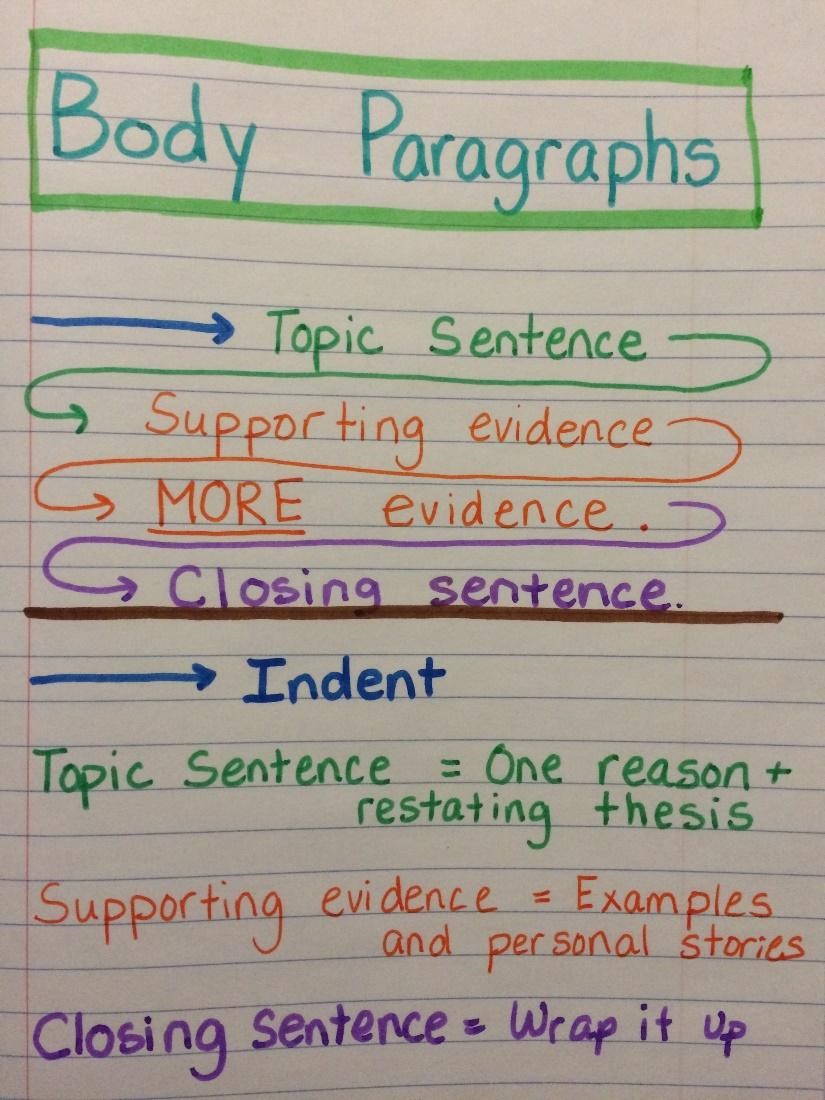 Step 5. Create an Introduction and a Conclusion
Everybody will say that an introduction and a conclusion belong to the most difficult parts of process writing. Their job is to attract a person's attention and make a target reader evaluate the paper. These parts provide the strongest effect when they are good. Experts use specific tricks to welcome the target audience to reading and finish reading with a pleasant aftertaste.
Quotes
Jokes
Life samples
Facts
Numbers
Statistic
Provocative statements
Rhetorical questions
Retrospectives
Storytelling
Is it possible to use these methods in the process of essay writing? Yes. A process essay tells the reader how to do something. So, let's provide some samples for the topic "how to give up bad habits?"
We are the change that we seek (B. Obama).
My friend has a habit of dropping things. It's getting out of hand.
2008 Appetite publication mentioned the investigation that restricts the abrupt giving up of the bad habit.
Scientists prove that to give up a habit, it is necessary to replace it with an activity that fills you with the same euphoric feelings.
Fast food belongs to the top most dangerous life habits.
61% of Americans fight against their bad post-quarantine habits.
Nobody can give up smoking when they stop smoking in one day.
Do you really wish to give up smoking?
It was the pre-last step to a new life without bad habits (in the introductory part)
It is my story from living in a trap of alcohol to complete recovery and freedom.
Step 6. Use the Three Postulates of a Successful Process Essay
Advanced students and writers use three secrets of an outstanding process essay.
First, each described step must be reasonable and valuable.
Second, a process must be detailed to let readers follow it and succeed.
Third, logical flow is a must in this essay writing.
Besides, there should be a thesis statement. It is an analysis of the process and explanation of the selection of a concrete method or approach. A language depends on an academic level and the topic. The use of literary devices might be smart for philologists and useless for technicians.
One should introduce steps using logical paragraphing to make the telling reasonable and clear.
More tips on avoiding widespread mistakes: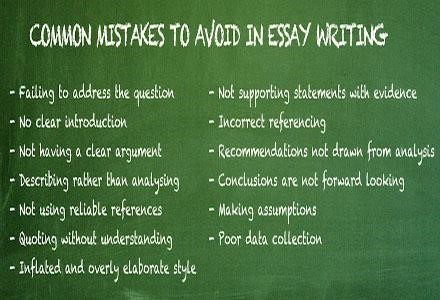 Step 7. Revision
Revision is essential. One can create a checklist to make sure that nothing is missing. A student needs to check whether the process description is logical, detailed, informative, and easy to follow. Afterward, one should see if there are grammar or lexical mistakes. Finally, it is important to scan the text through plagiarism detectors to check its uniqueness. Formatting requirements are essential as well (spacing, font, word order, etc.).
As far as one can see, it is not difficult to write a process essay, but it is necessary to correspond to college standards.