Cannot decide on the best approaches to writing your opinion essay? No worries, you are not alone! Even though it sounds like a super simple paper, some students may puzzle their heads with the appropriate topic. If you require some kind of push on how to write an opinion paper, this brief guide will share with you the top tips.
Approaches on How to Start an Opinion Essay
Let's start by identifying what an opinion essay stands for. It is an academic piece of writing where a student has to present their point of view on one or another subject. All the opinions should come with reasoning and examples. The best examples of opinion essays are:
Should schools rely on technology?
Should the government regulate social media posts?
Is there any freedom of expression in the media?
In my perspective, the President's role is;
The benefits and drawbacks of Going Vegan;
What are the actual causes of the Cold War?
Can discrimination be eliminated from society?
Besides, you may write opposing viewpoints by supporting them with arguments (when you disagree with subjects). Some students may also mistake an opinion essay with a persuasive one. Check the main difference:
Opinion paper – a student presents their opinion with supporting facts, examples, and evidence WITHOUT convincing a reader;
Persuasive paper – a student tries to deliver their idea about the subject, and persuade a reader to share their point of view regarding that.
How to start writing your opinion essay? Look, if your educational establishment has any online tutorials or PDF materials, do first refer to them. If not, check the steps below.
1. Start with the Introduction
You should begin with the outline. First off, you have to select the right topic to which you introduce your ideas. Try to avoid trite topics such as the pandemic, or sensitive topics like religion! Some topics were specified above, so let's further analyze such a theme as The Benefits and Drawbacks of Going Vegan.
After that, think of your hook and thesis. It can involve a quotation, direct speech, a rhetorical question, or anecdote if applicable. It should be short and precise. 1-3 sentences for the introduction are pretty much enough. Your main goal is to intrigue a reader. Check the example:
Still struggle to write a perfect paper? Leave it to professionals!
"Vegans live longer." – It is a popular belief and saying used by most vegans. You can use it for both agreeing and disagreeing, depending on the tone of your opinion essay.
"I am currently doubting the positive effect of going vegan, however, to be unbiased, I would like to share some pros of it to maybe change my mind." – Such a thesis is intriguing because you alone will provide a reader with possible benefits. Then, in the conclusion, you will also make up your mind about that by referring to the thesis.
2. Work on Your Main Body
The main body is the heart of your opinion essay. It should contain several paragraphs with one idea in each and its supporting evidence, facts, arguments. Do remember – NO PERSUASION! The next tip is to not enlarge your 1 paragraph with 1 idea into 2 paragraphs because it is too long. You'd better write short. Check the example:
Your main body is divided into three paragraphs – 1) introduction to the going vegan movement; 2) pros of going vegan; 3) cons of going vegan.
Do also check the next "layout" of the paper: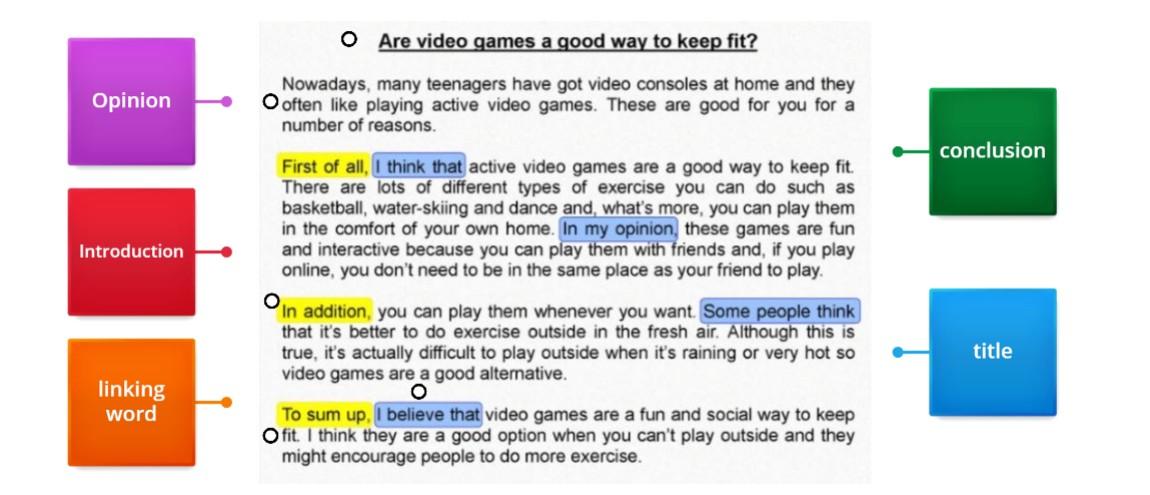 Pay attention to the next factors:
Try to write each statement in present tenses. Such a paper does not predetermine much research, but you share just your opinion;
Use as many good linking words in your text as possible. For example, use – one reason for… is / many people believe that… / since… / because…, to my mind… / I am convinced that… / from my point of view…, first and foremost…/ secondly… / what is more…/ finally…;
Use idioms, colloquial expression when applicable;
Avoid exclamation marks or contractions.
3. Conclude Smartly
The next thing is how to write an opinion paragraph when summarizing your paper. To wrap up your opinion essay, you have to restate your point of view using different words. No need to express new ideas or opinions in the conclusion. Besides, you can wrap it up with a rhetorical question like – "what do you think about going vegan in 2021? How do you personally relate to Asian culture?" among others. Your paper should look like editorial content where you intrigue a reader.
4. Finalize your first draft
When you are done with writing your opinion about going vegan, you should re-read it several times. Ensure you manage to add everything that can serve as a good opinion. If you see any criticism or bias, it should be eliminated. Ideally, if you write about both pros and cons, they should be balanced. No need to write like 1-2 pros about going vegan, and 3-5 cons. If all is good, transfer your draft into a submission paper.
5. Proofread and Edit
After you are done with writing, proceed with proofreading and editing. To save your time, you can simply refer to Grammarly or the Hemingway app.
The first online service will help you find and correct grammar or spelling mistakes. The latter one is best for finding the hard-to-read sentences that may only puzzle your reader. Then, re-read your paper, and ensure it does not persuade your reader, or you will simply mistake it for another essay, and lower your grade.
Tips to Writing Opinion Essay in Short Time
Since opinion essays do not predetermine weeks or months of research, they should inspire comfort and relaxation. Yet, you can even fail with such short papers. Do follow the next tips if you run out of time.
Set a schedule for writing. Have one hour for deciding on the key essay question, key and arguments; Have half an hour for outlining (it can be then replenished with fresh ideas, but the main idea is to outline something). Have one hour NONSTOP of writing. Switch off your mobile phone or get rid of the possible distractions;
Check the online samples. If you still cannot decide on the topic or arguments, you can type in the search engine OPINION ESSAY SAMPLES. Derive inspiration from there but do not try to copy-paste anything;
Try to avoid wordy sentences. When a student runs out of time, they write too many wordy phrases just to reach the word count. It won't do any good, however, as a strategy to write faster, it works.
When you are ready to submit your opinion essay, ask for feedback. Your friends or family members can listen to you reading, and tell whether your paper provides an unbiased opinion about the key question.