Looking forward to writing your narrative essay but lack instructions? With the help of the Web, lots of pdf tutorials can be found. Yet, to facilitate this process as much as possible, below you will find tips and basic guidance. Read how to write a narrative essay step by step, and submit a 5-grade paper.
Writing Tips: How to Start a Narrative Essay?
Prior to sharing the tips on how to write a narrative report, let's identify what it stands for. A narrative essay is a paper about one's personal experiences, challenges, views among others. It may resemble a descriptive essay, however, with its own peculiarities. Today, this paper does not obligatorily predetermine writing about your true experience, because it can be a made-up story. Some examples for the narrative essay topics are the next:
A teacher you liked the most, or you won't ever forget
An encounter that placed your life in jeopardy
A humorous incident that occurred to you
A tale from your teenage years
Your first international travel
An incident from your school days
A friend's death story
A narrative about mastering a new skill
An unpleasant incident that occurred to you
Here are the main perks of a narrative essay: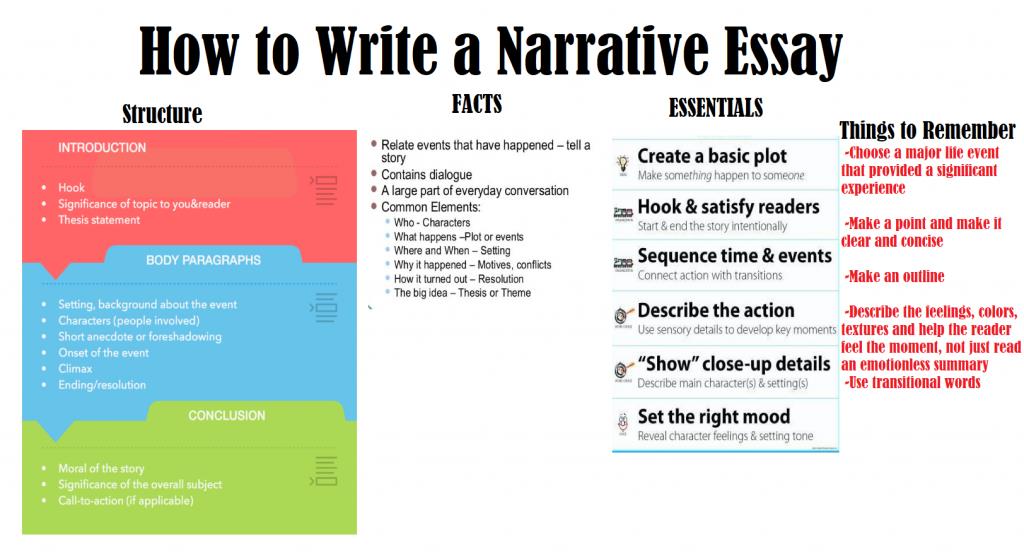 It develops a specific point of view, again either true or made up one;
You correlate with facts, or evidence to make and support all your claims;
You focus on one specific information;
You use vivid verbs and modifiers;
There should be logic and sequences;
You may use dialogue.
It is often written in the form of a story and is based on one's personal experience. At least, it is easier. You have to involve the storytelling conventions of climax, setting, plot, and ending.
So, the first tip will be to focus on the topic if it was not previously specified and start with the approximate outline. Ideally, you should discuss with your professor the best topic suitable for evaluation.
The next thing is to decide on the hook and thesis for the introduction composition. 1-3 sentences are pretty enough to draw the reader's attention. Besides, your thesis will establish the tone of your paper. Do the following:
Still struggle to write a perfect paper? Leave it to professionals!
1. Begin with some kind of mystery
Intrigue your reader. For example, share the topic, however, intrigue with some promises about your secrets to handling one or another situation. Check the examples below.
"A teacher I won't ever forget is from my elementary school. She was an expert who had one secret approach to teaching the kids. Until now, I do remember a few tips from her." – Do not tell her secret approach to teach the kids in your introduction but leave it for the main body.
2. You may use a famous quote or anecdote if it is appropriate for your topic
Here, you may turn on your imagination. Let's pretend your topic is dedicated to the best summer you have ever had in your life. If it is Las Vegas, you can use a famous quote, "What happens in Las Vegas, stays in Las Vegas". Start with sharing basic details about the summer, the place where you spent it, and so on. Otherwise, make a joke like – "I loved that summer, however, you won't ever want to join me."
3. If you write about your personal experience, be direct
Fake sentences and stories are rapidly caught with professors and readers. For instance, do not try to color your story. If you write about your newly mastered skill, do not be afraid to share the challenges. "I always wanted to be more communicative, but my friends always knew I'd better be silent." You can hint to a reader about your struggle. Yet, you should then reveal the result of your mastering.
4. Use appropriate language, and linking words to help a reader smoothly reach the main body
Refer to the next phrases:
| Beginning | Middle | End |
| --- | --- | --- |
| Once, One Time, First, To start with, Last summer, One Day | Then, Later On, After, Before, Immediately, Afterward, By the Way | Finally, All in All, To Sum Up, In The End, After All |
After mastering your thesis, and hook, focus on the main body. If you have several ideas to share with a reader, ensure one idea is per one paragraph. Each idea should be backed up with evidence or facts, or at least a solution to that. No need to write just to write, but derive a lesson from that step by step yourself.
For example, "My last summer was the best in terms of acquiring new friends." – It is the first idea you remember your summer for. Where is the evidence? – "I got acquainted with two girls from Tennessee, and now we chat online, and plan the next meeting when they will be in town". The result of the idea is that you now have friends, and you plan the next time-spending with them. Thus, you backed up your idea of acquiring new friends, as simple as that.
How to write a good narrative essay in terms of conclusion? A good narrative report should involve a conclusion that refers to the thesis. It means that you do not have to include new information. Beyond that, you have to ensure you deliver the central message. Examples: you spoke about your school challenges, and want to emphasize key solutions you turned to deal with that. Otherwise, if applicable, you can create a summary with a rhetorical question to make a reader think about possible solutions. Check the example below.
"My last summer was the start of a new beginning when I managed to get acquainted with some people. I believe our friendship will last long." Or, if doing it with a rhetorical question – "I believe my friendship will last long, won't it?"
What to avoid in your narrative papers?
There should not be any second-person narratives! On some occasions, a professor will ask to write it in a third-person, but it is super rare;
Do limit references because a narrative report does not predetermine any research. Otherwise, personal references can be turned to demonstrate your previous experience regarding the key topic or idea in your paper;
Do not overload your reader with lots of facts. It should all be smooth, and logical. 1-3 key facts are pretty enough to reveal the plot;
Each paragraph may contain 3-5 sentences only because such papers usually predetermine 500 words.
Finally, if you lack ideas or inspiration, refer to online samples, however, do not try to copy-paste anything to avoid plagiarism. Do not also forget to read your paper to your friends to ensure it bears any sense or is interesting to read and listen to.