Can you get into medical school with a low GPA? To cut to the chase, yes, it is possible. However, no one is saying it will be easy. Medical schools train future specialists who are in charge of the most valuable thing a person can have — health. Thus, naturally, the competition for admission is very, very high. Keep reading to learn all about how medical schools in the USA weigh the GPA, what is considered a low GPA for medical school, and which score they consider most desirable.
What GPA Do Med Colleges Look At, and What Is Considered a Low GPA for Medical School?
Med schools are very careful about selecting candidates for admission. They evaluate each applicant based on many indicators, one of the most important of which is the GPA. Admissions committees distinguish between cumulative GPA, science GPA, and non-science GPA.
Cumulative GPA is your total grade point average for your high school years. When calculating it, the school administration takes into account all the courses you have taken and all the grades you have received. They do not differentiate classes by their complexity or specificity. Is a 3.7 GPA good for med school? It is good enough to try to compete to get into medical institutions.
Science GPA is your average GPA in courses related to medical specialties that you must take before entering medical college. These are the so-called medical institution prerequisite courses. They include biology, chemistry, physics, and mathematics. The Science GPA plays a big role for admissions officers because it reflects how capable you are in the health sciences. Is a 3.6 GPA good for med school? It depends on the med college admission policies.
Non-science GPA is the average grade for all the non-medical classes you have taken.
Pro tip
Despite this division, the first impression of you is, of course, your cumulative grade point average. If you are not sure about your grade point average, you can calculate it using a GPA calculator to check your chances of getting into med school.
You also need to understand the difference between GPAs among applicants and actual med school enrollees. The Association of American Medical Colleges (AAMC) reported that the average scores of medical school applicants and enrolled students in the 2022-2023 academic year were:
Still struggle to write a perfect paper? Leave it to professionals!
| | | | |
| --- | --- | --- | --- |
| | Average Science GPA | Average Non-Science GPA | Average Cumulative GPA |
| Applicants | 3.52 | 3.76 | 3.62 |
| Enrollees | 3.68 | 3.84 | 3.75 |
What's the lowest GPA to apply to a school of medicine?
Don't be discouraged if your GPA is below the listed scores. First of all, statistics are always based on average data. Some applicants and admitted students had higher scores for getting into medical institutions than the ones indicated, while some had lower scores. Secondly, these statistics cover all med institutions across the country, and their requirements may differ dramatically.
In general, the rule of thumb is that you can hope to get into med school with a GPA of 3.0. Moreover, if your GPA differs from the specified one by a 0.1 score, you still have a chance. If there is a difference of 0.3 points, your situation is more complicated but, again, not hopeless.
Pro tip
Can you get into med school with a 3.0 GPA? Most medical schools in the USA will not consider an applicant's request for admission if their GPA is below 3.0.
You Can Get Into Medical School With a Low GPA
As mentioned earlier, med colleges are very selective educational institutions. They conduct a rigorous screening of applicants. It is general knowledge that a low GPA can significantly reduce your chances of getting into medical school, but it does not make them zero. With a low GPA of 3.0 or close, you can still get into medical school. To do this, you should take into consideration some form of compensation. High MCAT scores, convincing letters of recommendation, an engaging personal statement, and participation in extracurricular activities, especially clinical exposure, research, and community involvement, can serve this purpose.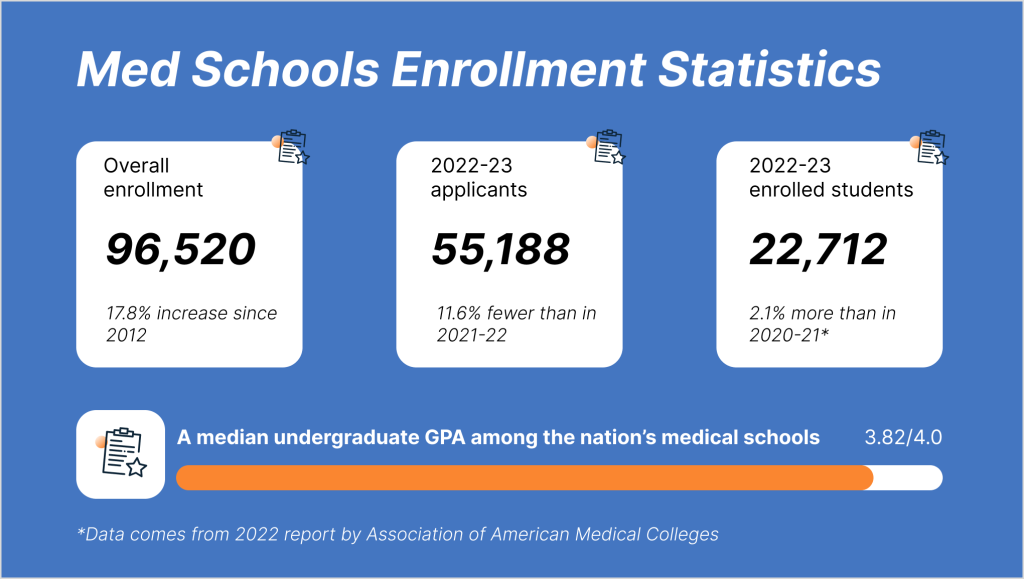 How to get into medical school with a low GPA: Tips you should know
Here's a breakdown of what you need to do to get into medical school with a satisfactory GPA:
If your GPA is not up to the desired level of your school of choice, a high score on the MCAT exam can make up for it. The lower threshold for MCAT scores is 500, but to improve your low GPA, it should be at least 512. Take a responsible approach to MCAT preparation. To maximize your chances, attend preparatory courses and sit for practice exams.
Impressive letters of recommendation
People tend to listen to authoritative opinions. This can play to your advantage when applying for admission into the school of medicine. A favorable letter of recommendation, or even better, several, can have a positive impact on the admissions committee. Letters from your mentors during extracurricular activities in medical institutions and reputable professors will be especially helpful.
A compelling personal statement
Put your heart and soul into your medical school application essay. Do not use weak, clichéd phrases such as "I have always dreamed of becoming a doctor" or "I am passionate about medicine." Tell the admissions officers why this medical institution needs you, what you have done to be worthy of the title of a healthcare professional, and what difficulties you have overcome on your way to med school. Take your time, be as open as possible, and the admissions committee members will definitely appreciate it.
Participation in extracurricular activities
Admissions officers want to see a well-rounded individual who pays attention to more than just their studies. If you are struggling academically and your GPA is lower than the competitive range, participating in extracurricular activities can help improve the situation. How to get into med school with low GPA? Take an active part in clinical internships, research projects, and volunteer work to demonstrate a broad-based interest in medicine.
Medical Schools With Low GPA Requirements
Most med schools in the USA set a high bar regarding the minimum GPAs they are willing to consider to admit an aspiring student. However, there are educational institutions that have more flexible requirements for grade point averages and are ready to consider the lowest GPA for med school. This does not mean that they accept everyone into their ranks. However, when your GPA is far from stellar, it's good to check the options available to you.
Medical schools for low GPA scores
You can consider the following medical schools for low GPA:
| | | | |
| --- | --- | --- | --- |
| Name | Average GPA | Average MCAT | Acceptance rate |
| Medical College of Georgia at Augusta University | 3.67 | 509 | 7.64% |
| University of Mississippi School of Medicine | 3.7 | 504 | 37% |
| Mercer University School of Medicine | 3.23 | 505 | 9.97% |
| American University School of Medicine Aruba | 3.0 | 490 | 40% |
| Howard University College of Medicine | 3.5 | 504 | 1.09% |
Medical Schools That Accept 3.0 GPA
Can you get into medical school with a low 3.0 GPA? Yes, you can try to send your school application. There are a number of colleges in the US that do not set a high standard for the desired minimum grade point average.
Pro tip
Keep in mind that the following GPAs are minimum scores. They do not guarantee you entry to med college. The average scores are typically higher.
The list of medical schools that accept 3.0 GPA:
| | | | |
| --- | --- | --- | --- |
| Name | Minimum GPA | Minimum MCAT | Acceptance rate |
| The University of Mississippi Medical Center (UMMC) | 2.8 | 504 | 41% |
| University of Missouri – Kansas City School of Medicine | 3.0 | 500 | 20% |
| University of Oklahoma School of Community Medicine | 3.0 | 492 | 14.6% |
| University of Arkansas College of Medicine with the lowest GPA requirements | 2.5 | 490 | 7.19% |
| Jacobs School of Medicine and Biomedical Sciences | 3.0 | 490 | 7% |
Every year, admissions officers make a difficult choice about which candidates are worthy of entering medical school and which are not. Many colleges have quite strict selection policies, but some consider applicants with low GPAs of 3.0. Usually, in this case, the admissions committee members pay increased attention to the MCAT scores, recommendations, personal essays, and participation in extracurricular activities.
Pro tip
Even if your grade point average is not high, you still have a chance to get into medical schools with low GPA expectations.
If guides and tutorials don't help you write, try our secret method!