The most recent research on GPA grades was conducted by Colorado State University. The study revealed that over the decade from 2010 to 2020, the average GPA increased by 4.2% and now remains around 3.74 points. Therefore, if you wonder whether a 3.5 GPA in college is a good result, we have an answer. Here, you will find the help with your questions in this article and learn about what colleges are the best to apply to with a 3.5 GPA score.
Is a 3.5 GPA Good in High School? And What Is a GPA, Anyway?
First, we need to answer the question of what is a 3.5 GPA in college and high school. GPA is a measurement system that indicates a student's level of academic excellence during a long-term period. For instance, you can take your coursework, semester, or a full year as milestones to calculate approximate GPA scores. Usually, schools and colleges pay close attention to students' results, as they show the potential of college applicants and the school's prestige.
Is a 3.5 GPA good in high school?
In a nutshell, yes, it is. The average GPA results for high school senior and college applicants is about 3.0, while high school students can get the maximum score of 4 GPA points. Hence, getting a 3.5 college GPA is equivalent to something between A- and B+ in the letter grading system.
If you struggle with understanding your application chances, use the GPA calculator to find out whether you can get a 3.5 college GPA score.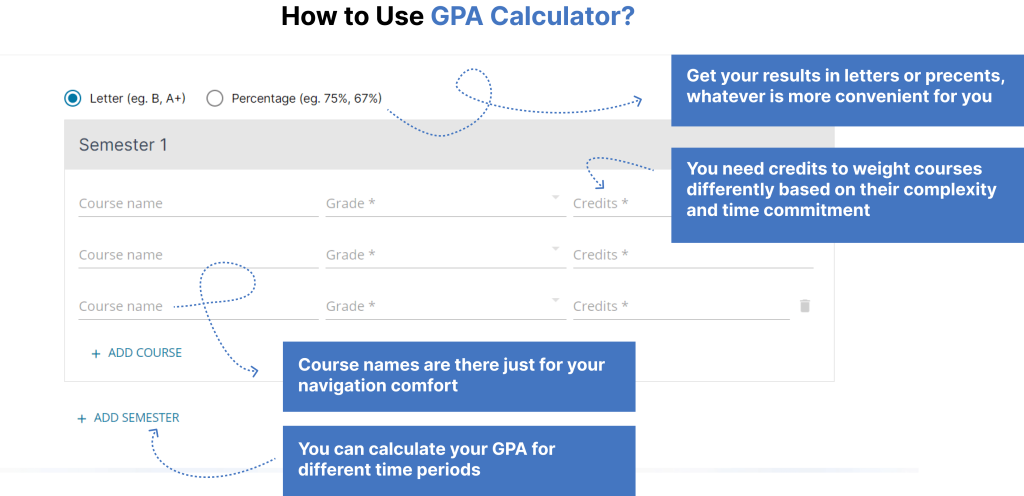 Weighted and unweighted GPA scores. What is the difference?
When calculating your GPA, you also need to take into account the weighted and unweighted scores. Here is the difference:
Unweighted GPA scores all the students equally on the measurement from 1 to 4, regardless of how complicated the courses are. For instance, imagine that one student takes an extremely challenging chemistry class, while the other takes a more easy-going social science course. If both get a 3.5 GPA, an unweighted GPA will show no difference between their efforts in the class.
Weighted GPA has an expanded grading system, with 5 to 5.3 points in total to rank students. This system clearly sets the difference between the course's difficulty, as well as the average student's success in the course. However, the drawback of the weighted GPA scores is that there is no common system. Each college can choose whether to use common GPA scores or invent its own weighted indexes.
What Colleges Can I Get Into With a 3.5 GPA? Private Colleges Edition
According to US News & World Report, Yeshiva University is ranked "#105 out of 439 National Universities," which is a pretty good result. The acceptance rate here is 62.7%, and the average GPA score of its applicants is 3.49. The university has 11 undergraduate and graduate schools and over $45 million of annual financial aid for students. Among other colleges with 3.5 GPA acceptance, you have a good chance of getting a rigorous and financially available education here. If you are considering New York in particular, you can read more about Yeshiva University and other rigorous institutions in the region.
Still struggle to write a perfect paper? Leave it to professionals!
The average GPA good enough for the University of Miami is 3.6, but generally, the university accepts those who score more than a 3.0 GPA. The university proposes over 130 courses within 10 undergraduate programs and 10 master programs, not including the school of law. It may be a good choice for you if you are a first-generation college student and need financial aid for your studies. The university proposes a sufficient variety of aid options and a reconsideration of financial aid if needed.
Brigham Young University Idaho
Brigham Young University Idaho has a 95% acceptance rate, with an average GPA grade of 3.62. Among other colleges for 3.5 GPA, Brigham University is a perfect choice for students who are afraid of not being admitted. The good news is that in the recent ranking edition, the university was awarded the #9 position among regional West colleges. Another outstanding characteristic of the university is the broad course, degree, and department variability to choose from.
The admission requirement for Seattle University is 3.5 or higher. If you search for a top-ranked university with rigorous programs, it's a good choice. Colleges with a 3.5 GPA in average are not usually ranked or even mentioned in many national awards. However, Seattle University was recognized by the Wall Street Journal, Princeton Review, and Fulbright Scholars.
To make it into The New School in New York, you need exactly 3.5 GPA points and a little bit of luck. The acceptance rate is around 66%, which means slightly higher selectivity in picking junior college students.
Colleges for 3.5 GPA. Public Colleges and Universities to Consider
In general, public colleges that accept a 3.5 GPA grade are less selective than private ones. Many of them accept either the SAT, ACT test, or both as the main admission criteria. Hence, if you wonder "Is 3.5 a good GPA in college" for public classes and courses, the answer will definitely be yes.
The average accepted GPA at the University of Kentucky is 3.51, so you will smoothly fit into the university's expectations. You will also be shocked by the acceptance rate, as it hits 94% for admission. The university has over two hundred major academic programs and 16 degree-granting colleges to choose from.
The University of Tennessee
If you want to grab some southern warmth and nice sunny days while studying, the University of Tennessee is a good option. The minimum admission-passing GPA here is 3.5, but you must consider a few things if that is the most appealing option for you. The bad news is that the actual average GPA for university applicants is 3.9. The good news is that the acceptance rate is 75%, which leaves you with pretty good chances of getting accepted.
With a 3.49 average GPA admission score, Georgia State University is a moderately competitive institution for students. The acceptance rate here is over 60 percent, so you have every chance of using all the benefits of its rigorous academic programs. With 14 colleges and more than 250 majors, you will have no issues with getting accepted, but you'll instead have a great decision-making problem.
Pro tip
If you are applying to the university with unweighted GPA scores, make sure to mention your course's specific difficulty in your application letter.
Is a 3.5 GPA Good in College of My Dream? Can I Get Into Any University of My Choice?
Whether a 3.5 GPA is good or not depends on your dream college choice. Let's look at what universities are more selective and require extra high GPAs.
Is 3.5 GPA good in college if I want to get into the top-ranking ones?
The answer to this question depends on what college you choose. 3.5 GPA scores grant you access to many high-ranking prestigious universities and guarantee you will not be left behind in academic life. However, you must carefully check all the requirements of the college of your dreams. For instance, here are a few points that will influence your enrollment chances:
Your GPA points
Weighted/unweighted GPA system in the college
The complexity of your courses in high school
College's preference of GPA or SAT/ACT scores as a basis for considering students
Your SAT/ACT results
Your extracurricular activities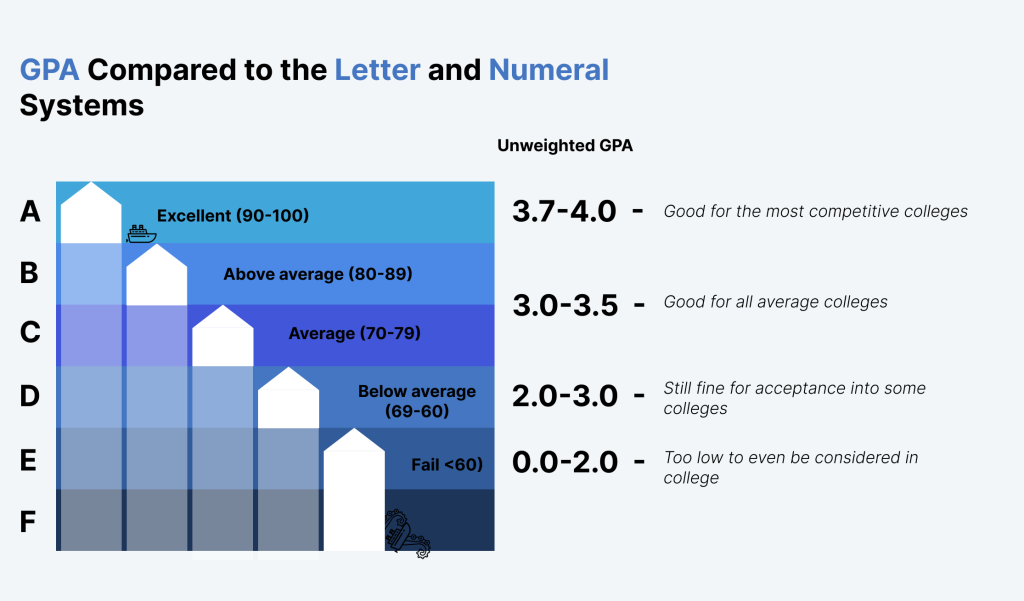 Is a 3.5 weighted GPA good for these colleges? Can it change my chances?
The weighted 3.5 GPA score is a higher result than the same grade in the unweighted system. As a weighted GPA has 5+ grades and factors in the course's complexity, a 3.5 GPA score is considered an above-average result. Yes, it can slightly improve your chances of getting into high-ranking colleges.
Is a 3.5 College GPA Good for the Ivy League?
Unfortunately, no, you most likely will not get accepted into Ivy League colleges unless you have a 3.9-4.0 GPA. However, you can try to offset the GPA result with other factors. If you want to try applying to Cornell, Yale, Princeton, Harvard, or other universities of that kind, here is what you can do:
Do your best to prepare for the SAT/ACT
Work closely on your application letter
Take any extracurricular activity you can
Take any leadership possibilities you come across
Learn as much as you can about the values of your dream college
Is a 3.5 GPA good in high school?
A 3.5 GPA is not the highest of what you can achieve, and you still probably have some grades to improve. Some of the most rigorous and top-ranking colleges sometimes consider students starting from 3.8 or 3.9 grades. However, it is still enough to be admitted into almost any average state university or college.
Can my GPA index influence my school life somehow?
At the point where you know your total GPA scores, you are most likely at the end of your final school year. So, no, it will not significantly affect your regular studying routine. However, the "Is 3.5 a good GPA in high school" question bothers your teachers as much as it bothers you. Your GPAs will affect your school's ranking among other competitors and represent the average academic excellence in your state.
Is 3.5 GPA good in college for the average student? Can you get into some universities or colleges with this point?
Yes, a 3.5 GPA score is good enough to get into most colleges in the US. The average result for high school students varies from 3.0 to 3.7 points, according to different studies.
Is a 3.5 GPA in college good for getting admitted into top-ranking colleges?
It depends on the college and your other academic and extracurricular achievements. For instance, some colleges prefer standard test scores over GPA results. However, if you aim to get into the most prestigious colleges, like the ones in the Ivy League, then no, you will most likely not be accepted.
What colleges can I get into with a 3.5 GPA?
You can get into many colleges all over the US. For instance, some of the best ones for you to consider are Yeshiva University, The University of Tennessee, and The New School.
Colleges with a 3.5 GPA. What should I know before applying?
You must know that getting a 3.5 GPA score is not an almighty indicator of your worthiness as a human or as a student. You are your own person, with many exciting opportunities and perspectives. So, think closely about the college of your choice, but also remember that colleges are looking for students, not for hollow score-holders.
Pro tip
If your GPA grade is 3.5, congratulations! It means that you are in one of the categories of students who are the most likely to pass college admissions.
If guides and tutorials don't help you write, try our secret method!