Writing an academic paper is a complex and challenging process that requires students to follow strict rules and requirements to meet the established standards. Many universities recognize the thesis statement as one of the most critical parts of each essay, explaining why learners concentrate on this aspect and frequently face challenges when aiming to develop a strong thesis to submit a high-quality paper. Let's focus on some effective tips on how to write thesis statement that will make your essay more logical and cohesive and help your reader understand your point of view.
What Is a Thesis Statement: Its Definition and Purpose
Specifically, a thesis statement should demonstrate your opinion about the topic you are writing about or show the main aspects you will explore. As a rule, the thesis statement is the last sentence of your essay introduction, while the body paragraphs provide more arguments and evidence to support your thesis statement and persuade your reader to support your opinion.
Pro tip
A thesis statement is a sentence in your paper that summarizes the most critical points you will discuss in your essay.
The main goal of the thesis statement is to clearly state your point of view about a specific topic or demonstrate what your essay will examine to allow your reader to consider these factors when analyzing your paper. Therefore, if you are trying to realize what is thesis statement, you need to remember that it is the last sentence of your essay introduction that should explicitly summarize the main idea of your paper.
Useful Tips on How to Write a Thesis Statement for a Research Paper
The thesis statement plays a vital role in all types of writing, including a research paper. A research paper differs slightly from an ordinary essay since it focuses on analyzing and explaining a specific topic based on in-depth research rather than your opinion.
If you want to understand how to write a thesis statement in the research paper correctly, remember that a strong thesis should demonstrate the purpose of your research.
Start with determining the main goal of your paper and try to identify the following points:
What exactly you will write about
What your reader should realize after reading your writing
What impact is your essay expected to have on the scientific world and further research?
Formulate a question you need to answer and develop a thesis statement that will respond to this question.
Let's focus on a few examples to understand the difference between a weak and a strong thesis and determine how to write thesis statement in a research paper. You are going to analyze the issue of gender inequality, while the main question you want to answer is, "What are the reasons for gender inequality, and what are the most effective methods to overcome this challenge?" Have a look at the following examples of a thesis:
Still struggle to write a perfect paper? Leave it to professionals!
"Gender inequality is a severe issue in the modern world."
Undoubtedly, this thesis statement is weak since it lacks specific information about your topic and doesn't provide clear explanations, making it difficult for your reader to know what the writing is about. A key feature of a research paper is its requirements for the thesis statement. While an ordinary essay would require you to specify clear reasons for gender inequality in a thesis, research papers' standards recognize the following statement as strong:
"This research paper aims to explore the critical causes of gender inequality and determine the most appropriate methods to solve this global issue."
Specifically, a research paper's thesis statement should:
Clearly determine the purpose of your writing
Explain what issue you will analyze
Highlight specific aspects related to your topic you will consider in your analysis
These steps will help you keep focus on the problem you explore and enable your readers to understand what factors they will analyze within your writing. Thus, an introduction paragraph should provide background information about your topic, while a thesis statement is a sentence at the end of the introduction paragraph that explains what aspects of the general issue will be analyzed in the paper.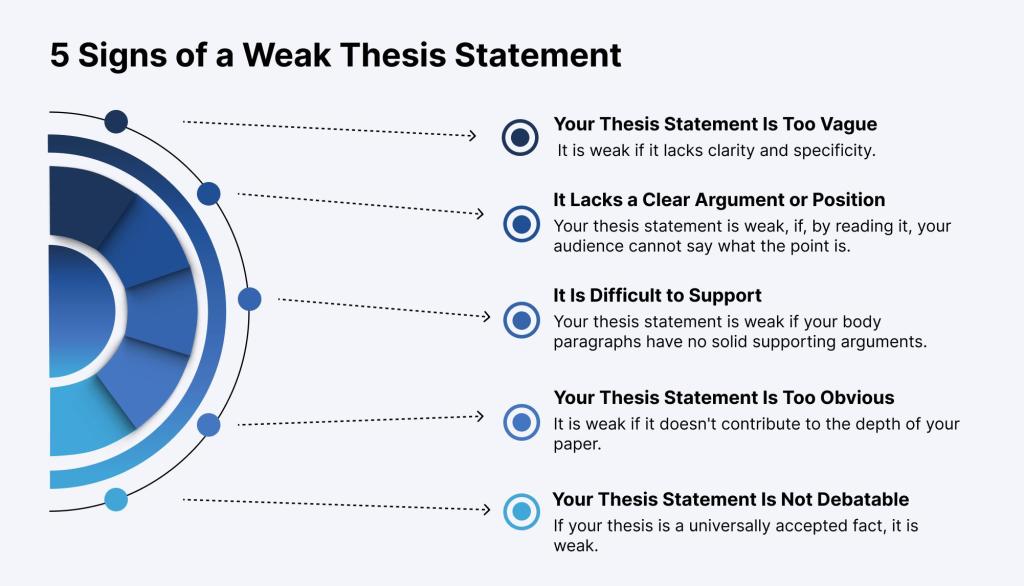 Guidelines on How to Write a Thesis Statement for an Essay
Each academic essay should answer a specific question, proving that you must thoroughly analyze the assignment's requirements to write a paper correctly. Start with examining the initial instructions to determine your task since a complete understanding of your topic will help you realize how to write a thesis statement for an essay. Only constant practice and regular improvement of your writing skills will enable you to determine how to make a thesis statement logical, coherent, and smooth.
If your teacher has provided a specific topic to explore, your thesis statement should answer the question specified in the instructions. However, you may ask, "How do I write a thesis statement if my college/university professor has not provided an issue to analyze?" Let's discuss both cases separately to improve your understanding of how to create a thesis, depending on the availability of strict and precise instructions.
How to create a thesis statement if you lack a particular question you should answer
Sometimes, universities expect students to write an essay on a free topic. In this case, you should use this opportunity to explore the sphere in which you want to improve your knowledge. For instance, you have been thinking about the impact of homework on the overall quality of education for a long time, and now your teacher asks you to write an essay on a free topic. Undoubtedly, you must use this chance to express your opinion about this controversial issue and discuss the aspects you are interested in.
Start with conducting Internet research to identify the most controversial aspects of your topic. Formulate a precise question you want to answer in your essay and write an introduction with background information related to the issue. Your thesis statement should be the last sentence of your essay introduction and must answer the initial question you have formulated. Remember that your thesis statement is a sentence that guides your reader to the arguments. Let's consider some specific examples of how to write a thesis statement if you plan to write an essay on a free topic:
Sample #1. You want to analyze why smoking should be banned in your academic paper. In this case, the question is straightforward: "Why should smoking be prohibited?" Start your essay explaining why the topic is controversial: your introduction must provide background information about this issue, specifying that society continues discussing the advantages and disadvantages of tobacco throughout the decades. Your thesis statement should answer the question above and can be written in the following way: "Smoking causes numerous health issues, such as cancer, heart disease, diabetes, chronic bronchitis, and lung illnesses, proving that tobacco should be banned." Therefore, the essay structure will include several body paragraphs explaining how tobacco causes each health problem.
Sample #2. Imagine you are going to write an essay on the topic you have selected on your own: "Education should be free." The question you need to answer is obvious: "Why should education be free?" Have a look at two thesis statements:
"Education should be free because it can improve people's lives."
"Since free education can enhance society, thereby improving more people's lives due to their ability to gain knowledge and skills despite their socioeconomic status, increasing the number of individuals who find decent jobs, and increasing equality within communities, education should be available for all society members regardless of their financial situations."
How do you write a thesis statement on this topic? Undoubtedly, these sentences are examples of a weak and strong thesis: the second option is a more appropriate thesis statement for your essay if you discuss the importance of free education.
You have a specific essay topic: How to write a thesis statement example
It's much easier for many students to write an essay and create an appropriate thesis statement if the topic is assigned. Firstly, try to determine a particular question that should be answered based on the initial instructions. Secondly, develop an introduction that will give your reader a general understanding of the topic. Finally, your thesis statement is a sentence written at the end of the first paragraph that answers the question.
The essay structure depends on the thesis statement, so it's essential to include each point you will discuss in the body paragraphs of your thesis. Let's concentrate on some examples:
Diversity-aware approach. The teacher asks students to write an essay on the topic "Does technology have a positive or negative impact on humanity?" Students can have different opinions about this issue, so it's a good idea to show your awareness of both views on this problem. You may ask, "How to start my thesis statement if I try to demonstrate an open-minded approach in this essay?"
Profound research. You need to follow a few steps to write an effective thesis statement. Try to conduct Internet research to get the necessary information before you start writing. Use online sources to observe the topic from different perspectives, and your thesis statement will be the following: "Although technology helps society members stay connected, access all the necessary data immediately, and communicate with people worldwide despite the distance between them, it causes numerous issues, such as cyberbullying and technology addiction."
Thesis statement and essay structure. This thesis statement shows that you recognize that people's opinions are different, and your goal is to analyze both sides. The essay structure will include several body paragraphs discussing the positive and negative effects separately.
Live Thesis Statement Practice
Challenge your thesis statement skills in practice and master your vulnerabilities in under half an hour with this quiz.
6 Critical Steps to Writing a Thesis Statement. Your Final Check-Up Point
To make the process of creating a thesis easier, consider the following steps:
Step one: Set a precise question you need to answer. Your essay should have one specific idea you aim to explain to your reader.
Step two: Answer this question to determine what your writing will be about. Your response will help you understand what point you should use in your thesis statement.
Step three: Polish your answer and develop a proper thesis statement to guide your arguments.
Step four: Include strong verbs in your thesis statement. Strong verbs are precise words that explain a clear action. These verbs should definitely be used in a research paper's thesis statement but also can be helpful in an ordinary essay's thesis. For example, strong verbs include analyze, highlight, explore, examine, assess, identify, regulate, indicate, illustrate, summarize, investigate, and others.
Step five: Remember about proofreading. This step will help you analyze whether your thesis is logical, coherent, and clear for your audience.
Step six: Once the essay is completed, check whether your arguments comply with the thesis statement.
These steps can make writing a thesis statement and overall essay easier. At the same time, you will get a thesis that meets the academic standards and makes your paper smooth and interesting.

Helpful Hints on How to Make a Thesis Statment Sound Perfect
Remember that your thesis statement influences the overall quality of your essay. Hence, consider some valuable tips that make your thesis statement clear and understandable to your reader:
To meet the academic standards, check whether your thesis answers the main question provided in the initial instructions or developed by you.
Many learners use AI services when writing their papers but avoid considering that artificial intelligence frequently provides low-quality writing. Although AI simplifies the writing process, it doesn't create a thesis statement. Therefore, if you use AI as a source of inspiration and information, check whether your essay includes a thesis statement. It's better to create a thesis on your own, even if AI services have completed it per your request.
Always use a plagiarism checker before submitting your paper. A thesis statement frequently includes critical information and details that can be highlighted as plagiarized. A plagiarism checker will ensure that your thesis and overall essay are original and plagiarism-free.
Remember that no citation is allowed in the introduction paragraph, especially the thesis statement. You can use a citation in body paragraphs to support your arguments. However, your thesis statement should demonstrate your own opinion.
It's always a good idea to use a grammar checker to monitor whether you submit a high-quality paper. Your final score depends considerably on your grammar, so you can use any grammar checker available on the Internet to make sure that your thesis statement and overall essay follow grammar standards.
Don't forget about proofreading: this process helps you analyze your paper from your reader's perspective and understand whether the text is clear and logical.
The more you practice, the better the thesis statement you will create and the better your essays will become. Good luck!
If guides and tutorials don't help you write, try our secret method!