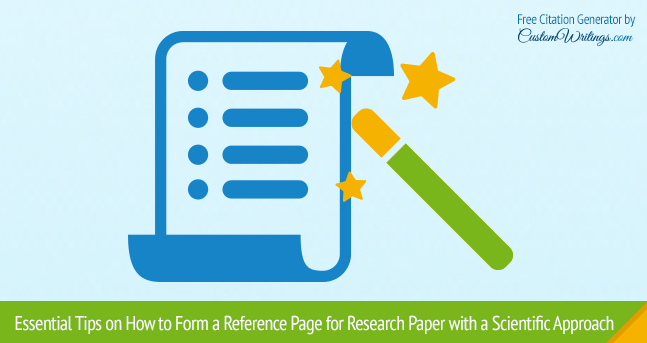 Every research paper must have a separate reference page to gain value, especially if you're writing a paper on a scientific subject. Basically, it will help you steer clear of plagiarism accusations, as well as demonstrate that you have performed proper research. By offering official information concerning the sources used to help you craft the material, a properly laid-out reference page grants you credit and proves scholar diligence. Here are some essential tips you might want to check out.
1. Save a Separate Page for References
At the end of your paper, you should have a separate page for references, titled "References" with the capital letter. Make it a title by centering. In case you're adhering to a certain formatting style like MLA or APA, use normal text to write the title. Make sure to use exactly the same size, font, and format as the rest of your text. If your teacher hasn't made any requirements regarding formatting, you can put the title in bold, and even make letters larger.
2. Entry for Every Source Used in the Paper
If we're talking about websites, books, pamphlets, articles, movies, TV broadcasts, journals, etc., make sure that there's an entry added to each of the used sources. In case something within your paper was not your idea or original creation, it needs to be cited. In general, you are only required to provide reference entries for the specific sources mentioned or cited in the paper.
3. Each Source Must Feature Thorough Information
On your reference page, each source must be backed up by solid information. Start with the name of the author for the used source, and make sure to include the title of the source, publisher and publication date. In case the used source was published in a periodical, you need to include the issue numbers, volume, and the name of the magazine or journal. If you have chosen to use an online source, include the URL.
4. Entry Alignment
Entries must be aligned to the left, starting flush left. In case you have entries that go beyond one line, the general rule is to subsequent the lines, often by half an inch. In case your references are double-spaces, you shouldn't include another line between entries. Whatever formatting style to select, make sure to adhere to the specified rules for your reference list.
Still struggle to write a perfect paper? Leave it to professionals!
5. Alphabetize Your Reference List
A reference list must be alphabetized following the names of the authors. If the author is an actual person, start with the last name (e.g. "Martha Smith" should be "Smith, Martha" or in certain formatting styles if could be "Smith M."). In case of multiple sources, your entry must be alphabetized according to the last name of the first author.
6. Common Mistakes to Avoid
We've already covered that it's paramount to have a reference page for research paper, especially for a paper with a scientific approach. Some common mistakes you might want to steer clear of:
Don't add references at the end of your paper, unless the reference list is on a separate page.
The references page must be written "References" capitalizing only the first letter of the word, not the whole word.
Pay close attention to your paper's requirements. APA formatting is different than MLA and Harvard.
Do not write the names of the authors at random, make sure to alphabetize the reference list.
Use our Free Citation Generator to avoid all of the mistakes mentioned above.