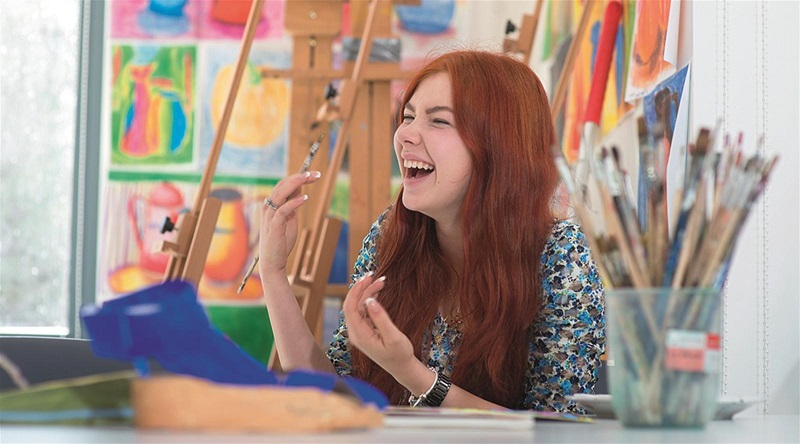 Many students select art as their career. It is a specific direction for very sensitive and creative identities. The process of learning promises to be interesting. Nonetheless, it doesn't mean students will not face some obstacles and complications. They may have problems with any stage of writing essays, even with the selection of art essay topics.
The choice of art essay titles is a pretty complex task and may sometimes require a lot of time. That is why they should learn how to select them fast and properly. For example, they may review a list of good essay topics to get the necessary insights. We want to help such students, and so have created a great list with captivating ideas related to art. Here are our suggestions:
An essay on painting – my hobby.
What is the purpose of art?
Art can inspire you to do great deeds.
Painting as the best therapy for the mind.
The main principles of art in Europe.
The differences of painting in Asia and the USA.
How to become a great painter?
Art helps to express oneself.
Where to get inspiration to draw real masterpieces?
The talent of a painter: is it in-born and achieved?
Printmaking: history and techniques.
Can street art be called a true art direction?
The influence of art on people's culture.
How can the right art exhibition impact the personal growth of a person?
Painting as a medium of reflection on your inner desires.
Why is drawing a good hobby in modern life?
The quality comparison of African and Australian kinds of art.
How early should children begin to study art?
Painting with fingers is a new level of life appreciation.
What can be called a formal kind of art?
How can constructive critique help a person to become a great painter?
The formal elements of Egyptian portraits and their meaning.
The influence of Claude Mane on the development of impressionism.
The role of religion in painting.
Select any topic from the list or use them all. Each focuses on something specific. You may also use our suggestions as great examples of what a relevant topic is supposed to be. They may suit all art essay types, as well as a research paper, case study, coursework, and so on. Some of these topics (or similar ones) may be your tasks in IELTS. Therefore, try to memorize them all and cover each at least once. It will be a very good and effective practice for your future tests.
Still struggle to write a perfect paper? Leave it to professionals!
What Makes a Good Topic?
Now the time has come to clarify one crucial point. It can be formulated like this – What features make a good topic? Take a look at the next infographic:
Be sure the selected topic has all these features. Thus, you will know that your readers will be interested in your title.
The main painting directions:
Abstractionism
Animalism
Baroque
Genre painting
Renaissance
Hyperrealism
Urban landscape
Impressionism
Historical genre
Classicism
Cubism
Minimalism
Modernism
How to Select a Good Topic?
Now, we would like to provide a few good tips on how to select the topic correctly. There are certain things that may help. First, research the industry of art. Define what issues are relevant and trendy. Thus, you will minimize your searches to a certain extent. You have many options to choose from. Focus on a certain direction. It may be life and art essay, modern art essay, and so on.
Secondly, be sure to narrow your topic. If you select a too broad issue, you will have no time and space to cover it entirely. Compare two examples:
A broad topic: History of Art.
A narrow topic: History of Art in Ancient Greece.
Let's discuss both options. The first example shows that you will have to cover the history of art in all countries and for all ages. On the contrary, the second example shows that you focus on a certain country. Moreover, you outline a certain timeframe, which is the times of Ancient Greece. Consequently, the narrowing of the topic makes your task much easier.
Thirdly, research the selected topic idea. Oftentimes, it turned out that many students seemed to have brilliant ideas, but they could not find enough evidence. Therefore, it is very vital to check the idea you have opted for. Perhaps you won't find everything you wanted, and you will have to reshape your topic at least a bit. It is also possible that you will have to change the topic entirely.
If you fulfill all these points, you will be able to find a great topic every time you are assigned an essay about art and related directions.
The 5 most famous painters:
Leonardo da Vinci
Michelangelo
Rembrandt
Vincent Van Gogh
Pablo Picasso
Consider Professional Help
At times, you may not have enough strength or inspiration to generate relevant art essay topics. If you have this trouble, consider using the help of custom writing agencies. Any reliable platform may help to handle any academic issue, including the topic selection. Ask your helper to generate a list of topics related to art and select one of them.
You may also request a sample, which is closely related to what you have selected. Thus, you will understand how to disclose it properly. It is a great benefit, and you should not forget about it. Mind that, professional help is pretty cheap if you work with a highly reputed agency.
Summing Up
The choice of art topics may be a serious challenge for anyone. Fortunately, every learning obstacle can be handled if you know the right tips and tricks. We have provided you with a great list of good topics. Provide an analysis to define what makes a good topic and also use over explanations. Thus, you will quickly overcome the issue of art essay topic selection.