An average student deals either with a 3-paragraph or a 5-paragraph essay. Both writings have requirements that differ just a bit. The main difference between these two writings is the number of paragraphs included in the body. A 3-paragraph essay devotes only one paragraph to the body while a 5-paragraph essay devotes three paragraphs to this section. Longer essays are more structured because they leave more space for idea development.
If a person knows how to do something right, the task performance will be easier and more successful. This guide will help students manage the assignment and get the desired grades.
5-Paragraph Essay Structure Requirements
The first thing that is essential for this essay type is a proper structure. There is no need to say that a 5-paragraph essay format requires 5 paragraphs. This paper has traditional three structural components – an introduction, a body, and a conclusion. Each part has specific requirements.
An Introduction
This essay part presents a problem but does not retell everything. Its task is to intrigue and not to kill the desire to read. A good introduction has a hook, a thesis statement, and catchy facts to prove the value of the essay. So, what to do?
First, one should start with a hook. It might be different. The selection depends on the essay type. If the topic is positive, one can use a joke or a catchy story. When an essay concerns something serious and sophisticated, one will need to apply citations, provocative questions, and orders or smart recommendations.
For example, Never argue with a stranger because he might become your friend (order).
Second, use the next sentence to let a reader come closer to the discussion of the main topic. It should not be specific. Generalized sentences at this stage are better. They help to preserve intrigue. The third sentence might cover a narrower notion that prepares a reader for the thesis statement.
Third, a thesis statement must be precise and not exceed the limit of forty words. It should have answers to topic questions or deeper explanations of the message.
For example, Self-control is a perfect tool for career development, socialization, and networking in the XXI century.
A Body
This part has three equal parts. Consequently, there should be three interrelated strong points. Perhaps, everyone has noticed that outstanding writers always start with something hooky. Then they usually relax and provide a bit of monotonous information to make the writing longer. Finally, they return to another impressive idea, and the reader remains satisfied with everything. A student should do the same.
Still struggle to write a perfect paper? Leave it to professionals!
Three paragraphs should be connected but introduce different ideas that explain the thesis statement.
For example, Self-control is a perfect tool for career development, socialization, and networking in the XXI century. This thesis statement shows three ideas:
self-control helps people to become successful thanks to career development;
self-control lets people get friends and companions;
self-control allows people to find those who can help in different life situations.
Depending on the number of facts and life samples, a student orders these ideas using a sandwich concept: interesting – not so interesting – the most interesting. Such a writing approach keeps a reader's attention and provides vivid contrast of ideas. How to define the strongest point? The easiest way is to create an outline with topic sentences. Each topic sentence will guide a student's decision concerning the essay structuring and search of information in case some points miss verified facts.
When students write a paragraph, they should start it with topic sentences to catch a reader's attention. Topic sentences resemble narrow versions of a thesis statement. They reflect the core idea of the paragraphs they introduce. It can be a quote. Besides, all paragraphs must have supporting information such as evidence, facts, life samples. One can also comment on something by expressing a personal attitude or giving a personal story.
The last recommendation from experts is to end each paragraph with a sentence that relates to a thesis statement. It guarantees logical flow and accurate topic discussion.
A Conclusion
This section restates a thesis statement but has more things to add. Students explain the topic and its value in the introduction and body. The final part NEVER introduces new information. Its mission is to stress essential data of the whole essay. Unknown data will mislead readers because questions will remain.
New information results in fewer points for an essay. A reader should not feel lost. The last paragraph must resemble a full stop, not a comma. Nevertheless, one can finish the final paragraph with a question that makes the target audience reflect on it after reading. The call-to-action, a quote, or a universal statement is the best way to finish writing.
Use this checklist to make sure you did everything right.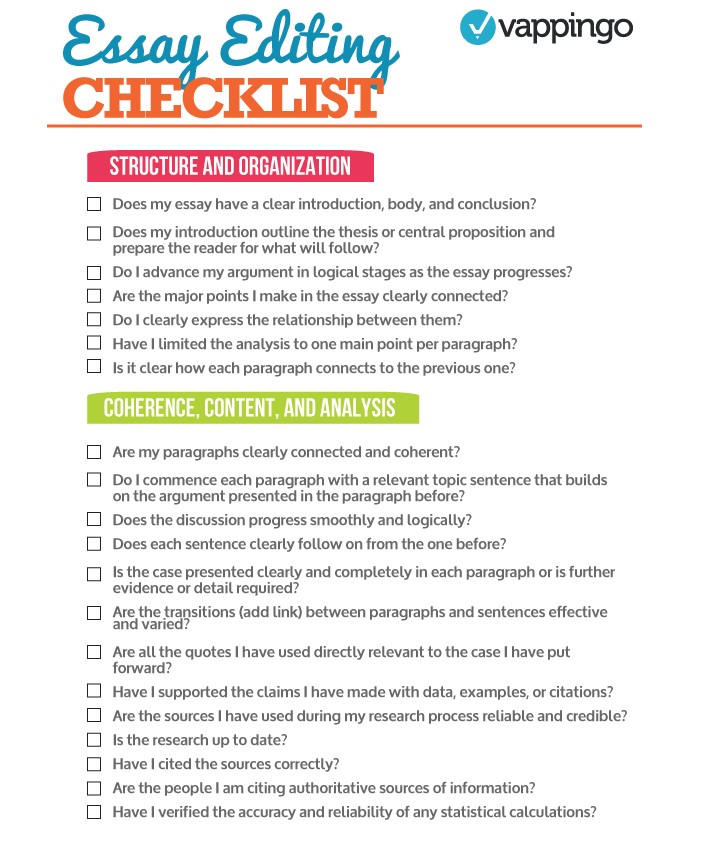 How to Improve the Quality of a 5-Paragraph Essay
Except for a good structure, an essay should be well-formatted and without mistakes. One should read the paper before sending it to an educator. Many students proofread their essays when being tired because they often do their homework at the last moment. Fortunately, several tools might be very helpful.
Grammar Checkers
These tools let a person find typical mistakes fast and correct them using hints. Due to that, a person does not risk missing a punctuation mark, an article, or misuse of prepositions and adverbs, especially, in set expressions. Such tools are also great in finding typos, collocations, and overused words.
Readability Enhancers
Texts that are difficult to read can hardly deserve an A. Students often use too many adverbs, parentheses, and long compound sentences. These tools help to identify extracts that are hard to read and understand. So, students have a chance to rewrite them and improve their readability.
Plagiarism Detectors
Each writing is to be unique. A person copies a text and inserts it into the program. The program scans it and provides the percentage of uniqueness and stolen data. One should not worry about sentences that one takes from a book or a magazine to cite. Nobody regards them as plagiarism unless they make more than 5% of the paper.
Formatting Tools
A format requires certain spacing, font, margins, citing, and other details. An essay must have the required details to match the A-level demands of a college or university. Students should include a list of used sources to suit the rules of academic integrity. Moreover, all applied sources need correct formatting such as word order, details about a publication, and its ABC presentation.
Help
When a person lacks knowledge, there should be someone or something to guide a student. It can be a writing agency, a senior student, a private tutor, a teacher, or a website with useful information, mainly launched by educational institutions.
If students follow all the introduced rules, they will surely succeed.