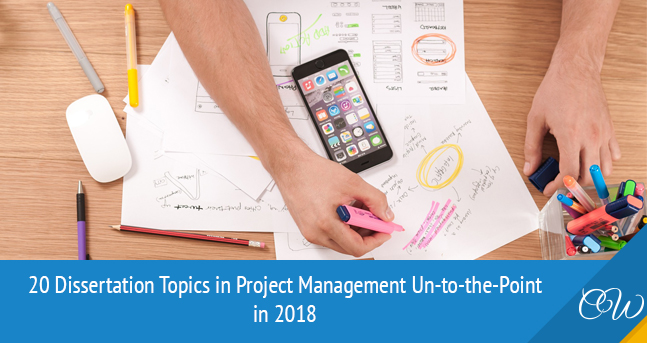 It can be a challenge to come up with dissertation topics. Sometimes, finding an idea can be the hardest part. You might feel like there are not enough options out there, especially once you narrow your focus to a particular subject. Students have said that this is one of the most difficult parts of writing a dissertation in project management. For now, we are going to focus on project management dissertation topics that could be a great start point to crafting a masterpiece.
There are more dissertation topics in project management than you might think. The purpose of using one of these topics is really just to get the ball rolling. Once you come up with an idea, you can begin researching and writing about it. You don't want to be stuck searching for a topic when you could be spending that time actually on a dissertation writing.
Here are some of the topics that can help you write a strong project management essay. They aren't in any specific order, so you can just choose the one that is the most relevant to you or helps you to achieve your purpose. Keep in mind that these can be altered to better fit your goals and interests. You might even want to combine a couple of ideas to take a new stance!
Budgeting Tools and Their Importance to Technological Projects
How to Successfully Manage the Communication of Remote Project Teams
What Can Be Expected of Remote Teams in the Future and Why?
What Improvements Are Causing a Shift in Remote Work Environments?
How Will Emotional Intelligence Affect the Overall Dynamics of a Workspace?
How Does Emotional Intelligence Influence Leadership Positions?
What Is the Future of Resource Management, and Why Is It Gaining Importance?
When Should Remote Workers Be Hired as a Part of Resource Management?
What Tools Are Available for Digital Project Management Opportunities?
What Could Be Leading to the Rise of Digital Project Management Jobs?
Why Are Training Courses Essential to an Effective Project Management Structure?
How Does the Culture of a Company Influence Its Overall Success in the Technology Industry?
Which Factors Are Causing Project Staff to Remain an Ongoing Issue?
How Does Up-and-Coming Digitalization Contribute to Employee and Team Portfolios?
What Changes Will Be Made in the Organizational Structures with New Technological Advancements?
How Should Responsibilities Be Divided Among a New Technologically-Driven Team?
What Can Be Expected of Project Management Offices as They Continue to Evolve?
What Types of Cloud Servers Will Be Used In Place of Internal Solutions and What Are the Benefits?
What Are the Pros and Cons of Agile and Iteration Methods within the Project Management Space?
As Project Management Improves, Are Specialization or General Skills More Effective?
As you can see, the possibilities are endless. Some of these topics do have overlapping content areas, so you can easily blend those to create a different topic. After you decide on a general idea, you are able to move to the more important details — the content itself. Mind to use hooks that will involve the audience in your piece.  In case you have no idea what could serve you as an attention grabber, we have made a list of 10 facts you could insert in your paper.
Still struggle to write a perfect paper? Leave it to professionals!
Sample Essay on How Responsibilities Should Be Divided Among a Team?
When a team begins working on an important project, there is a lot for them to consider. It is usually required that they break down the different elements and discover a logical solution. Once they do this, they also need to distribute the workload. It might seem easy to just assign each team member a task and get to work. But, this is not the most effective way to accomplish a task, and there are much better methods to turn to.
One of the best ways to assign responsibilities for a project is to evaluate the team members' individual skills. Each of them should have their own skill set, such as technology, writing, or design. In addition, some members might have more specific skills. This might be based on their actual job title, their interests, or their personal experience.
Giving people the tasks that they are most familiar with is important for a number of reasons. First, this will save time. If someone agrees to a writing task that is a piece of the whole project, they have to be aware of the proper etiquette of writing. Perhaps, they have written something of the same nature before. The same goes for someone who offers to design an image or a handout about the project. This will help cut down on time spent on the research. This will also provide team members with the opportunity to work on what they are passionate about or what they truly care about.
Sometimes, the skillset is just too narrow. This happens usually if every employee is knowledgeable about the same topics or where there is a limited number of employees working at a team. There might not be a team member who is experienced in computers or coming up with budget details. This can leave teams in a tough spot with an important position to fill.
This does not have to be difficult though, as there are ways to accomplish the tasks without seeking more team members. That is definitely an option, but it does not have to be the first one. Team members can come together to apply the basic knowledge that they might have in the needed area. From there, they can all work to dig deeper and understand the other concepts.
A team might also decide to assign the research portion to one or two of its members. This can take a lot of time, especially if it requires the team members to learn how to utilize the new information right away. This means that these individuals should not be given much other work, which will give them adequate time to learn the new skills.
If the project has equal opportunities for everyone involved, this is ideal. This is a good place to narrow the project to the areas where each person has a task that is related to the overall skills of the team. Additionally, this allows for proper fact-checking and revisions. If each member is an expert in the project, they will be able to verify the information for accuracy.
Sometimes, it becomes necessary to look for extra help outside of the office or team. This is a good way to ensure the expertise is going to be brought to the table, but it can be costly. This should only be considered if it fits into the project's budget.
Overall, there are a few ways to assign responsibilities to different team members. If in doubt, teams can divide the tasks randomly and make changes if needed. It is a good idea to do this logically though, as it will increase the efficiency. Some teams will decide to outsource new members that have stronger skill sets. This is an excellent option if the budget gives the green light.
References:
Burke, R., & Barron, S. (2014). Project management leadership: building creative teams. Chichester: John Wiley & Sons.
Fleming, Q. W., & Koppelman, J. M. (2012). Earned Value Project Management – Fourth Edition. Chicago: Project Management Institute.
Frame, J. D. (2014). Reconstructing Project Management. Project Management Journal, 45(1).
Heagney, J. (2016). Fundamentals of project management. New York: McGraw-Hill.
Lebedeva, A. (2015). Five essential project management skills for RM and IG professionals. Overland Park. 28-33.
A Peek into the Future of Project Management. (2015). Project Management 2.0, 25-35.
Schwalbe, K. (2006). Information technology project management. Boston, MA: Thomson Course Technology.