Trying college side hustles is often a good idea for students who aim to get all their needs met. Although legitimate side hustles will require a bit of paperwork, cautiousness, and patience, getting your own money is worth all the effort. In this article, you will get the list of the best side hustles for college students, with basic legal issues and prospective salaries explained.
What You Must Know about Side Hustle Employment Before Getting One
Depending on whether you are a US citizen or an international student, some procedures and rules will differ. The two services you must be most familiar with in this regard are The US Department of Labor and The Internal Revenue Service. The first administers most labor laws and regulations and the second manages and enforces US federal tax laws.
Please note that this article has an educational purpose and cannot replace consulting with official federal services, lawyers, or attorneys. You can contact the career service office in your university, local social security administration, or state labor departments to get accurate information for your state.
If you want to get an easy side hustle while studying in college (or at least approximately easy), let's discuss the basic steps you will have to follow. To make the separation more clear, we will discuss the major peculiarities of getting a side hustle for college students separately for US citizens and international students.
Side hustle for students: the most important documents and steps for US citizens
Typically,

your university will have no concerns with your work

as long as it does not interfere with your academic performance. However, make sure to

check it out with the university's career service

.
The most important documents you will fill for an official employer are

IRS Form W-4

and

I-9 Form

(Employment Eligibility Verification).
If you go for a self-employment side-hustle job,

you can skip paying taxes only up to $400 of annual income

. If you earn more, you must get a business registration (yeah, unfortunately, you do).
College student side hustles. How does it work for international students?
Depending on whether you are studying in the US with an

F1 or J1 visa

, you will have slightly

different job permissions

. To work full-time with a J1 visa, you will need permission from an Alternate Responsible Officer.
In both cases, you can work only

up to 20 hours a week

(part-time work) during your term and

up to 40 hours a week

(full-time job) on your academic breaks.
The benefit of working in the US while studying is assured through the

Optional Practical Training

visa benefit. The work will better align with your academic performance

if it is related to the education you acquire

.
As an international student, you are not required to pay a FICA tax for side hustle jobs. However, you still

have to pay federal and state income taxes

.
As an international student,

you can engage in self-employment

sometimes. For instance, you can apply for off-campus employment under a Severe Economic Hardship employment program.

However, it is much better to aim for on-campus employment

.
Official Employment Side Hustles for College Students
If you are looking for the best side hustle, don't rush straight into freelance options. First, consider the following legitimate and well-paying options.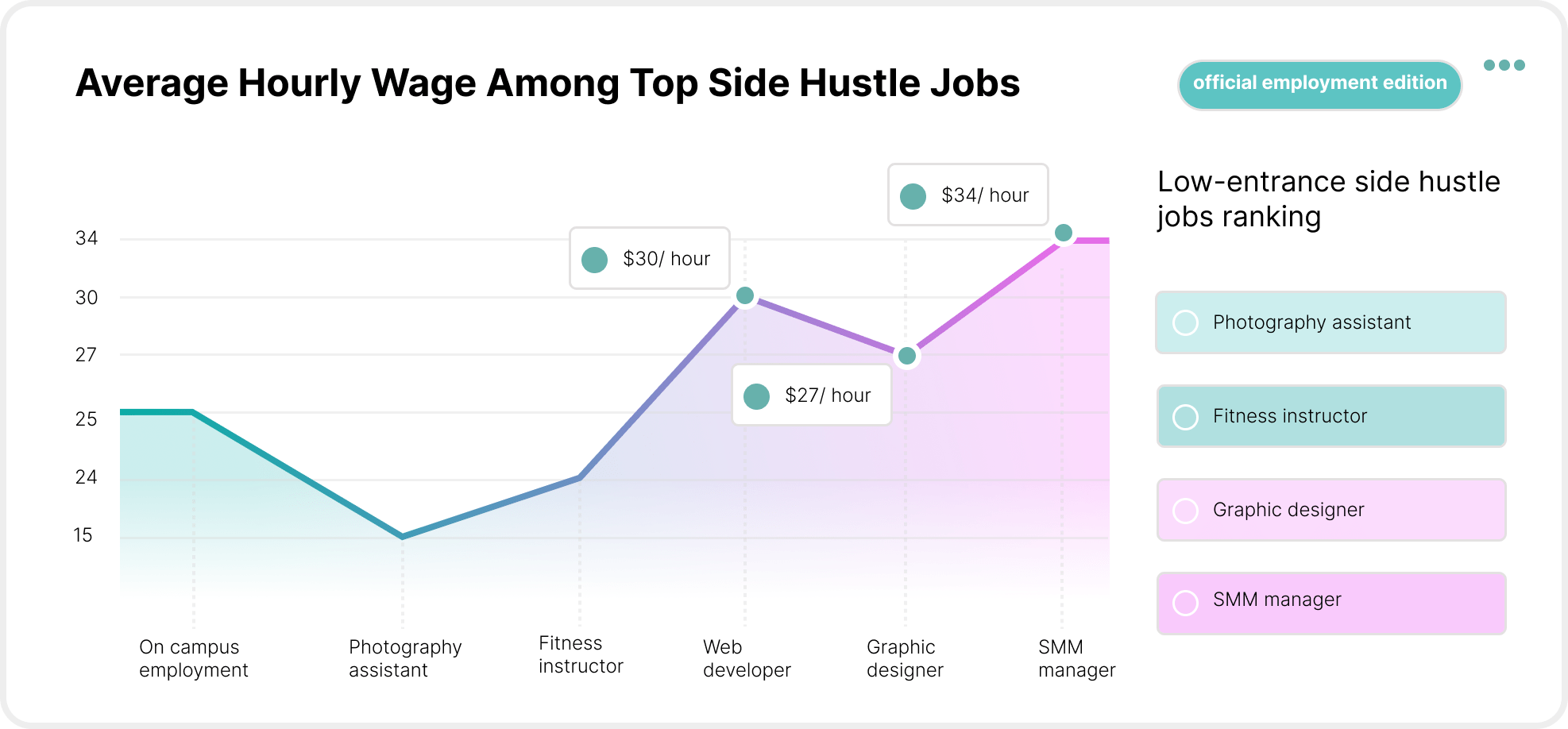 On-campus employment
On-campus employment is one of the safest side hustles for college students, which can get you from $8 to about $25 per hour. For instance, the Executive MPA/TALI Staff Assistant position at the University of Washington proposes a $20.00 hourly pay rate and up to 19.5 hours of work per week.
Why on-campus employment?
This option is a good side hustle for college students as you don't have to split your attention into entirely different spheres. Working with your college community, you can grasp some knowledge that will benefit your studying, too.
Minimum entrance level requirements
It depends on the university, state, and position you are applying to. Typically, you need:
To be a student of that particular university
Meet minimal credit hour requirements (e.g., 6 or 12 credit hours)
Have a good academic standing to be eligible for on-campus jobs
You also have to prepare your resume and pass the interview with the hiring manager or supervisor.
Start by asking for a Career Center on your campus, networking with student organizations and communities, or volunteering first. Some colleges regularly encourage students to do after-class activities. You can first make yourself recognizable to boost your chances of getting an on-campus job.
International students with F-1 or J-1 visa types can only work up to 20 hours per week and up to 40 hours during university holidays.

Xiu Zhang, a Chinese native studying in the USA
Photography studio assistant
The average wage of photography studio assistants is about $15. For instance, here is a job application from Oviedo, FL, so that you know what to expect from a job. The studio proposes part-time employment and $13-$15 per hour for performing mainly administrative duties.
Why a photography studio assistant?
The photography assistant role is one of the best side hustles because of its low entrance level. Basically, the same applies to any "assistance" role. You don't need to be fully competent in your profession to apply for this job.
Minimum entrance level requirements
As you will not do the photography, you do not need any extra knowledge for the position. However, you can pass the basic photography course to surpass your competitors. You will definitely need to be a well-organized person with strong physical stamina.
Try searching local photography studios via Linkedin, Indeed, Glassdoor, or ZipRecruiter. Also, check Google Maps to find local studios and try visiting them to see whether they need any assistance.
Fitness instructor
As a certified fitness instructor in the US, you can earn an average of $24 per hour, according to the U.S. Bureau of Labor Statistics.
Why a fitness instructor?
Looking for the best side hustles means looking for a job that is both high-paying and reachable without a completed education. To become a fitness instructor, you need to do the following:
Pass the courses that last about a month from NASM, ACE, or other credible fitness organizations
Pass Cardiopulmonary Resuscitation and Automated External Defibrillator certifications
Be of age
And that's all. After acquiring these certifications, you can start a good side hustle even if you only have a high school diploma.
Minimum entrance level requirements
The minimum entrance level does not require a complete college education. If you have passed the accreditation test, you can start looking for employment, which makes fitness a good legit side hustle.
Check local fitness clubs first. If that does not work for you, consider switching to an online freelance job.
Web developer
As a junior web developer, you can make roughly $30 per hour. Although it is much more complicated to find side income with little entry experience in that field than in others, it is still possible. For instance, there is an option for Junior Backend Web Developer, which requires only a high school diploma and knowledge of the programming language fundamentals.
If you want to get a side hustle with your own resources only, any digital profession will be good for you.
Minimum entrance level requirements
To enter the IT sphere, you will need to know at least one programming language. However, it is also one of the spheres where you can get all the necessary knowledge yourself, searching for free internet resources. Many IT side hustle jobs propose remote employment, which is good for your college schedule.
Check official work databases and websites like LinkedIn, Jooble, or Indeed. You can also try looking for small local businesses.
As an engineering student in the past, I know for sure that with enough patience, you can learn any technical skills. Coding languages and the development of web pages are not as complicated and awful tasks as they seem. Give it a try!

Jamie Clark, professional writer at the Computer Science Department at Customwritings.com.
Graphic designer
Just like the web developer profession, the role of a graphic designer is one of the best online side hustles for college students. On average, graphic designers get about $27 per hour in the US. Moreover, it is easier to get into a profession with the acquired skills only as opposed to getting an education. You can get all the required knowledge just by passing free-access courses and then applying.
Graphic design is the best side hustle job for those who pay attention to good design choices and aesthetics. The tasks in this sphere require good taste more than specific knowledge and hard cognitive work. Hence, you can still put most of your cognitive efforts into studying in college.
Minimum entrance level requirements
To become a graphic designer, you must learn basic software, such as Adobe Illustrator, InDesign, Figma, or Photoshop. You will also need the basics of color and composition theory and basic typography knowledge. However, to get some experience and create a portfolio for this side hustle job, you can start completing projects for free or use task-generating software.
First, follow your favorite studios and artists on social media and participate in events like Inktober. The chances are that studios may be looking for talented creators this way. Also, create a portfolio and start sending it to companies, local brands, and influencers in your region.
Social media manager
The Social media manager role continues the line of easy-to-get side hustles for students. It is one of the good-paying side hustles, as you can make about $34 per hour. Please note that the competition for these roles is usually high, and you must have the patience to find a low-requirement position. However, it is still possible to work as a content creator/social media manager, having only a great desire to get side hustle money.
Why a social media manager?
As a social media manager, you will definitely be working with well-known software. It is highly doubtful that you don't already know the recent TikTok or Instagram trends and don't know what posts sell a product and what do not.
Minimum entrance level requirements
To make SMM side hustle your profession, you must think strategically about the social media content plan and developing any brand through text, visual aids, and advertisements. Also, it will be a significant plus if you have any knowledge of analytical software like Google Analytics.
Check official work databases and websites like LinkedIn, Jooble, or Indeed first. If this does not work, start developing and advertising your personal brand through your social media and proposing your service for businesses.
Self-employment Ideas
Although official side hustle jobs for college students are a safer option, self-employment is evidently an easy side hustle. To get a top side hustle job in any company, you still need to have a background and learn something. However, by working on a freelance basis, you can go for creative side jobs with little effort and distractions from your studying.
The only thing you need to invest in with freelance side hustles in college is a business attorney. You can skip worrying about any legal issues if you collect enough funds to pay for such a service.

Ibrahim Hiary, an applicant for a Master's Degree in Business in the USA
In-person side hustles
The best side hustles for college students must require little to no effort and skills as you already spend many of your resources on studying. Hence, it would be rewarding to consider such easy side hustles as food delivery, baby or pet sitting, uber driving, or being a handyman. For instance, the average hourly wage for babysitting and Uber driving in the US is about $18.
To start earning some funds from this type of job, you first must decide which one will suit you the best. Student side hustles must not interfere with studying, so first, create a list of side hustle ideas that will require no specific studying from you.
Second, learn the demand in your region. For instance, most cities have food delivery services covered, but you can propose homemade meals to your neighbors. If some of them have school-age children, getting some lunch boxes ready is a big deal for working parents. Lucrative side hustles require your creativity only once when figuring out what struggles people face. Then, you just have to learn to cover it.
How do you get your first customers?
The safest way to check whether it is a good side hustle for you is to start with something small. As said before, check the needs and struggles of your neighbors, think about what people are complaining about, and whether you can help somehow. Tell your friends and family that you need a side hustle and ask them to mention you any time they hear someone searching for help. Post the list of your services on social media.
First customers are always the people who know you, trust you, and are willing to help you with your first steps. Your second customers are the people who come after the recommendation from the first customers.

Andy Andersson, a Production Associate from Lafayette, Louisiana
Online tutoring
Tutoring is truly one of the best side hustles for college students. This way, you can monetize your knowledge even before graduation, just helping your peers to catch up on studying. Through tutoring those who are younger than you or even helping with college cover letters, you can polish your own writing skills. The average tutoring hourly wage is $29, but the price of your service will depend on your skills and the subject you will teach.
To start this type of side hustles as a college student, you must first be completely sure of your knowledge. Choose the easiest subject and review your skills and abilities. Make a list of all assignments you've done in the course of your choice. Most likely, the students studying it now will do similar assignments, so you can teach them how to do that best. The best side hustle job must also improve your own grades and job prospects. If that is what you are looking for, tutoring is the answer.
How do you get your first customers?
Among other side hustles for students, tutoring is one of the easiest to start. As you study in college, you may notice some students falling behind in their studies, so they would be happy to get some assistance. Tutoring them for free to get your first references and good feedback is the best way to start testing your side hustles. If you are a native English, Spanish, Chinese, or Japanese speaker, you can consider different side hustles platforms for language learning.
AI-based content creation
AI content creation holds many diverse side hustle ideas for college students. For instance, you can try running a YouTube channel based on fiction stories. One of the top side hustles just a few years ago was making videos based on people's posts from Reddit. As the market got overflooded with this type of content, now you have to get a little bit more creative.
However, the payment in this sphere can be quite rewarding. If you choose YouTube, you can get $6 per 1,000 views. Moreover, the average payment for one ad view is $0.018. It does not sound like much, but all these little coins add up to something bigger as soon as your content goes viral.
To find the best side hustle jobs, you will probably have to go through some trial and error. AI-based side hustles that pay good money must be creative, so start analyzing what already exists in the market. You can ask AI itself to provide you with a profound analysis and to come up with ideas for improving the product. If you struggle with effective prompts for ChatGPT and any AI in general, you can easily learn how to do it.
How do you get your first customers?
The general rule for business is that you have to pay for success with either of two currencies: your money or your time. Hence, good side hustles to make money will require a time investment. If you create any content to get views, your target audience will not buy anything from you. Just try making engaging content to gain followers. Later, you can start looking for ad networks and websites like Google AdSense.
Digital products side hustles
Most digital side hustles work best as a weekend side hustle. In the best possible case, you must spend no more than a few hours per day and get passive income from it. Selling digital products such as children's books or organizers on Amazon may be one of the good side hustles for college students. On average, such products cost about 3-5 dollars. If you manage to make a really useful organizer or book, for every 10 sales, you will get about $50.
These great side hustles will work if you have good analytical skills and can check up on the market first. Search for existing digital products. Then, find free online courses on polygraphy, graphic design, and arts. Pass the courses and review the present products with your new skills and knowledge. What is lacking from these books and journals? What can be done better?
How do you get your first customers?
With e-commerce and digital sales, you don't have to worry about searching for customers. Upload your product, make sure that you have done it better than your competitors, and wait for the first sales.
Personal shopping
What are easy side hustles? Easy and good side hustles are the ones that match your personality, skills, and possibilities. For instance, if you really know everything about fashion, color types, people's shapes, silhouettes, and clothing styles, you can become a personal shopping assistant.
As with all side hustles, you can set your own price for your service. It is recommended to start with about $20 to $30 for fast personalized fashion recommendations or about $50 for going shopping with another person.
The personal shopping assistant profession is all about aesthetics and presenting visual proof of your skills. Therefore, it would be best to start taking your social media seriously and present yourself as a fashion-shopping professional. Post about your dressing routines, style tips, and shopping rules you follow.
H

ow do you get your first customers?
Ask your friends and family whether they need help planning well-considered shopping instead of making impulsive purchases. You can fill your portfolio with the cases of the people you know and then start advertising these on your social media accounts.
E-book author
You can become a good author if you have strong writing skills, love literature, and live in your fantasy world more often than in the real one. E-books usually cost up to $30, but the good news is that you will resell it again and again. If your story goes viral, you can earn good money without even leaving your best dream universes.
The best way to try your writing skills is to start with fanfiction. Services like AO3 propose a variety of genres, fandoms, and stories to get a glimpse of what plots and characters are popular. Practice with the world where the characters and the background stories are ready for you, and try developing a new plot.
Where to get first customers?
In the same way, as with digital products, you don't have to really search for customers. If you start with fantasy or fanfiction writing services, you will already have people who trust you. Otherwise, you can upload your story on Amazon, advertise it on all available platforms, and wait for the first customers.