College is an exciting chapter in your life, filled with new opportunities, friendships, and unforgettable experiences. As you step into this vibrant world, one event that sets the tone for the college journey is student orientation week. It's a time when you can dive into the college atmosphere and create the best, lasting memories with new friends. This article aims to provide informative guidance to help each new student make the most of their orientation week.
What Is Student Orientation?
Student orientation is an exciting start to college life.
It's a series of events organized by your college to help you settle in and get to know the campus.
Typically, it takes place before the start of the academic year, which begins in fall 2023, and provides a comprehensive introduction to the college environment. Orientation programs vary across institutions, but they often include around-campus tours, information sessions, academic advising, and opportunities to connect with faculty staff, as well as with fellow students.
Orientation is a chance to participate in engaging activities, such as the Baylor Line Camp or Seawolf Summer Success Series where you can connect with fellow students, learn traditions, and build school spirit. Student orientation welcome week is filled with opportunities to explore, make memories, and kick-start your college adventure. Prepare for an amazing journey toward success!
Freshmen student orientation week is a crucial starting point for your college journey. It equips you with essential tools and knowledge to excel academically and personally. It sets the stage for a successful academic career. Invest in orientation week—it pays off in the long run.

Leticia Adamson, Ph.D., Head of the ESL Program at CustomWritings.com
Preparing
for Orientation
Week
Student orientation week is a time to learn about the resources available to you and get a taste of what college life is all about. It's a time filled with a mix of engaging activities, helpful guidance, and the chance to connect with your new community.
What should you bring with you?
To ensure a fantastic experience, it's important to come prepared for orientation week. Here are some essential items to include in your packing list:
Comfortable clothes suitable for various weather conditions and activities

Walking shoes for exploring

the campus

and attending events

Toiletries, including a toothbrush, toothpaste, shampoo, conditioner, and soap

Bedding, such as sheets, blankets, pillows, and a comforter or duvet

for your

dorm room

Electronics, including your laptop and chargers

Important documents like your ID and health insurance information

A reusable water bottle to stay hydrated

Snacks to keep you energized throughout the day

A small bag or backpack to carry your belongings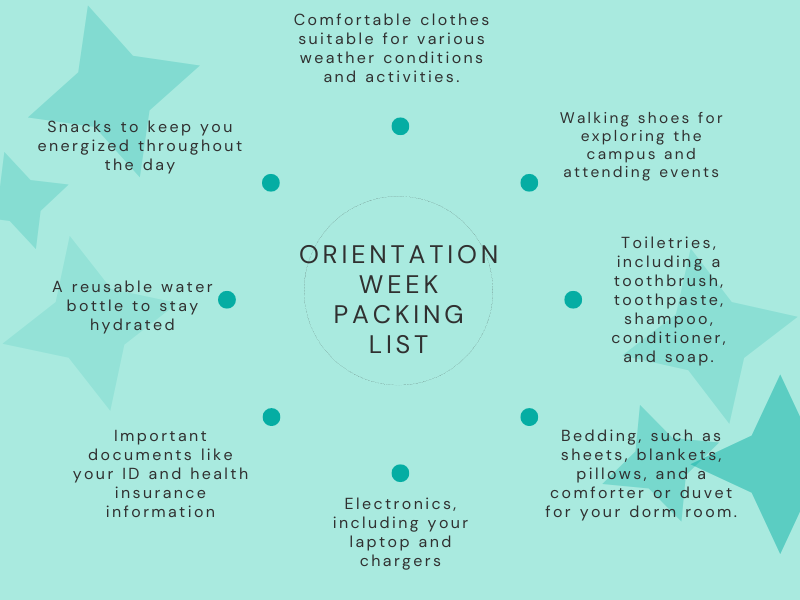 Take care of practical matters
During orientation, you'll receive valuable information about financial aid and student housing. Learn about scholarship opportunities, grants, and loans that can help you with college expenses. If you're planning to live on campus, you'll get guidance on the housing admissions process, important deadlines, and what to expect when it comes to roommates and dorm life once you move in. Understanding these practical matters will give you peace of mind as you begin your college journey.
Remember to stay informed about COVID-19 protocols
During these challenging times, it's important to stay informed about COVID-19 guidelines and get vaccinated. To ensure everyone's safety, it is required for all students and faculty staff to be fully vaccinated against COVID-19 in order to access campus facilities and programs. This means keeping up with the recommended COVID-19 vaccines, including any booster shots, if eligible.
Getting Ready for Student Orientation
Week: Top 5 FAQs
Feeling a bit nervous or unsure about orientation? Do you want to ask some questions about it? Don't worry, it's completely normal! Many students have questions and concerns. We've prepared for you five typical orientation FAQs and answers to them.
Q: What should I wear during orientation week?
Dress comfortably and casually. Choose clothes that reflect your personal style while keeping the weather and any specific dress codes mentioned by your college in mind.
Q: Will I have a chance to meet other students during orientation week?
Absolutely! Orientation week is designed to help you connect with fellow students. There will be plenty of opportunities to meet new people through icebreaker activities, going to visit the group sessions, and social events.
Q: Do I need to bring anything specific to orientation week?
It's a good idea to bring essentials like comfortable clothes, walking shoes, toiletries, bedding (if you're staying on campus), and any necessary electronics. Check your college's orientation materials for a comprehensive packing list.
Q: Are there any academic advising sessions during orientation week?
Yes, most colleges include academic advising as part of their orientation program. You'll have the chance to meet with advisors who will guide you through course selection, explain degree requirements, and answer any questions related to academics.
Q: Can I bring family members or friends to orientation week?
Orientation week is primarily designed for new students to acclimate to college and campus life. However, some colleges may have specific events or sessions for parents and guests. Check with your college's orientation office for information regarding guest policies and activities.
Maximizing
Your Orientation
Week Experience
Making the most of your orientation week is crucial to setting the stage for a successful college experience. Here are some tips on how to get ready for maximizing your time and opportunities during this exciting period:
Take part in
the orientation
events and activities
Different colleges offer exciting opportunities for new students to familiarize themselves with their future educational institutions. These orientation programs aim to provide comprehensive experiences that help students get to know their college better and prepare for their academic journey. Let's explore two examples of how colleges organize their orientation weeks:
Baylor Line Camp at Baylor University.

The

Orientation Baylor Line Camp

is a remarkable program that allows students to connect with fellow classmates, discover cherished traditions, and foster a strong sense of school spirit. Through engaging in team-building exercises, campus exploration, and the formation of lasting friendships, students can fully immerse themselves

in the

vibrant culture and community of Baylor University.
Orientation Virtual Resources at Sonoma State University.

In addition to in-person events, colleges like Sonoma State University offer

virtual orientation

talks called the

Seawolf Summer Success Series

. This is a series of four live-streamed virtual talks and a Q&A session covering essential topics for students and their families before the Week of Welcome.
Seek guidance and support
As international students, it's important to be proactive in seeking support and exploring the diverse opportunities available to you during student orientation week. It's hard to study abroad. Don't hesitate to reach out to orientation advisors, student support services, and international student offices for guidance and assistance.
Orientation advising and student leadership opportunities.

Orientation advisors can help you navigate academic requirements, select courses, and set goals

for the

college journey. They can also provide information on

student leadership

opportunities that allow you

to get

involved in campus activities and make a difference

in the

community.

Student wellness and counseling services.

College life can be exciting, but also challenging.

Student wellness

and counseling services are available to

support your mental and emotional well-being

. They offer counseling sessions, workshops,

and resources

to help

you thrive academically and personally.

Writing centers.

Most campuses have writing centers that provide valuable assistance with essays, papers, and assignments. These centers offer guidance on writing techniques, grammar, and structuring your work.

We advise you to get acquainted with these centers as soon as possible because essay writing is one of the main tasks of a new student.
Typically, you will need to write around 10 to 15 essays per semester, which adds up to about 40 to 60 pages of writing. Thus, it's a good idea for a first-year student to use free essay writing tools that will let you cope with assignment much faster.
Take advantage of opportunities beyond orientation
Looking beyond orientation week, there are numerous opportunities available to enhance your college experience. Here are a few ways you can make the most of your time in college:
Career planning programs.

Take advantage of

career planning

services to explore potential career paths, build your resume, and connect with internship opportunities.

Research, innovation, and faculty-staff collaborations.

Many colleges provide opportunities

for students

to engage in research projects, innovative initiatives, and collaborations with

faculty staff

. These experiences can deepen your understanding of your field of study and provide valuable networking opportunities.
Final Thoughts
A new student orientation week is an exciting opportunity to kickstart your college experience. By preparing in advance, staying informed, and actively participating, you may make the most of this crucial period. Embrace the chance to meet new people, learn more information about campus resources, and familiarize yourself with your college's culture and student life. Remember, orientation week is just the beginning of a transformative journey, so approach it with an open mind and enthusiasm. Embrace all the possibilities that lie ahead and enjoy your orientation week to the fullest!