We all know the stress and sometimes the feeling of impending doom that can accompany an upcoming exam. How many times have you just made the situation worse by cramming a semester's worth of studying into two or three all-night sessions? The stress and the lack of sleep are not good for your intellectual capacities or your GPA.
Now is the time to start thinking about taking care of your #1 tool for success – your brain. You can boost your mental power and your test performance by fueling your brain with the right foods.
Want to know the best superfoods to load up on before the next big exam? Here they are.
Eggs: Eggstraordinary Performance BLT from Closet Cooking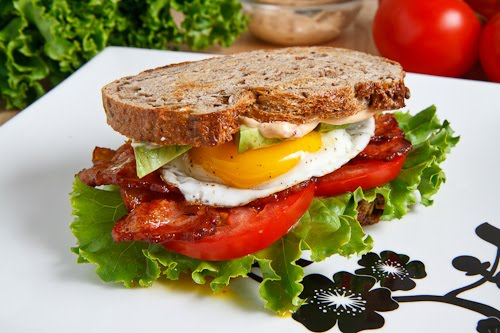 Image Source: http://www.closetcooking.com/2011/07/avocado-blt-with-fried-egg-and-chipotle.html
Eggs are one of the greatest dietary sources of the macronutrient choline. Choline is essential for brain development and function. Not only does this nutrient increase blood flow, but it also helps build the neurotransmitters that support the communication of your brain cells along with healthy memory function. The best way to get your daily dose of eggs? In an over-the-top BLT, of course. We took this recipe and adapted it with ingredients to sustain your brain and your hunger through even the toughest exam.
Ingredients:
1 egg, prepared to liking
½ avocado, sliced
½ tomato, sliced
1 cup fresh spinach
¼ lb. turkey bacon
¼ cup plain Greek yogurt
2 teaspoons garlic chili paste or sriracha
2 slices sprouted grain bread
Directions:
Place the bacon along with a little cooking spray in a skillet. Cook the bacon for several minutes per side, or until crisp.
Remove the bacon from the skillet and set aside.
Next, cook the egg to your liking.
While the egg is cooking, toast the bread to desired doneness.
Quickly whisk together the plain Greek yogurt and garlic chili paste or sriracha.
Spread the sauce onto both pieces of toast.
Pile the remaining ingredients on the bread to serve.
Makes 1 serving.
Oatmeal: Brainfog Bustin' Oats by Fit Foodie Finds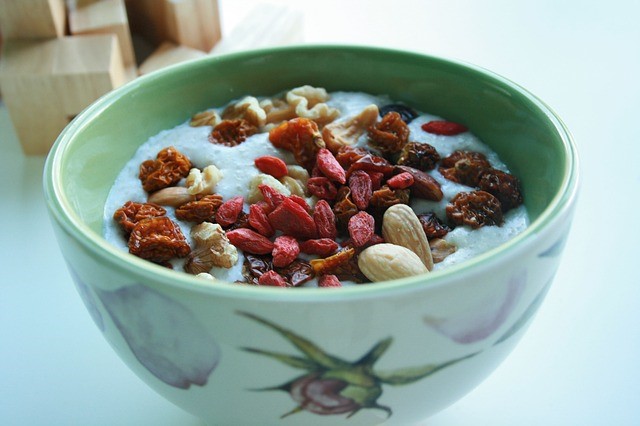 If your image of oats consists of thick mush, flavored with a combination of artificial maple syrup and cardboard, it is time to push the past aside and embrace a new, grown-up version of this super brain food. Oatmeal provides a good balance of protein and slow burning complex carbohydrates which will give you enough energy to pass your exam and celebrate afterwards. Oatmeal also contains choline which boosts memory and cognitive performance. This recipe adds extra brain power thanks to chia seed, flax seed and super nutritious toppings. We have adapted the original recipe and replaced expensive and sometimes hard to find goji berries with fresh pomegranate arils.
Ingredients:
2 cups rolled oats
1 tablespoon chia seeds, ground
2 tablespoons flax seed, ground
1 teaspoon vanilla extract
4 cups unsweetened vanilla almond or coconut milk
3 tablespoons pure maple syrup
¼ cup pomegranate arils
¼ cup pistachios, chopped
¼ cup unsweetened, shredded coconut
Directions:
Combine all ingredients in a large saucepan over medium to medium high heat.
Cook, stirring frequently, for approximately 15 minutes, or until the mixture thickens and the oatmeal has softened.
Makes 4 servings.
Apples: Throw the Grade Curve Away with This Apple Snack from Rachel Shultz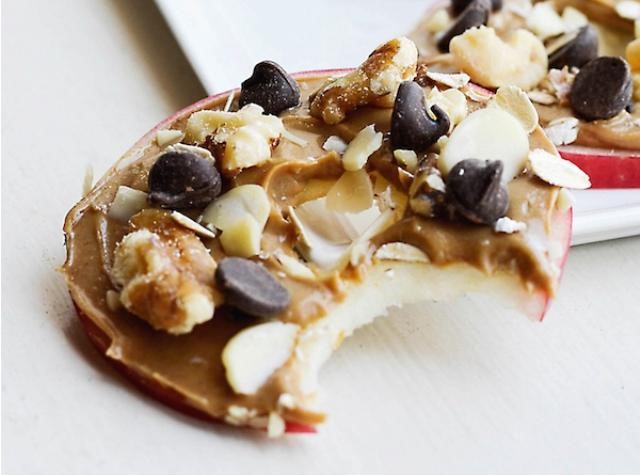 Image Source: http://rachelschultz.com/2014/04/09/apple-cookies/
An apple a day, or so they say, but did you know that the staple from your elementary school lunch box is actually a full blown super brain food? Apples contain a load of nutrients and flavonoids, that stand up as warriors against pre-test headaches, anxiety and fatigue. Apples also increase sensory perception, which can make all the difference in your lab exam. Here is a quick no-bake "cookie" recipe that is impossible to mess up, even if your culinary skills cause your roommates to run every time you walk into the kitchen. They are also loaded with other super brain foods like natural nut butter and dark chocolate.
Ingredients:
1 apple, sliced widthwise
¼ cup all natural peanut butter or almond butter
¼ cup raw walnuts, chopped
¼ cup unsweetened, shredded coconut
¼ cup dark chocolate chips
Directions:
Remove the core part from each of the apple slices.
Spread the peanut or almond butter onto one side of each apple slice.
Then top with the chopped walnuts, coconut and chocolate chips.
Serve and enjoy immediately.
Makes 1-2 servings
Dark Leafy Greens: Make Green the Color of Success with this Smoothie from Bridgid Gallagher
If you are looking forward to receiving that letter of recognition and accomplishment from the dean this semester, you better start loading up on plenty of dark, leafy greens such as spinach, kale and collard greens. This group of vegetables is rich in the B vitamins that are linked to memory, focus and alertness. Chewing on the green stuff before an exam can help you retain everything you learned in last nights' cram session and blow that exam right out of the water. Hate the idea of chewing on greens? Try this deceptively sweet smoothie instead. If you want just a little healthy caffeine boost, try adding a little brewed green tea to this formula.
Ingredients:
1 ½ cup purified water
4 cups fresh spinach, washed
2 medium sized oranges, peeled
2 medium sized bananas, sliced
1 inch fresh grated ginger root
1 small cucumber, sliced
Directions:
Place all the ingredients in a blender or smoothie maker.
Blend until smooth.
Pour into well chilled glasses and enjoy.
Makes 2 servings
Salmon: Grow Your Brain Matter with Foil Baked Salmon from Damn Delicious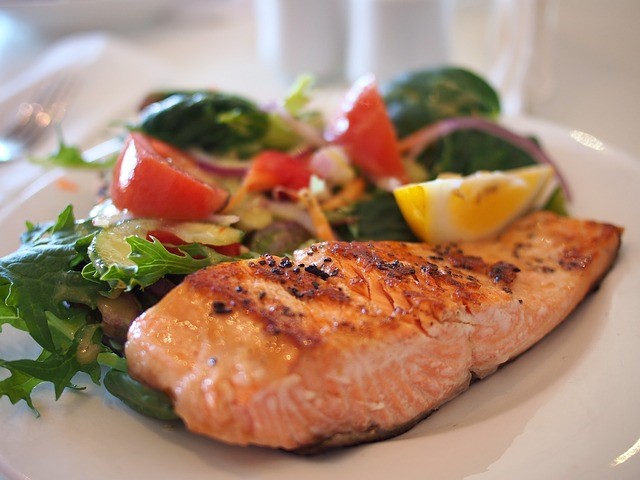 You know that globulus matter in your head that floats around in a layer of cerebrospinal fluid, otherwise known as your brain? Well, as much as you might want to claim that it is a lean, mean learning machine, it is actually quite fatty. More than two-thirds of the fatty acids in the brain are DHAs, the very same type of fatty acids that you can find in a fatty fish, such as salmon. Eating salmon has also been connected to increased brain matter. That right, salmon can help you grow a bigger brain, which you will need for grad school. So, get started now with this super easy and classy salmon dish. We reduced the amount of butter from the original recipe to save you a few reps at the gym tomorrow. Add some sautéed greens and a dark chocolate dessert to round out your brain power meal.
Ingredients:
2 lbs. salmon fillets
¼ cup butter
1 tablespoon brown sugar
1 tablespoon lemon juice
3 cloves garlic, crushed and minced
½ teaspoon oregano
½ teaspoon thyme
½ teaspoon rosemary
Salt and pepper to taste
Fresh parsley for garnish (optional)
Directions:
Preheat the oven to 375°F and line a baking sheet with aluminum foil.
In a saucepan, combine all the ingredients except for the salmon and parsley over low heat. Cook, stirring frequently, just until the butter is completely melted.
Place the salmon (in a single layer if using more than one piece) into the center of the baking sheet.
Fold the edges of the aluminum foil up, making walls all around the salmon.
Pour the melted butter sauce over the salmon.
Fold up the aluminum foil over the salmon until you form a sealed packed.
Place the salmon in the oven and bake for 15-20 minutes
Remove the salmon from the oven and carefully open the packet, and watch out for the steal that will originally escape when you open it.
Avocado: 4.0 Avocado Pesto Toast from COOKIE + Kate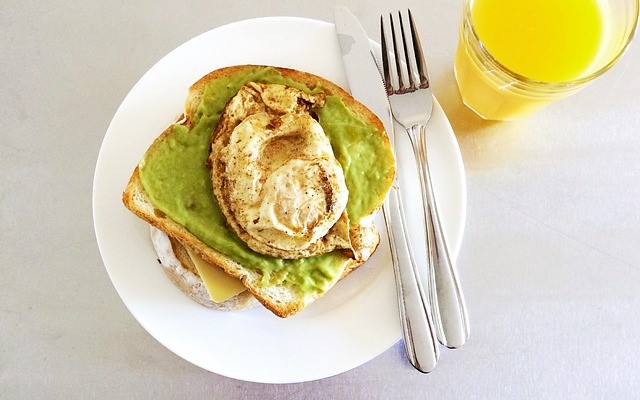 Avocados, which are actually a fruit and not a vegetable (thank you, Biology 101), make the list of top brain foods due to their high-fat content. Fat is bad, right?  Not all of it, and avocados are filled with healthy monounsaturated fats which contribute to healthy blood flow in the brain. Avocados also fill you up and give you enough energy so that your mind won't be wandering down towards your stomach during the dreaded essay portion of your exam. The original version of this mentally and physically energizing toast can be found here. To save you time, we switched out the toasted pepitas for raw cashews, but you can substitute any nut or seed.
Ingredients:
2 avocados
2 cloves garlic
2 tablespoons lemon juice
¼ teaspoon salt
¾ – 1 cup fresh basil leaves
¼ cup raw cashews
4 slices sprouted grain bread
Directions:
Place all the ingredients, except for the bread, in a blender or food processor, and pulse until smooth.
Toast the bread to desired darkness and spread a generous amount of the avocado mixture over each slice and enjoy.
Makes 2-4 servings
Dark Chocolate: Your Brain Will Thank You for These Banana Bites from Thank Your Body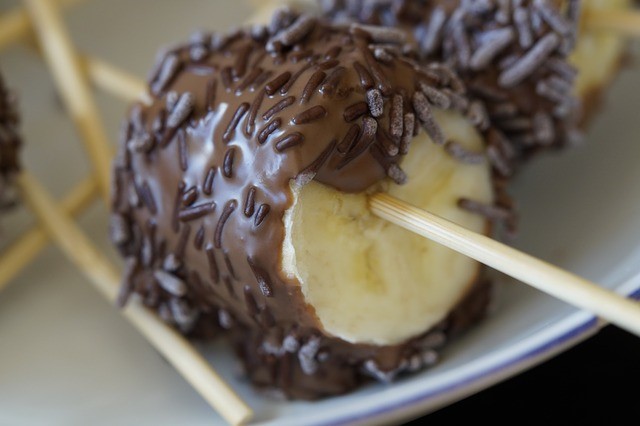 Dark chocolate is a brain food that works on a physiological and an emotional level. The darkest of chocolate will help enhance your memory, but also curb anxiety and depression. Plus, dark chocolate is shelf stable, so you can stockpile it in your dorm room for those late-night cram sessions. Here is a simple recipe for that combines dark chocolate and another brain boosting food – bananas. The best part, you can keep extras in that little freezer for a well-deserved treat after the exam that almost ripped your soul out.
Ingredients:
2 medium bananas, sliced
3 ounces dark chocolate, at least 65% cocoa content
Directions:
Line a baking sheet with parchment paper.
Place the banana slices on the parchment paper and then place the baking sheet in the freezer for at least 30 minutes, or until the bananas are chilled and firm.
Next, melt the chocolate in a double boiler, or for a few minutes in the microwave.
Using forks or toothpicks, tip each banana slice into the melted chocolate.
Place the dipped banana slices back on the baking sheet and freeze until solid.
For an extra protein boost, add some chopped nuts to the slices before freezing
All seven of the super brain boosters listed here are foods that should be easily accessible to you whether you live in a dorm or off campus. Even if you don't care for these recipes, there are countless, easy ways to prepare and enjoy them. Don't like to cook? Then eat them raw, well maybe not the eggs and salmon unless you are heading over to the sushi restaurant. Performing well on exams, presentations and life in general is just as much about properly fueling your brain and your body as it is studying and preparing from lectures and notes. Start adding these foods to your diet today and no exam will ever be a match for your super-fueled brain.