The NCLEX-RN, known as the National Council Licensure Examination for Registered Nurses, is a standardized test that holds the key to one's entry into the esteemed realm of professional nursing practice. To successfully pass the NCLEX signifies not just the end of years of demanding education, but the realization of the cherished goal you set when you committed yourself to the noble path of caring for others.
Given the critical nature of patient well-being, the NCLEX prep presents considerable challenges. Graduates of nursing schools approach the test with great seriousness and invest substantial effort in preparing for it. Continue reading our article to equip yourself with the essential tips for passing the NCLEX, the fateful examination that will decide if you are ready to commence your nursing career.
The NCLEX-RN: What You Should Know to Succeed
The NCLEX-RN stands as a definitive measure of competency for those seeking to embrace a registered nurse career. Its major objective is to comprehensively evaluate an individual's ability to uphold the responsibilities inherent in the nursing profession. What sets the NCLEX-RN apart, however, is its adaptive nature, facilitated by Computer Adaptive Testing (CAT). This innovative approach adjusts the complexity of the questions based on your answers, resulting in an exam experience tailored to your demonstrated skill level.
Without a doubt, the NCLEX-RN goes far beyond the mere memorization of facts. This test delves into the practical application of nursing knowledge, necessitating a combination of analytical thinking and clinical competence to navigate numerous patient care settings. Passing the NCLEX requires a demonstration of your ability to dissect complex medical situations, conceptualize informed decisions, and execute appropriate actions.
"Although my NCLEX is still ahead of me, I am sure that achieving success on it is not just about memorization; NCLEX prep is about applying knowledge effectively and maintaining a sustainable mindset."

Cristel Roberts, a nursing student in Philadelphia
Crucial information you need to
pass the NCLEX
:
Time frame.

The scope of the test is contained within a six-hour window, requiring a balance of efficiency and accuracy as you navigate its segments.

Monetary outlay.

The payment obligations associated with the NCLEX-RN depend on the jurisdiction in which you plan to take the exam. Usually, the sum does not exceed $200.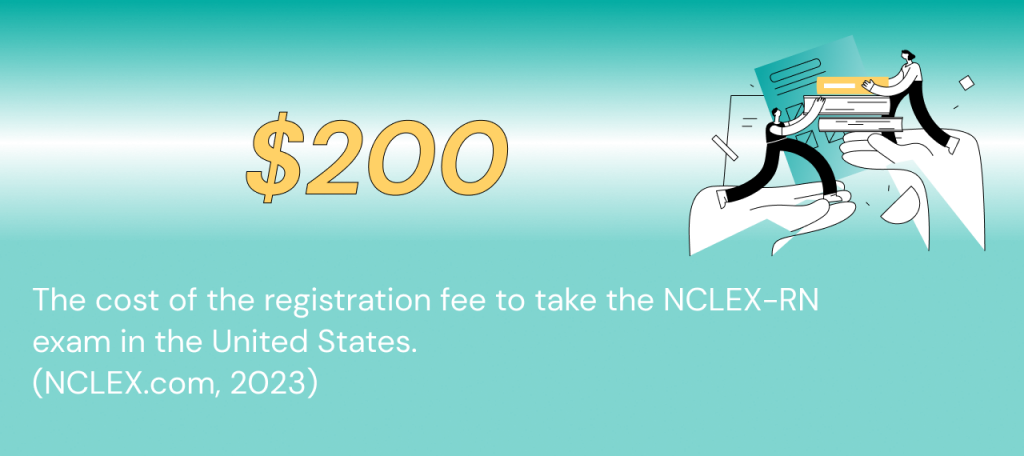 Number of questions

. This is a dynamic aspect of the exam, varying from 75 to 265. These questions span a spectrum of formats, including the familiar multiple-choice as well as more nuanced forms such as select-all-that-apply and fill-in-the-blank.

Passing threshold.

While many standardized examinations have set success rates, the NCLEX-RN challenges that paradigm. Here, the computerized mechanism calculates your score based on your performance throughout the test, ensuring a dynamic assessment based on your evolving competencies. To

pass the NCLEX the first time,

you have to answer correctly in a consistent manner.

Registration.

This important step can be easily accomplished through an online application on the portal of your state's National Regulatory Board of Nursing (NRB) or Board of Nursing.

Requirements for participation.

Meeting your state's criteria, which frequently include the successful finishing of a recognized nursing education program, is required to ensure qualification for the NCLEX.

Strategic scheduling.

After receiving approval from your NRB or Board of Nursing, you have the authority to schedule your test date. In the majority of states, you are normally entitled to sit for the test 45 days after graduating. Choose a time when you are completely prepared.

Retake possibility.

A mandatory waiting period is established by your state's NRB, or Board of Nursing. Candidates may retake the test up to eight times during a year, with the option becoming accessible 45 days after their first test session.
"As a hospital worker, I face a variety of situations every day that require an appropriate and quick solution, so I am not afraid of the exam. I am looking forward to it to advance in my career and demonstrate that I am deserving of the prestigious title of registered nurse."

Jean Chavez, a current nursing student and hospital worker in New York
How to Pass the NCLEX
: What Is Inside the Test?
The NCLEX-RN examines numerous major elements of nursing knowledge and practice, offering a thorough evaluation of your abilities. It rigorously assesses your awareness of client demands across four important groupings:
A secure and efficient care environment
Your capacity to deliver safe and competent treatment is critical in a full-service healthcare setting. A thorough understanding of infection control protocols, strict security measures, and excellent management of healthcare situations are at the heart of this segment. The test will scrutinize your ability to ensure patient welfare and maintain a safe medical environment.
The promotion and preservation of health
This section of the exam assesses your knowledge of promoting healthiness, avoiding illnesses, and providing education for patients. It examines your ability to empower patients to achieve holistic well-being. You must demonstrate that you have sufficient theoretical knowledge and are familiar with all the NCLEX tips to achieve an excellent score in this area.
In this set of questions, the NCLEX-RN will delve into complex psychosocial dynamics, exploring the depth of your understanding. It evaluates therapeutic dialogue, which is essential in nursing, as well as your ability to manage complexities related to psychological health and support networks. This dimension encompasses the empathy and sensitivity needed to address the diverse emotional and psychological aspects of patient care.
This category is based on an understanding of the complexity of physiological processes. It focuses on your abilities in areas such as pharmacology, basic care, and medical procedures. This cluster of questions thoroughly tests your mastery of the complex details of nursing, from administering medications to performing medical interventions.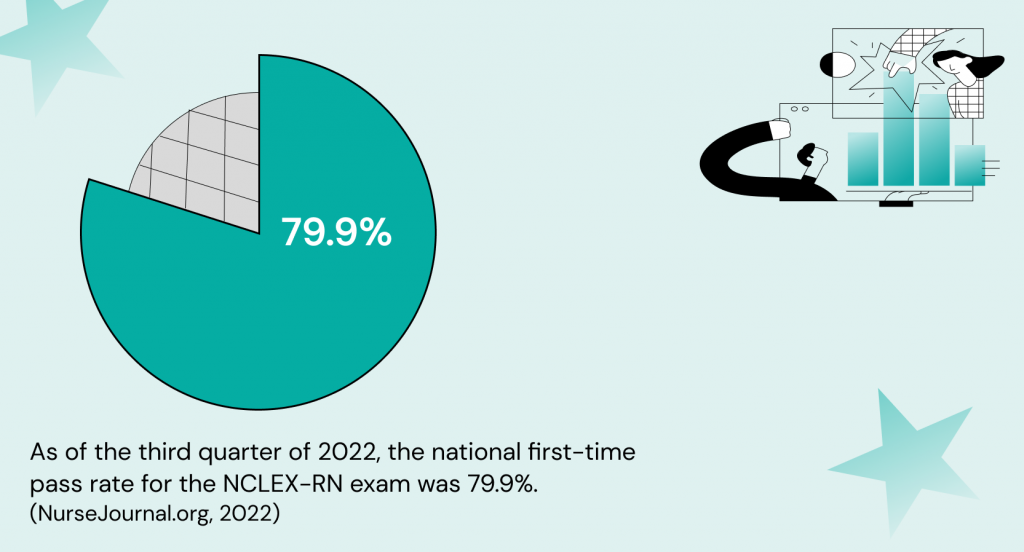 Navigating diverse question formats
The NCLEX-RN is a masterful blend of question formats designed to assess your knowledge from various angles:
Multiple-Choice Questions (MCQs).

Traditional yet effective, MCQs probe your foundational understanding of nursing concepts.

Select-All-That-Apply (SATA).

This format challenges you to recognize multiple correct options, mirroring real-world clinical decision-making.

Fill-in-the-Blank Questions.

These questions connect academic knowledge with practical settings, testing your recall and application.
The NCLEX-RN evaluates your ability to assess, analyze, and make sound decisions within the context of patient care scenarios.
How to Pass the NCLEX the First Time
Embarking on the journey to pass the NCLEX-RN demands a holistic approach that combines focused learning, practical application, and emotional well-being. Let's look at some crucial pointers to assist you in succeeding on the NCLEX:
Do a comprehensive review.

Thoroughly

study for NCLEX

. Gain a grasp

of core nursing concepts, focusing on each content category to build a strong foundation.

Practice, practice, practice.

Engage in regular practice with diverse question types, simulating the NCLEX experience, to boost your confidence. Be sure to use as many

NCLEX resources

as you can.

Cultivate critical thinking.

Hone your critical thinking skills by analyzing scenarios, identifying priorities, and making well-reasoned decisions.

Develop effective time management.

Work on time management throughout your practice examinations to guarantee that you'll be able to pace yourself on exam day.

Get into a healthy study routine.

Maintain a consistent

NCLEX study

schedule, balancing focused study sessions with breaks for optimal retention.

Stay current.

Keep up with nursing trends and advancements to align your knowledge with contemporary healthcare practices.

Practice mindfulness and stress relief.

Employ relaxation techniques, deep breathing, and mindfulness exercises to manage exam-related stress.

Take training exams.

Sit for full-length training tests to simulate the examination setting, assess your preparation, and make any necessary adjustments to your plan.

Engage in peer discussions.

Before

taking the NCLEX

, participate in study groups and conversations with peers to exchange ideas, answer doubts, and strengthen your comprehension of the study material.

Make a personalized study plan.

Tailor your study plan to your strengths and weaknesses, dedicating more time to challenging areas for balanced preparation.
Take advantage of the NCLEX study tips provided and let your hard work toward your dream career pay off soon.