Faster, harder, smarter. The pressure that today's society puts on college and university students seems to double as every new semester starts. You have to keep up with classes, participate in extracurriculars, travel at times, go out dating, socialize, and get a part-time job to pay for everything mentioned.
Based on the "Understanding the Working College Student" report provided by the American Association of University Professors, up to 10% of full-time college students tend to work nearly 35 hours per week, so it is no wonder that 24 hours aren't enough to play all the social roles and have vital me-time once in a while.
No matter where you live or what your major might be, college is like jumping through hoops covered in fire. To meet your deadlines and secure good grades, using online q&a platforms will help along the way. Let's dig into the details of where and how.
What Is a Q&A Platform?
Simply put, a q&a platform is an online place to ask questions.
In other words, there are those who come asking questions and those who answer them. The best thing about sites to ask questions is that they include succinct information in contrast to the wordiness of academic articles. Moreover, they help undergrads have less hectic college experiences.
Here's why:
Question answering websites

have experts in various fields of study from all over the globe. Thus, you get your questions answered from several perspectives at the same time.

A typical

q&a online

platform is accessible 24/7, 365 days a year, so you're welcome to

ask questions

at any time.

The number of

online questions

is unlimited. Feel free to approach the

best sites to ask questions

and let your "why's" go wild.
Question and Answer Platforms: How They Work
All existing q&a platforms work by providing a digital space where college and university students (and the rest of the global community) ask questions and receive prompt answers. Typically, the systems work in the following way: 
Registration.

To use the website, you need to create an account and register. As a rule, this process includes providing basic information such as a name, email address, and password.
Ask questions.

When the registration is over, type your questions into the search bar or navigate the topic area or category you're interested in. Loads of platforms offer you to tag questions with specific labels or keywords. Thus, finding the necessary info gets easier. 
Answering questions.

Other users of the community can see your question and comment. Some websites allow users to rate / vote on the answers given. As a rule, you see the most accurate answers. 
Moderation.

There are websites with administrators/moderators to monitor questions/answers and edit them to make them appropriate, relevant, and accurate. 
Extra features

. Some questions-and-answer platforms have extra options, like the ability to receive notifications when new questions/answers pop up, follow specific users/topics, as well as get in touch with other users in the community.
Overall, the websites work according to similar principles that make them easy and convenient to use. 
Pros & Cons of Q&A Sites
A question and answer platform is a great place to polish up your skills in a particular area or find expert-level help when stuck with the hardest degrees in the world. Although it seems like a website built on asking questions would be a piece of digital heaven, there are drawbacks to be reckoned with. Below, we'll check the key pros and cons of using websites where you can ask questions to help you decide if that kind of help works for you.
Advantages of Q&A Platforms
Disadvantages of Q&A Platforms
Ask questions online to have better scores in class

. The experts at

live q&a

platforms are there to share their knowledge to boost your understanding of a specific subject. This, in turn, translates into better academic performance on your end. This is huge.

It's easy, convenient, and confidential. From the comfort of your home, you click the best place to ask questions, and voilà! The greatest minds are just a click away.

All types of resources are at your fingertips. Trusted services have all kinds of homework assistance, from tête-à-tête sessions and videos to discussions with real-life specialists.

Inaccurate information.

Even the

best site to ask questions

might become a disappointment for a needy student. From a poorly educated

question answerer

to them being unable to answer

every

one of your questions, online homework services have loads of 'surprises' in store.

The risk of being scammed. After all, you never know who will answer the question you post on an online q&a platform.

Unmet deadlines. There's a low risk of the deadline missing issue coming up, but nobody can tell for sure, and it can be very, very bad for your grades!Inaccurate information. Even the best site to ask questions might become a disappointment for a needy student. From a poorly educated question answerer to them being unable to answer every one of your questions, online homework services have loads of 'surprises' in store.

The risk of being scammed. After all, you never know who will answer the question you post on an online q&a platform.

Unmet deadlines. There's a low risk of the deadline missing issue coming up, but nobody can tell for sure, and it can be very, very bad for your grades!
Q&A Websites & Academic Integrity
While paying for an expert to write an essay, prepare a presentation, or do any other homework that you are supposed to do is academic fraud, you can still use custom writing or q&a sites legally. How? In a couple of ways:
Get your academic projects edited.

You've done a good job and don't want to get a lower grade just because of a silly typo or missed comma. Professional editors have a meticulous eye for detail to make college-level works flawless.

Use paper samples to boost your prose.

The best online writers have vast experience in the writing industry. See how they polish up every other sentence to learn to convey your ideas more concisely.

Have someone do research on a narrow topic for you.

If you're having trouble researching a narrow topic, browse

question and answer websites

for particular information or ask online gurus to do the job for you. This will save you a great deal of time and help you avoid errors.
Good news – none of the ways of using homework help or q&a websites in the above list is criminal in the academic world!
Best Sites to Ask Questions
The most popular and trusted websites to ask questions differ in many of their approaches and aspects of work – everything from the page design to the study tools being used. However, all the popular q&a websites have the shared goal of taking your knowledge to the next level. Keep on reading to discover what the top platforms have to offer.
StudyPool.com

. A

website that answers questions

on a list of subjects including Business, Humanities, Mathematics, Programming, Science, Writing, Health & Medical, etc. Established in 2014, the service has more than 10M registered users. It also has received a range of awards, such as the 2016 Best Educational App from the Best Mobile App Awards and the 2017 Best Tutoring Website from the Best of the Web Awards. The site's options include essay writing, homework assistance, test preparation, and online tutoring.
Chegg.

An

online learning service that offers a variety of options, from renting textbooks to helping with math expressions. Generally, the company is focused on 3 specific areas: writing, homework, and math. Founded in 2005, Chegg also operates physical bookstores in selected US colleges. It is also famous for its CheggMate service, a combination of GPT and Chegg's library content, which makes students' learning more effective.
Khan Academy.

Founded in 2008, this organization offers free self-paced courses in loads of subjects like math, history, economics, computing, etc. With over 20M registered users, the company has developed partnerships with institutions like the Bill and Melinda Gates Foundation, NASA, and the College Board. In addition to online courses, Khan Academy offers test preparation materials for MCAT, LSAT, SAT, and other exams.

Brainly.

A

popular q&a questions

platform that joined the industry in 2009. Having more than 350M monthly users, the platform is available in over 30 languages. Both free and paid membership options are available for users, with premium features like access to expert answers and faster turnaround time. Math, Computers & Tech, History, English, Chemistry, Physics, and Math are just a few of the subjects their online experts deal with. Parents are welcome to be part of the process.

CourseHero.com.

Offering 24/7 homework help, this service is available in multiple languages including English, French, and Spanish. It offers nearly 40M study resources like study manuals, textbooks, q&a options, Literature Study Guides, and other materials in Art & Humanities, Science, Math, History, Foreign Language, etc. CourseHero also offers grants and scholarships to students willing to pursue higher education.

Quizlet.

This platform was created in 2005. Today, it provides 14,000 popular textbook solutions, study games, digital flashcards, practice quizzes, and other interactive study materials. The service is focused on Chemistry, Calculus, Engineering, Linear Algebra, Physics, Biology, Languages, and Business fields of study. Having won various awards like the Google Play Best App of the Year and the Webby Award for Best Education Website, Quizlet is trusted by more than 50 million active users and is available in more than 18 languages.

Numerade.com.

Founded by a former NASA engineer, this service offers textbooks, academic notes & exam preparation, q&a services, and study tools (Study Groups/Bootcamps/Quizzes/AI Tutor). With 2 million video lessons and textbook options across a variety of academic subjects including science, math, and engineering, Numerade also provides students with scholarships and other financial aid programs. Focusing mainly on STEM education, the service offers lesson content to help educators manage the academic process.
Summarizing all the above, we can distinguish the main traits of each q and a website in the chart below: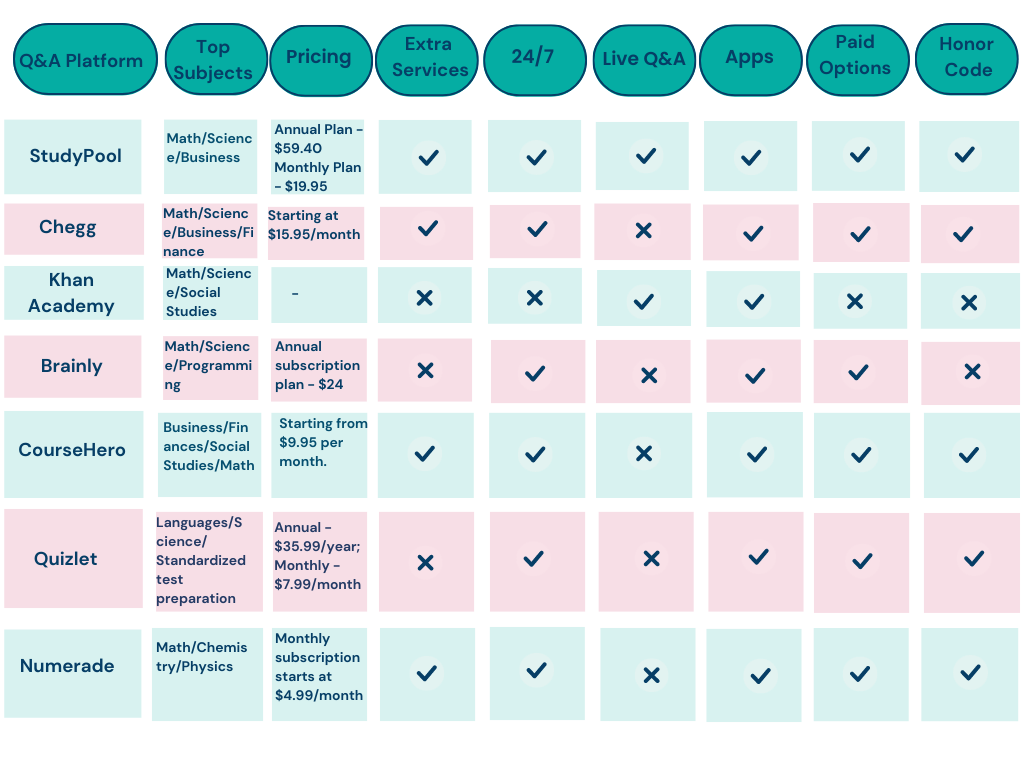 Where to Ask Questions in Different Subjects
We've determined our top q&a websites. Based on the details discussed above, below is our personal list of rankings based on the criteria mentioned and the research we've conducted on each source. 
Now that we have our nominees, we've rated the chosen platforms to recognize and promote the efforts their owners put into each service. Without further ado…
The Most Stylish

– Brainly.com

The Most Affordable

– Khan Academy

The Quickest Service

– Brainly

The Most Diverse

– StudyPool.com

The Highest Degree of Excellence in User Experience

– Brainly. 
With our personal top best q&a platforms out there, it'll be impossible not to get your toughest question answered. Feel the power of the world wide web, and see for yourself that college life goes far beyond a never-ending to-do list and classes.
Does ChatGPT Mark the End of Q&A Platforms?
The emergence of AI chatbots and AI-powered platforms has marked the new era in the way students and other online users are getting answers online. This has resulted in a significant drop in the users of Q&A platforms. For instance, Chegg shares have dropped more than 40% in May, 2023.
Why do students prefer AI chatbots? It turns out that AI-powered platforms can do pretty much the same as Q&A platforms. Students use them to:
get answers to homework questions
get individual guidance
receive detailed explanations to questions
use advise from AI as if from virtual tutors
However, do AI-powered platforms always deliver great results? We've done research and it turns out that in terms of writing AI chatbots have a lot of homework to do themselves. Besides, the key challenge in attributing all the features from an AI-powered chatbot is to learn the ways of effective communication with them. This might be a tricky task for many.
I love ChatGPT. Though it took me a while, I've learned how to communicate with it and get help with minor homework tasks. For complex assignments, it doesn't work for me though.

Jean Chaves, nursing student
Students who've successfully learned the ropes of AI chatbots' communication report the following benefits:
AI platforms are quicker
They turn out to be cheaper in the long run perspective
They provide great personalised learning experience
So what awaits Q&A services? Experts claim that Q&A platforms are to experience the drop in online users yet further unless the companies invest in R&D and manage to catch the wave of AI opportunities. Now is the time to adapt to the new reality  and reinvent the educational services.