I've always wanted to pursue a career where I could help people, and nursing seemed like a perfect fit. Not gonna lie, nursing school can be tough. Sometimes I feel overwhelmed with tasks and responsibilities and struggle with my work-life balance. Nevertheless, I've never doubted my career choice. 
What keeps me motivated despite the challenges is that I have found my calling in nursing. I enjoy learning about the human body and how to provide compassionate and effective care to patients. It makes me excited about my future career, since I can make a difference in people's lives. Moreover, I get tons of support from my family, which inspires me to continue growing every step of the way. That's not even mentioning that nursing is actually a good career choice for many reasons.
Are you considering a career as a nurse? Or are you still trying to figure out if that's the right path for you? Either way, my story as a nursing student can give you real insight into the ups and downs of this career path. I'll tell you more about my doubts and worries and share how I overcame the challenges I faced during my journey. I hope I can inspire you to follow your dreams in nursing!
Why Nursing is a Good Career
Choice
Everyone would agree that nursing is packed with challenges. Nurses are on their feet all day, and they often have to deal with tough patients and situations. However, nursing is also a rewarding career that offers a wide range of opportunities. If you decide to pursue this path, you'll get to work with professionals, develop your skills, and help others. So, if you are ready to hustle, nursing could be your jam. Check out the reasons why nursing is a good career choice:
The opportunity to help others.

If you want to make a positive impact on other people's lives, you should definitely consider nursing. You'll get to work directly with the patients, providing care and support during their times of illness or injury. This can be a very fulfilling experience, as you get to see firsthand the impact your work has on the lives of others.

 
A stable and in-demand career.

According to the Bureau of Labor Statistics, nursing is an in-demand job with a projected growth rate of 6% from 2021 to 2031. It makes

nursing a good career

choice because there will be plenty of job opportunities for nurses in the future. As a nurse, you will feel more comfortable and at ease with your career choice due to its reliability.
Career advancement.

A nursing career offers numerous opportunities for career advancement. You can choose from a variety of specializations, including nurse practitioner or nurse educator, and will get a higher salary. You will keep learning and growing throughout your nursing journey and will take on new opportunities. The new responsibilities might be challenging, but you will never get bored.
A flexible schedule.

Are you a morning person or a night owl? Either way, nursing is a suitable job option for you because you can choose between day and night shifts. Additionally, you can work full-time or part-time, which will allow you to balance your work with other aspects of your life, including your family and hobbies. If you are looking for a career that offers flexibility, nursing might be a good fit for you.
A competitive salary and benefits.

As mentioned before, nursing is an in-demand job. Due to this, nurses can enjoy competitive salaries and benefits, including health insurance, retirement plans, and paid time off. You also don't have to worry if you need to move around because lots of healthcare organizations offer relocation packages and perks to attract nurses.
A sense of fulfillment and purpose.

Knowing that your work helps others is incredibly fulfilling because it gives you pride and meaning in your life. As a nurse, you will make a positive difference in the world. It will help you remain motivated even in the face of challenges. Nursing can provide you with a sense of fulfillment and purpose, which will help you lead a more satisfying life.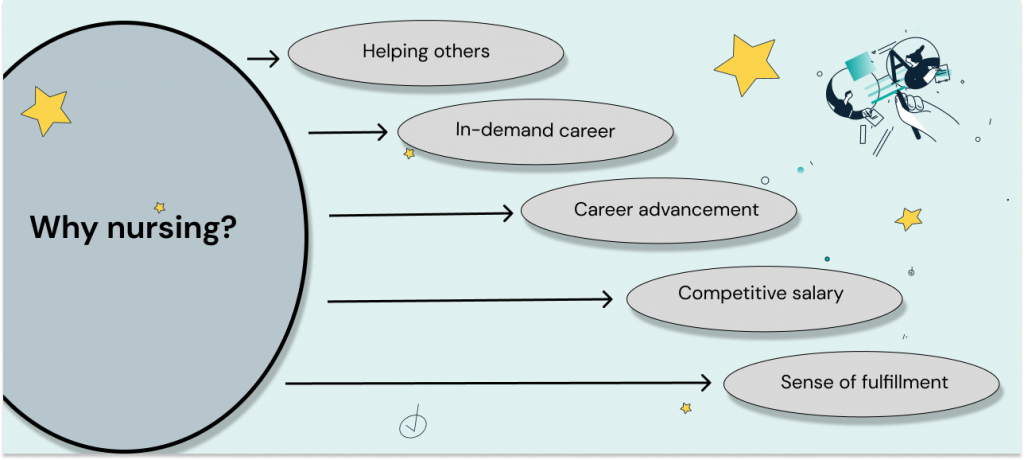 How did I realize that nursing was a perfect career choice for me?
When I was trying to figure out what I wanted to do with my life, I was feeling pretty lost. I finally found my calling when I became a dad. As a parent, I started to see how important healthcare is and how it brings positive change into the lives of people. Moreover, I've always wanted to do something to help people, and being a part of the healthcare system means supporting others during their most vulnerable moments. Why is nursing a good career choice for me? I believe that by pursuing a nursing career, I can be a great example for my daughter and make her proud of me. 
I started doing my research and talking to other nurses, which helped me find out a lot about nursing. The more I learned, the more I became convinced that this career was for me. Not that I had no worries or doubts, but the benefits outweighed them. I mean, there are so many things you can do with a degree in nursing! You can work in different settings, choose from numerous specializations, and keep learning and growing every day. Now that I'm in nursing school, I know I made the right choice, and I can't wait to see where this journey takes me.
Doubts and Worries
When it comes to pursuing a career path as important and challenging as nursing, it's completely natural to have doubts and worries. I never questioned my career choice, but I realized that nursing schools might have rigorous demands and challenging programs, so I doubted my abilities. However, with hard work, perseverance, and my family's support, I managed to handle the demands and overcome the challenges. 
Another significant worry I had about my nursing career and education was that I wouldn't have enough time to spend with my family. The fact that nursing is incredibly time-consuming made me hesitate a little because I am the father of a beautiful daughter. Nevertheless, my wife, who has always supported me no matter what, convinced me that we would always find a way around that, and she was right. I am juggling with my studies, work 3-4 shifts per week, and still have enough time to spend with my family.
Before I began nursing school, I also worried a lot about stress. I did some research and discovered that stress is highly prevalent among nursing students. One meta-analysis revealed that 41.2% of nursing students experience moderate stress, and up to 29% have severe stress. I'd known that nursing school could be overwhelming, but these statistics blew me away! I doubted that I was mentally prepared for the crazy amount of pressure. However, stress management strategies were a game changer for my mental health and overall well-being when I started studying at nursing school. 
While I know I can overcome challenges in nursing school, I still have concerns about my future career. Nonetheless, my friends who work as nurses shared their experiences, which made me breathe easier. I've worried about finding a job after graduation, but my friends have assured me I'll have no problems with it because there are plenty of job opportunities for nurses. To increase my chances, I started networking early and gaining experience through internships and volunteer work. By making connections and learning about job opportunities in my field, I'll be able to find a job that aligns with my career goals.
Doubts and worries are a normal part of any journey, especially when it comes to a career in nursing. However, you shouldn't let these doubts mislead you or get in the way of chasing your dreams. Always remember why you decided to pursue a career in nursing in the first place, hold onto that reason, and let it guide you through the ups and downs. Believe in yourself, and never let doubt hold you back!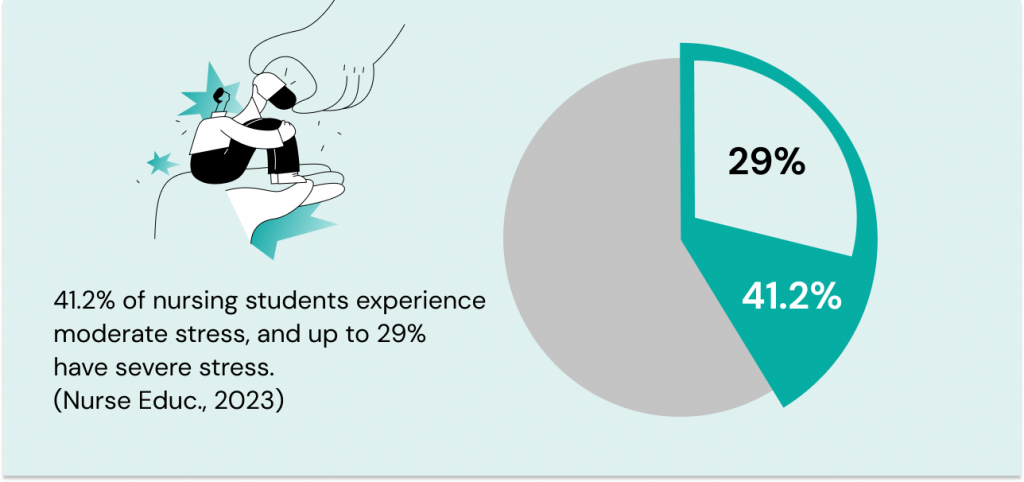 Inspiring Stories of Nurses 
Being a nurse is no joke, but nursing is also one of the most rewarding careers. My friends have shared some truly inspirational stories about working as nurses that give me strength to overcome the challenges. Check out these stories to stay motivated and inspired on your nursing journey!
Quick thinking that saves lives
One of my nursing friends shared a story about how quick thinking can mean the difference between life and death in emergency situations. She told me about a patient who was showing signs of a stroke, including a severe headache, but didn't realize what was happening. Fortunately, my friend had received training in stroke recognition and was able to quickly identify the symptoms and get the patient the medical help they needed. Thanks to my friend's quick thinking and knowledge, the patient was able to receive treatment in time and made a full recovery.
Small acts of kindness
An elderly patient was homesick and missed her family, who lived far away and couldn't visit her in a hospital. My friend took action, gathering pictures of the patient's family and decorating her room with them. Moreover, she helped the patient set up a video call with her loved ones. The patient was so moved by the nurse's kindness that she cried tears of joy. The woman was grateful for this small act of kindness and felt much better knowing that her family was with her regardless of distance. 
Heartwarming compassion
One of my friends shared a story about his former colleague, whom he used to work with before she moved out to a different state. Her patient had been struggling to get the necessary care due to healthcare insurance issues. The patient's family couldn't afford the treatment, so the nurse took it upon herself to speak with the patient's insurance company and advocate on their behalf. The nurse spent hours on the phone and submitted multiple appeals, and her efforts paid off. Her patient received the necessary treatment and made a full recovery. This story of kindness and compassion makes my friend proud of his profession.
Tests to Determine if Nursing Is a Good Fit for You
Is nursing a good career for you? If you can't figure it out, it's not a big deal, because there are various quizzes and evaluations that can help you make up your mind. I took these tests to understand my strengths and weaknesses better and see if I had the qualities needed in nursing. So, go ahead and take advantage of the following resources:
Would I Make a Good Nurse Quiz.

This quiz can help you understand if you have what it takes to be a good nurse by asking questions about your personality and providing you with a glimpse into what the job involves.

How Successful Will You Be in Nursing School?

Answering the questions in this quiz will give you valuable insight into whether you possess the qualities necessary to succeed as a nursing student.

EQ Quiz.

If you have high emotional intelligence, you better understand your and other people's emotions and are likely to have strong communication skills, which are crucial for nurses.

Stress Quiz: How Well Do You Handle Stress.

Managing stress is crucial for nurses, since nursing is a high-demand and demanding job that can take a toll on both your physical and mental health. Take this quiz to see if you are handling stress well.

Which Nursing Speciality Is Right for You?

If you've already decided to become a nurse but can't choose one of the plentiful job opportunities this career path offers, this test is for you.
While tests can be a helpful tool, they mustn't be the sole factor in your decision to pursue nursing. You should also gain practical experience, talk to nursing students and nurses, and carefully consider your values, interests, and goals. Regardless of your test results, remember that deciding to become a nurse is your personal choice. 
My Preparation for Nursing School
Before pursuing a career in nursing, I wanted to make sure it was worth trying. Fortunately, I had the opportunity to get some practical experience and work in a hospital. This test drive of the profession gave me an opportunity to meet healthcare professionals and even befriend some of them. Seeing the impact nurses make on other people's lives with my own eyes made me excited about my future career. I recommend that everyone who's considering becoming a nurse get some hands-on experience. 
Once I realized nursing is my thing, I started preparing for nursing school. When I was choosing a nursing school, I considered factors such as the program's accreditation, location, cost, and reputation. I also researched the faculty, curriculum, and resources available to students. After I conducted my research, I applied to several nursing schools in my area to increase my chances of getting accepted.
When I was applying to nursing school, I had to take a bunch of entrance tests to show that I was ready for the program. To prepare for them, I studied daily and took several practice tests to know what to expect on the actual exams. A few hours before the entrance test, I reviewed the key concepts. I worked hard, and it paid off because I passed!
Now I'm a nursing student and I'm getting more confident about my choice to pursue this path. If nursing sparks your interest, you should definitely go for it. Start your own journey and see where it takes you. Give a nursing career a chance and you'll never regret it.