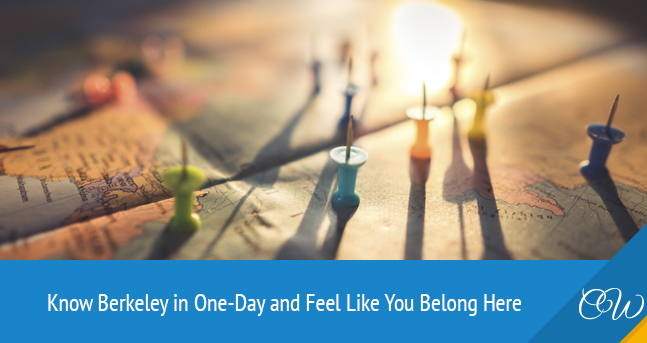 If you are a tourist and want to investigate the USA, then you will find many fascinating cities which you can explore. Let's start with California, one of the USA states, and its city named after George Berkeley. One of the advantages of Berkeley is its location. It's situated on the east shore of San Francisco Bay. So, one can enjoy a marvelous landscape.  There are a lot of places which may be interesting to you. We offer a guide that will help you avoid feeling disoriented there.
West Part of Berkeley, California
If you decided to stay at DoubleTree by Hilton (Hotel Berkeley Marina), then it's better to investigate the marvelous and impressive surrounding. First, you can visit Sharyngetti Community Garden.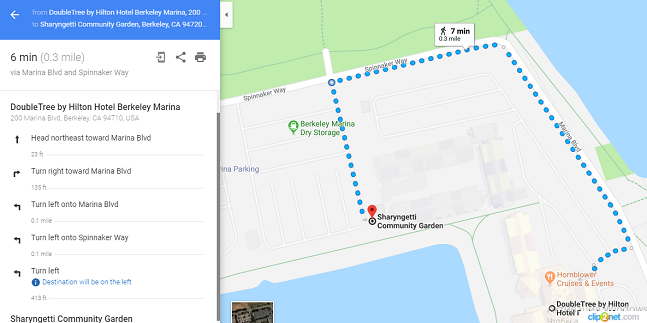 After that, you can enjoy the beauty of César E. Chávez Park passing by Large Picnic Area, Berkeley Waterfront, and César Chávez Memorial Solar Calendar.

The other benefit of Marina, Berkeley is its Horseshoe Park. When walking to it, you can enjoy the landscape of McLaughing Eastshore State Seashore and have a snack at Hana Japan Steak and Seafood or Skates on the Bay. Not far away from there, you can find Historic 2.5 mile fishing pier, Adventure Playground, Cal Sailing Club, and UC Aquatic Center at Berkeley Marina.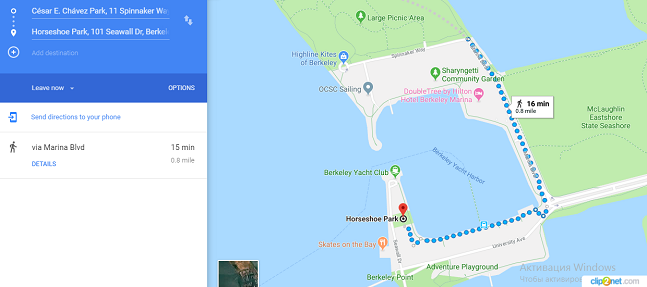 Moving to the Center
Now it's time to learn more about fine art on the 4th Street. It takes 26 minutes to get there, but you'll have an opportunity to take delight in unbelievable and striking nature on your way there. You have to go 269 ft ahead to east, turn left and walk 118ft, turn right toward University Ave (0.3 mile), turn right toward University Ave (135 ft), turn left to University Ave (0.3 miles), turn right toward San Francisco Bay Trail (377 ft), turn right to San Francisco Bay Trail (82 ft), turn right to Mario Savio Bridge/San Francisco Bay Trail (108 ft), keep to the left to stay on Mario Savio Bridge/San Francisco Bay Trail (continue to follow San Francisco Bay Trail – 0.3 mile) and then slight right to Bolivar Dr/San Francisco Bay Trail (continue to follow Bolivar Dr – 161 ft), turn left to Addison St (0.2 miles) and turn left to Fourth St (371 ft) to find 4th Street Fine Art.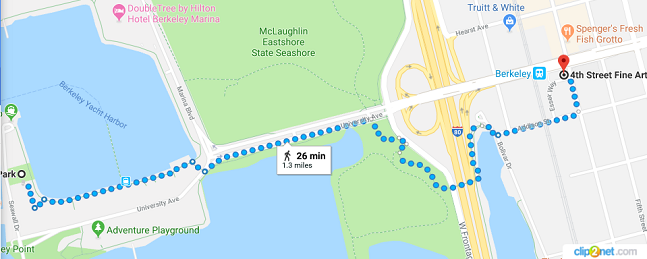 Then you can take bus #51B and pass 9 bus stops to get to Berkeley Symphony on University Avenue (one minute walk from the bus stop). Walk 5 minutes down the University Ave to get to the UC Theatre.

Then you can visit Berkeley Repertory Theatre walking head west on University Ave toward Shattuck Ave (148ft), turn left before McDonald's (377ft) and turn right to Addison St.  You can also find Aurora Theatre Company and California Jazz Conservatory in the same area. There is a non-profit art community Freight and Salvage Coffeehouse just opposite Berkeley Repertory Theatre on Addison Street.
Moving Further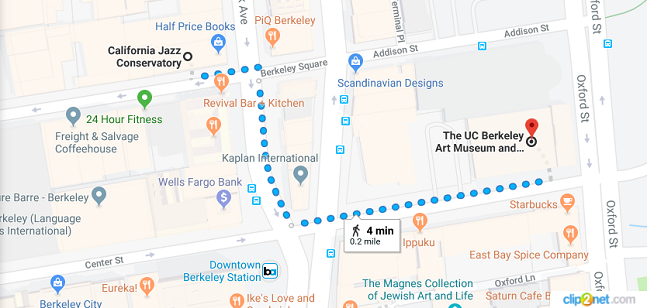 Now it's time to visit The UC Berkeley Art Museum and Pacific Film Archive that is located on Oxford Street. See the picture how you may get there. Not far from there (on Allston Way) you may find a museum of Jewish history called Magnes Collection of Jewish Art and Life.
You can also go on Center Street and walk to the multi-use venue called Cal Performances, then go to Sather Tower. It is a bell tower that has four sides and a clock on each of them. Berkeley citizens compare it to Campanile in Venice. Finally, you can reach the University of California that is one of the best state universities of the globe and the best university of natural science in the world.  It takes only 13 minutes to get from the university to the Greek Theatre (a famous 8,500-seat amphitheater) on Gayley Road.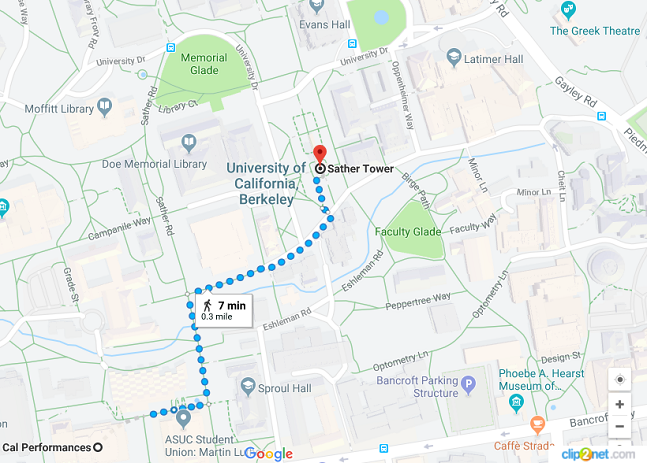 Perhaps, you've heard of Telegraph Avenue in Berkeley. Students, citizens, and tourists like it because there they can go shopping, find cheap cafes, buy souvenirs and vintage records there. If you have enough time to investigate this place, you can find it just after leaving the gates of the University of California.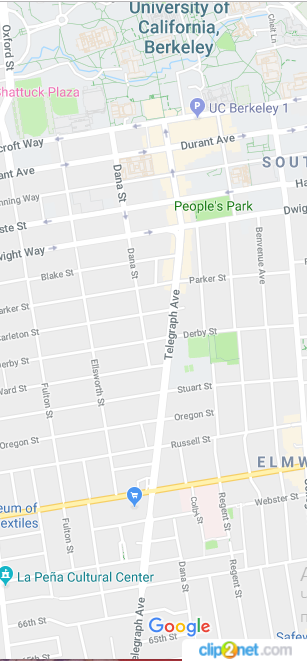 If you change the direction and instead of seeing Sather Gate will take a 6-minutes-walk ahead west on Center St. toward Berkeley Square/Shattuck Avenue, you'll find Berkeley Historical Society and Martin Luther King Jr. Civic Center Park, where a great number of events and special festivals take place yearly. After leaving the park on the east side, go down toward Milvia Street and turn left to Kittredge Street. There you may visit Habitot Children's Museum and Berkeley Public Library (in nearly 3 minutes.).
Southern Berkeley
If you take a bus (#18) and pass 8 bus stops, you'll find Lacis Museum of Lace and Textiles, from where you can get to La Peña Cultural Center (go to Ashby Avenue and turn to Shattuck Avenue).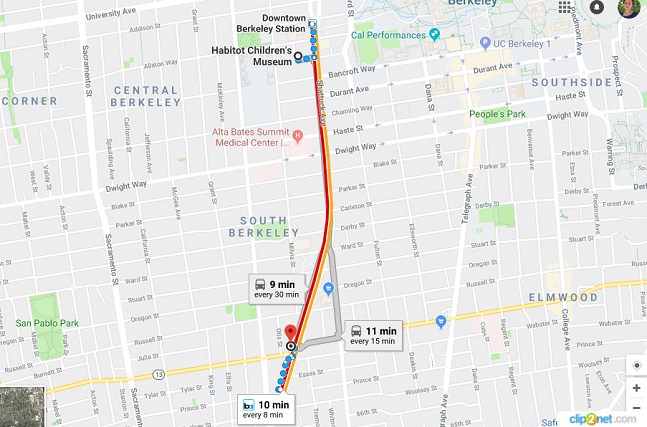 East Berkeley
Take the bus (#18) and in 16 stops (15 min) you'll go out on Henry Street and go to Berkeley Art Center (3 min). It's situated near the Berkeley Rose Garden.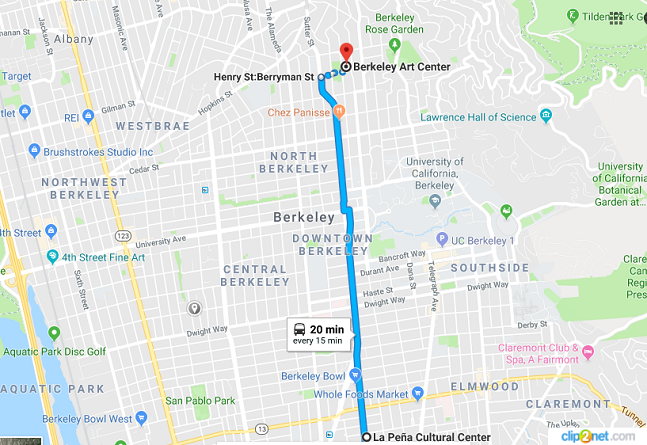 There are so many wonderful roses that you'll feel pleased about finishing your investigation in the Berkeley Rose Garden. First, take the bus (#65) and then 51B to get back to your Hotel Berkeley Marina (if you stop there).
It can be hard to visit all these places in one day but you may choose the places you prefer and avoid those ones which don't meet your preferences.
Something Else?
There are some interesting things you should know about Berkeley.
First, there are many parks except the above mentioned. There are Live Oak Park, Ohlone Park, Indian Rock Park, People's Park, San Pablo Park, and some others.
Second, there are so many various places where a person can have a meal that it's really hard to remain hungry there. These places vary in prices, so you can find the café/restaurant/dining place to your taste.
Third, there are many hotels and motels for you to stay. They also meet the requirements of tourists. That's why you can get 1-star (e.g., Berkeley Inn), 2-star (e.g., Knights in Berkeley), 3-star (e.g., Graduate Berkeley), 4-star (e.g., Hotel Shattuck Plaza) and 5-star (e.g., Claremont Club & Spa, A Fairmont Hotel) apartments there (depending on your budget).
Enjoy your Berkeley tour!