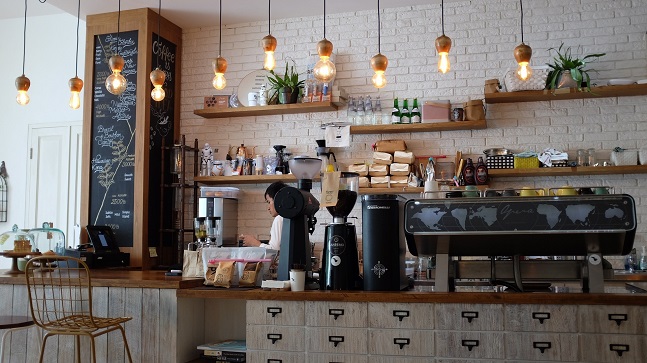 Have you ever made out why coffee reduces your sleepiness? The reason of this effect lies in the nature of caffeine – it is similar in the structure to our brain neurotransmitter. It is called adenosine and is responsible for relaxation of central nervous system activity. Due to the resemblance, caffeine can temporarily replace adenosine and block this relaxation. In such a way, coffee reduces sleepiness and drowsiness for some time.
We're positive that you're one of those students who can't sit down to do home assignments without a cup of steaming coffee. And considering the caffeine impact on our organism, it is obvious why. But it's also great to do your studies in public places like Starbucks where, apart from drinking a top-quality espresso or latte special, you always get the cozy atmosphere and background hum of voices. This kind of white noise can put you just in the right mood to complete the research project or process the scientific article. And we're going to share with you the list of 10 alternatives to Starbucks in Iowa city to make your studying sessions more diverse and inspiring.
The café is full of couches and plants which make it a perfect chill and study spot. It is not very crowded during the day which is a plus for someone who wants to concentrate on assignments. As for coffee, visitors particularly praise café mocha, but we're sure you'll be able to find your own favorite.
This is a small coffeehouse above the Prairie Lights bookshop. People usually buy new readings for themselves and go upstairs to enjoy their new purchases, that's why it's rather quiet there. It has a library atmosphere and tasty smell of coffee – a perfect combination for your studying chores!
There are two reasons you need to check out this spot: it is cheaper than Starbucks across the street and much cozier, according to the visitor's words. Our advice – try Chocolate mocha with raspberry. After it, you will come there every day!
The Java House is a snug café decorated with the works of local artists. It provides enough space for those who want to communicate as well as for students who need some quiet atmosphere. It's a go-to place when you want to break your Starbucks routine.
The regular visitors to this coffee joint are either freelancers with laptops or just people reading books/newspapers. Is it necessary to say something more?
6. The Dingo Bar
It has plenty of seating options – retro chairs, couches or usual coffee stools. The set of coffee drinks is rather standard, but the base for all of them is made from high-quality coffee beans. Also, there are outside tables as well to enjoy the occasional warm weather.
This is a comfy spot to sit with your laptop or notes and enrich your knowledge while drinking tasty coffee. And when you feel like grabbing a bite, you must try the veggie omelet and heated cinnamon roll – they will fuel you up to continue your studies!
Located near the University of Iowa campus, BGM has plenty of room for a lot of visitors. You can go there for a quick lunch (their menu is really huge and has a great deal of healthy offers) and stay to hit the books with a cup of their brand dark chocolate drink.
If you plan to settle down for quite a long time, but don't want to spend a fortune on coffee, hit this place with refillable drinks option. That is something you won't find in Starbucks.
The beauty of this café is that you can go to their upstairs space, sit by the window and study as much as you want. You can observe busy streets while reflecting – it will help you concentrate and come up with creative ideas.
As you can see, there is quite a range of alternatives that you can opt for if you are already bored with Starbucks. Visit one (or several) of these spots, order your favorite drink and plunge into your studying. We bet it will be fruitful!