Any professor at a college or university will confirm that internships for international students play a critical role in their future careers. At the very least, the experience gained through a practicum allows you to better understand your discipline. At the most, it allows you to make the right contacts and get the job you want in the future. To successfully find and complete an international student internship, you need to know the rules and regulations regarding them in the United States. By following the letter of the law, you will avoid unnecessary problems and successfully gain valuable practical experience. In this article, we will talk about internships for international students, revealing the nuances that F-1 visa holders need to know.
Internship the US
for Foreign Learners: The Basics You Should Know
Internships are one of the mandatory elements of studying in the United States. This means that no matter what specialty you are studying, training is not only your right but also your duty. Literally, every industry is ready to accept international interns and give them the opportunity to look at their future specialization from the inside. 
Student internships are divided into different types:
Paid training programs.

These are programs with a double advantage. In addition to the main purpose of acquiring practical skills, you can also earn money with their help. Companies of all kinds offer such practicums. However, such industries as finance, technology, and engineering are the leaders in offering

paid internships for international students

.

Internships without pay.

Non-profit organizations, media, and arts usually offer unpaid internships. Although these organizations do not pay for internships, they are also a worthwhile opportunity to gain practical experience and build a network of contacts. Alternatively, if you prove yourself well as an

international intern

in such a position, you may receive a job offer in the future.

College credit-based internship.

This type of

internship in the US

is an extremely interesting option. This is your lucky ticket. You will not only be able to immerse yourself in your specialization, earn money (preferably), and meet the right people but also receive academic credits. 

Summer internships for international students.

A definite advantage of such internships is, of course, the time of year in which they are held. While on vacation, you can give 100% of your time to work without being distracted by attending lectures and preparing for practical classes.
Internships in USA for International Students
: The F1 Visa Regulations
It is vital for international students with an F1 visa to have a good understanding of the rules regarding internships. Disregarding legal guidelines can lead to expulsion from college and even deportation. So, what do you need to know about an international student internship?
A full-time student status.

Current legal regulations require that international students must have a full-time program. Thus, the scholar confirms that studying is their main prerogative, and the internship only complements and enhances the learning process.

Curricular Practical Training (CPT).

This permit allows international students to work off-campus in jobs directly related to their major. You can use it after completing the first year of your study program. To start a CPT internship, you must apply for permission from the Designated School Official (DSO).

Optional Practical Training (OPT).

If you have already graduated from college and received your degree, you can still do an internship. This is possible thanks to the OPT's authorization. Under this permit, you are allowed to do an internship for up to one year to gain experience in your specialization.
Time and duration of the
internships for international students
During the academic year, students are allowed to work as interns for no more than 20 hours per week. This way, regulatory authorities can be sure that the foreign learner is focused on his or her studies and devotes enough time to them. As for all vacation breaks, without exception, you have more freedom. You can work 40 hours a week as an international intern during the breaks. 
Selection criteria for internships
The right to do an internship in the US depends on several factors. As an international student, you must fulfill minimum academic requirements and/or complete a certain number of semesters. What does this mean? An internship is essentially the application of theoretical knowledge in practice. That is, to start a student internship, you must have the necessary minimum knowledge. That is why, before allowing a student to do an internship, regulatory authorities want confirmation from educational institutions that the student has completed the required number of credits and has enough knowledge to apply them in practice.
Documentation and authorization intricacies
Before you start looking for internship options, familiarize yourself with the key legal requirements. 
In the United States, students are authorized to work off-campus exclusively under CPT or OPT permits. These involve applying for and receiving approval from the relevant authorities. All other possibilities are illegal and will only harm your further studies. 

A Designated School Official (DSO) plays a crucial role in advising international students on internships. He or she knows all the ins and outs of obtaining work permits and ensuring visa compliance.

Forms I-20 and I-765 are an essential part of the work permit process. Your educational institution issues Form I-20 and thus certifies your eligibility for CPT or OPT

student internships

. Next, you will need Form I-765 to obtain the desired work permit.
Having a clear understanding of and adherence to the rules of international student internships will allow you to navigate through the bureaucratic hurdles smoothly.
"The Designated School Official (DSO) is like your sidekick when you're an international student looking for a cool internship in the US. I feel like it's the smartest thing to do to get help from a real person who knows the ropes, especially when things get pretty important."

Xiu Zhang, an international student in the USA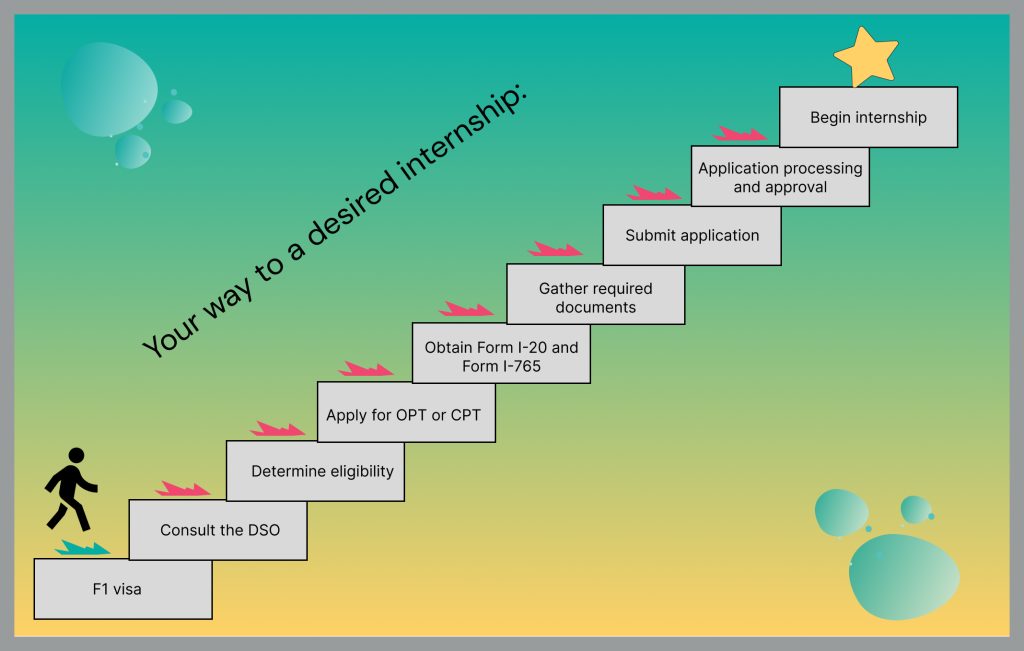 Internships for International Students
: Where to Start?
We've designed a checklist to assist you in navigating what you need to do and what you need to pay attention to obtain the desired internship.
University career centers
Who knows more about internships than the colleges themselves? All of their work is aimed at ensuring that you leave their walls as a confident professional. Your university's career services do their best to introduce you to the big and scary job market world. They organize seminars and provide individual consultations on internships. Experienced consultants will help you find an internship that best suits your specialty and unlocks your potential.
Online internship databases
If you decide to try your luck looking for internships online, job boards like Indeed, Glassdoor, and LinkedIn are good places to start. They allow users to sort results by location, company size, and type of internship. This greatly simplifies the range of possible options.
"Online platforms for finding student internships are truly helpful. You can access them at any time of the day or night, and the sorting function allows you to speed up the process significantly."

Akari Saito, a marketing student in New York
Networking and informational interviews
One of the most powerful tools for finding an internship in the United States is networking. Attend job fairs, industry conferences, and networking events to talk to professionals in your field. These conversations are incredibly beneficial. You will be able to meet various influential people who can potentially help you in your career.
A comprehensive resume and cover letter
Your resume and cover letter serve as your first impression to potential employers. Create a resume that highlights relevant education, abilities, and experience. Craft a compelling cover letter expressing your excitement for the internship and affinity with the company's beliefs and ambitions.
Internship interview
Prepare thoroughly for the interview. Do your research and learn about the company's goals and current projects. Practice answering typical interview questions and emphasize your skills and relevance to the internship position. During the interview, talk about your experience and how you can be useful to the organization as an international intern.
Benefits of
Internships in the US
for International Students
Undoubtedly, the biggest advantage of an internship for an international student is the chance to prove yourself and get a job in the future. As for other benefits, here they are:
Invaluable practical experience for the best possible mastery of your specialty.

A better understanding of American professional norms, business culture, and its nuances.

Developing a solid resume as a specialist with a serious approach to your profession.

Established professional relationships during the

internships in the US

open the door to a successful career in the future.