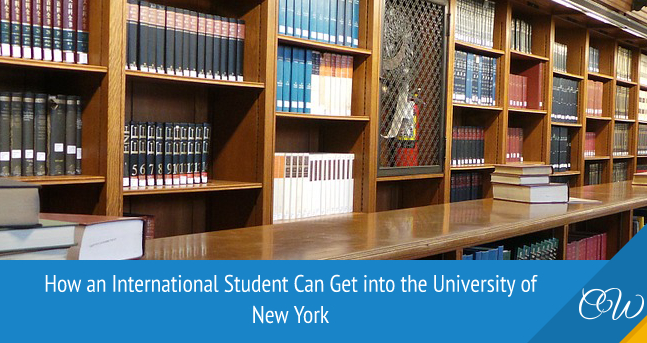 The University of New York is one of the state's best-known universities. During the last ten years, the school has become even more popular. The school receives applications from over 60,000 prospective students each year, which is over 90% more applications that they received ten years ago. Of course, not everyone who applies gets into the school. Just slightly over 25% of the students who apply to the school are accepted. Needless to say, it's no simple feat to become a student of this elite university.
While the University of New York is known for having a low acceptance rate, they are also known for having over accepting over 1,000 international students (in 2017 alone). This university has international students from over 100 countries around the world. In 2016, the school had just over 16,000 international students.International students average about 16% of the school's total student population, which gives prospective international students something to be hopeful for.
What All International Students Should Know
Whether are you applying as a new student or a transfer student, there are certain things that every international student should know and documents you should have. You should find out if the United States requires you to have a student visa for your country. You will need to know/have the following:
Financial information (tax returns)
References (teachers and employers)
The differences between your country's and the USA's grading system
How to Apply as a New Student
If you have just finished your high school education (or equivalent), then you will need to apply to the school as a first-year student. You should apply while you are still in high school, when you are in your final year of schooling.
The first step to applying is to use the Common Online Application. The application costs $80 USD, but you can request a waiver that will cancel the cost of the application. You will also need to contact a school counselor to complete a Common Application School Report and to send in your school transcript and a teacher to complete the Teacher Evaluation form.
Along with your application, you will also need to submit several other documents, which are listed below. Optional documents, or documents that only apply to some students, are marked with an asterisk.
Standardized testing scores
Portfolio* (if you are applying to the music department or Tisch School)
English language testing* (if English is not your native language)
How to Apply as a Transfer Student
If you have already taken some college classes, or if you skipped a high school graduation to begin college early, you will need to apply to the university as a transfer student. However, if you have less than 24 college credits, you may not need to apply as a transfer student. Dual -enrollment students who are in high school at the time of application do not need to apply as transfer students.
Along with filling out the general application, you will also need to submit the following documents:
Official high school transcript
College transcripts for completed college classes
Letter of recommendation (by a teacher or employer)
A Common Application Evaluation Form
Standardized testing scores* (if you have completed less than 32 credits)
Audition or portfolio* (for art and music classes at either the Steinhardt or Tisch School)
English language testing*
Common Application Midterm Report* (this may be requested from the school after the initial application)
Some programs may also require additional paperwork as a part of the application process.
Is It Worth It?
Is it worth going through all the trouble to apply to this school? The answer is simple: Yes! All colleges require ridiculous amounts of paperwork to apply, for both domestic and international students. The University of New York has a reputation of being one of the best schools for international students to attend.
There is a high population of international students at the school, and tuition costs the same for domestic and international students. The university also ranks in the top ten colleges in the country for Mathematics, Economics and Business, and the Arts and Humanities. With over 10,000 international students currently attending the school, and over 150 international staff members, you are sure to fit right in. What have you got to lose? Apply to this great school today! And if necessary, our academic writers will help you with it.