All prospective law school students know of the LSAT (Law School Admission Test). It comes shrouded in many prejudices and myths about its extreme difficulty and the impossibility of passing it. However, nothing is impossible for those who strive to achieve their goals and are willing to work hard for it. If you are one of these people, you will benefit from our guide on how to prepare for the LSAT and pass it with a perfect score. We invite everyone interested to read on!
What Is Inside the Law School Exam, and How Long to Study for LSAT?
The LSAT, or Law School Admission Test, has been conducted since 1948. The exam is a comprehensive tool for assessing aspiring law students. Its completion ensures that they possess crucial cognitive and critical thinking skills to succeed in legal education and, subsequently, in a career in law.
The responsible body for the LSAT is the Law School Admissions Council (LSAC). This non-profit organization plays a key role not only in creating and administering the exam but also in scoring and transmitting the results to law schools.
How to prepare for the LSAT? The LSAT consists of five distinct sections, each assessing different aspects of a candidate's potential.
Logical Reasoning consists of two sections with 24-26 questions each. Their purpose is to evaluate a person's ability to analyze, critically evaluate, and conclude an argument.
Reading Comprehension contains 26-28 questions. It focuses on the candidate's reading and comprehension skills. Its goal is to assess the ability to comprehend complex texts, isolate key information, and draw conclusions.
Analytical Reasoning features 22-24 questions. The LSAT section tries test takers with a series of logical puzzles and analytical reasoning tasks. It assesses their ability to draw conclusions and solve complex problems effectively.
Variable Section is not graded. This section may contain questions related to any of the three sections described above. This part of the exam allows the committee to test questions that it would like to use in future tests.
Writing Sample is not scored. It encourages candidates to write a persuasive essay to demonstrate their mastery of effectively articulating arguments and ideas on paper. An applicant should submit an essay for the LSAT to LSAC well in advance of the actual test, as it can take quite a while for the admissions officers to check it. The LSAC informs that the writing assignment is open for completion eight days before the law school exam.
How long to study for LSAT? The providers of LSAT training materials recommend studying for 3 to 5 months to prepare for the exam to receive an LSAT passing score of 150.
How to Prepare for the LSAT: The Best LSAT Prep Books
When preparing for the LSAT, having the right books can make all the difference. Here are some of the best LSAT prep books to help you reach your full potential:
10 Actual, Official LSAT PrepTests, Volume VI
Author: The Law School Admission Council (LSAC)
What's inside: It includes ten actual, previously administered LSATs, providing authentic practice tests to familiarize a prospective student with the exam format and question types. The book also contains explanations for correct answers.
Price: From $24 to $30
The Official LSAT SuperPrep II
Author: The Law School Admission Council
What's inside: The Official LSAT SuperPrep II offers valuable insights into the LSAT exam. It contains three complete practice tests with detailed answer explanations. It also provides strategies, tips, and other helpful content.
Price: Around $25
The LSAT Trainer, 2nd Edition
Author: Mike Kim, a veteran LSAT tutor
What's inside: The LSAT Trainer is a comprehensive LSAT study guide. It focuses on providing strategies, techniques, and in-depth explanations to help prospective applicants tackle the law school exam. It includes drills and LSAT practice questions to reinforce a student's skills.
Price: From $35 to $45
Kaplan's LSAT Prep Plus 2022
Author: Kaplan Test Prep
What's inside: Kaplan's LSAT Prep Plus 2022 offers a comprehensive preparation program. It includes three official practice tests, an adaptive Qbank, and personalized quizzes. The book provides in-depth strategies, video lessons, and extensive LSAT practice questions.
Price: Around $70
How to study for the LSAT: The Princeton Review's LSAT Premium Prep, 28th Edition
Author: The Princeton Review
What's inside: The 28th edition of this guide offers in-depth test-taking strategies, full-length practice tests, and access to an LSAT prep online portal with additional resources. It includes detailed explanations for answers and drills to enhance your skills.
Price: From $30 to $40
Please note that prices may vary based on factors like the edition, condition (new or used), the retailer from which you purchase the books, and the best ways to study for LSAT.
How to prep for the LSAT with books
When selecting LSAT prep books, consider these tips to make the most of your preparation:
a. Choose wisely. Select books that match your learning style and objectives.
b. Stay current. Ensure your LSAT prep books are recent or official LSAC materials.
c. Go authentic. Supplement your studies with official LSAC PrepTests for realistic practice.
d. How to prepare for the LSAT? Plan ahead. Schedule your study time and follow a well-structured plan to monitor your progress.
e. Practice consistently. Dedicate daily time to practicing questions and full-length tests.
f. Review and adjust. Analyze your performance, pinpoint your weaknesses, and adjust your study plan accordingly.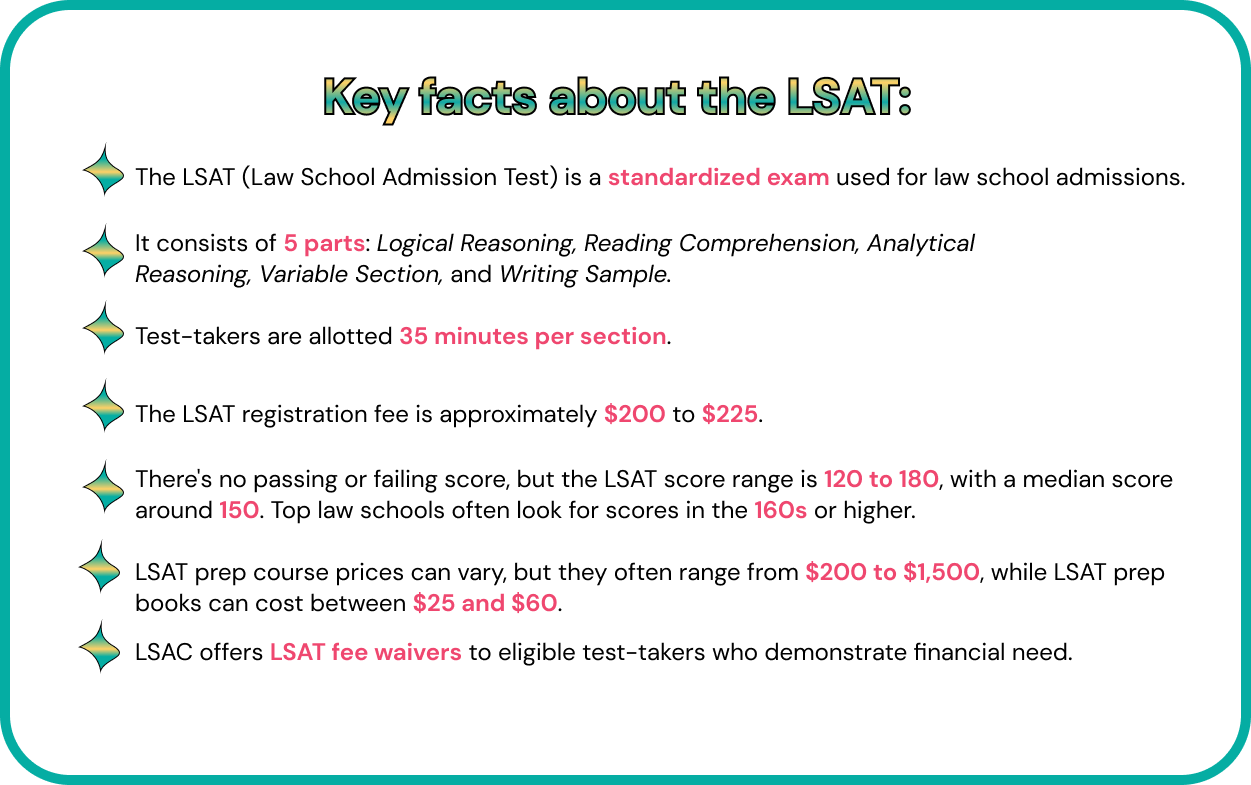 How to Prepare for the LSAT: Best LSAT Prep Courses
For a comprehensive preparation for a law school exam, consider enrolling in one of the best LSAT prep courses listed below:
LSATMax offers a comprehensive LSAT preparation course that includes on-demand video lessons, over 9,000 real LSAT questions, personalized support, and a mobile app for convenient studying. Their content is designed by Harvard Law School alumni.
Strengths: User-friendly app, extensive question bank, personalized analytics, and real-time support from instructors.
Price: Starts at $595.
Blueprint LSAT offers interactive online courses with live classes and access to an extensive library of practice materials. They focus on teaching strategies for the LSAT.
Strengths: Engaging live classes, adaptive learning technology, and a range of study options, including a self-paced LSAT prep online course.
Price: From $299.
How to study for LSAT? Use Manhattan Prep. It provides LSAT courses with comprehensive content, interactive online classes, practice exams, and detailed score reports. They are known for their thorough instruction and well-organized study materials.
Strengths: Clear and structured lessons, quality practice exams, and personalized feedback.
Price: Starts at $299.
The best LSAT prep course: Princeton Review offers LSAT courses with live classes, practice questions, and expert instructors. They have a strong reputation for standardized test preparation.
Strengths: Experienced instructors, multiple LSAT course formats, and a free trial class.
Price: From $800.
How to prepare for LSAT? Consider Magoosh. It offers an affordable online LSAT prep course with video lessons, practice questions, and email assistance. They focus on simplicity and effectiveness.
Strengths: Cost-effectiveness, accessible lessons, and tailored study plans.
Price: Starts at $300.
How to start studying for the LSAT with courses
Choosing the right LSAT prep course is crucial. Here are some tips to help you decide and make the most of your LSAT course:
a) Set your budget. Determine how much you're willing to invest in your LSAT prep.
b) Research LSAT course options. Explore the courses mentioned and evaluate their features, cost, and user reviews.
c) How to prepare for the LSAT: Consider your learning style. Determine whether you prefer in-person classes, live online instruction or self-paced learning.
d) Review instructor qualifications. Ensure that instructors are knowledgeable and experienced.
e) The best way to study for the LSAT: Look for official LSAC content. Confirm that the course material of your choice is in line with the official requirements of the LSAC.
HANDPICKED RELATED CONTENT:
Free LSAT Prep Resources to Consider
If you are looking for free LSAT preparation resources, there are several valuable options. Many websites and organizations offer free practice tests and study materials. These resources will help you familiarize yourself with the LSAT exam format and hone your skills without paying a dime.
The best way to prepare for the LSAT: List of free LSAT prep resources
Official LSAC Prep. LSAC offers free official sample questions and test prep materials on their website.
Khan Academy LSAT Prep. The platform grants access to free LSAT prep materials, including practice questions and explanations.
Reddit LSAT Community. Engage with the LSAT subreddit to gain insights, share experiences, and access free resources.
YouTube LSAT Prep Channels. Numerous YouTube channels offer free online LSAT preparation videos and explanations.
Local Libraries. Check out LSAT prep books and materials from your local library.
How to pass LSAT?
To conquer the law school exam, here are six key tips:
a. Understand the format. Familiarize yourself with the LSAT format and question types.
b. Develop time management skills. Practice answering questions within a time limit. For each section, you'll have 35 minutes.
c. Preparation for the LSAT: Focus on weaknesses. Identify your weak points and allocate extra study time to them.
d. Take full-length practice tests. Simulate test conditions with full-length practice exams.
e. Stay consistent. Maintain a regular study schedule to build stamina.
f. Seek support. Join study groups, access online forums, and consider professional tutoring if needed.
How to prepare for the LSAT? With dedication and the right resources, you can ace the LSAT and take your first step toward an exciting legal career.