Paving your way into the adult world is hard. One of the stepping stones on this road is to receive a degree. It opens many opportunities to build a decent career and a better future overall. However, this desired degree always comes with a price tag. As a young adult, you can take responsibility for your higher education cost and look for ways to pay for college on your own. We'll gladly help you with this issue and provide you with multiple answers to the question of "how to pay for college."
Ask for
Financial
Aid
from the Government (
FAFSA
)
A student must pay $36,436 per year on average to attend a United States college. The good news is that this sum also includes the cost of textbooks, supplies, and accommodation. Funding support from the government can go a long way toward easing this overwhelming financial load. It involves a range of options, such as grants, scholarships, and loans.
The Free Application for Federal Student Aid, or FAFSA, is at the heart of accessing federal funding. It is your key to obtaining various forms of monetary assistance. Completing the FAFSA, you provide colleges and universities with important information about your financial situation. Federal authorities use it to determine your eligibility for federal grants, loans, and work-study programs.
The FAFSA process involves collecting information about your family's income, assets, and other economic data. This snapshot of your financial landscape helps educational institutions assess your funding needs and allocate assistance accordingly. Even if you don't qualify for need-based aid, completing the FAFSA can be helpful in paying for college. Merit-based scholarships and certain loans often require this form for approval.
The FAFSA opens access to federal support programs, such as the Pell Grant, direct subsidized and unsubsidized loans, and work-study positions. These funding sources can significantly reduce the financial burden of college for you.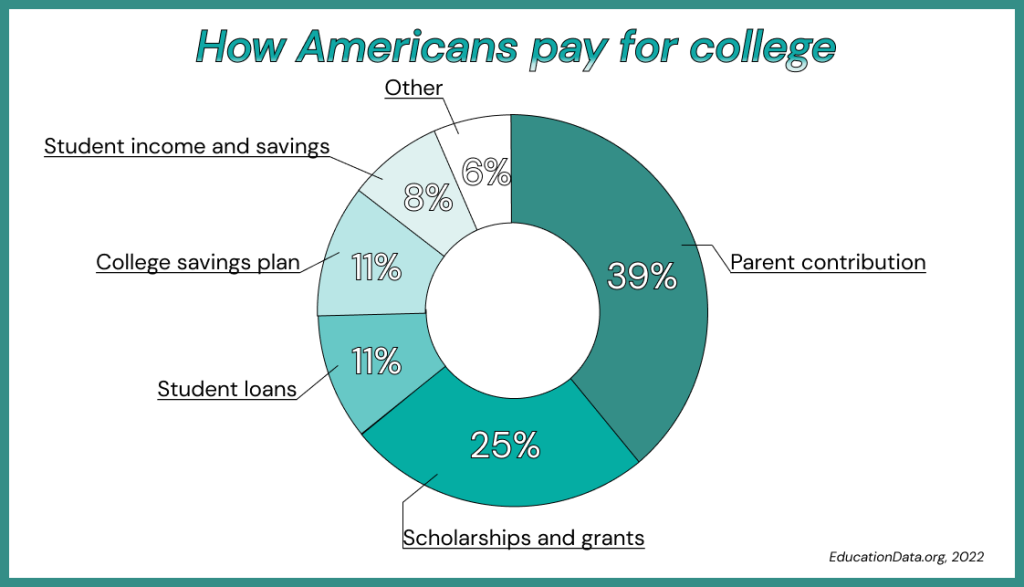 Use Scholarships and Grants to Ease the Financial Burden
These forms of financial assistance from various organizations do not require repayment from a student. They are valuable tools to help cover tuition and other educational expenses.
Types of
scholarships
and grants
Scholarships and grants come in many forms, each designed to empower learners uniquely. Let's examine the various opportunities to help you start your educational journey.
Merit-based scholarships.

These scholarships are awarded based on academic, athletic, artistic, or other outstanding achievements and recognize your accomplishments and potential.

Need-based scholarships.

These

scholarships

are designed to help

students

with demonstrated

financial

need to receive a degree.

Athletic scholarships.

These are designed for outstanding

student

athletes. They recognize and reward the learner's athletic ability, often providing funds to pursue a college education while participating in collegiate athletics.

Creative and performing arts scholarships.

These are designed for scholars with exceptional talent in music, the visual arts, or the performing arts. They help develop artistic potential.

Industry-specific scholarships.

Many scholarships target

students

studying specific fields, encouraging them to excel in various disciplines, from STEM to the humanities.

Federal grants.

Offered by the

federal

government, grants such as the Pell Grant provide financial

aid

based on the student's family

income

and other factors.

State grants.

State-funded

grants

vary by location and are often awarded to residents pursuing higher education in their home state.

Institutional grants.

Colleges and universities themselves offer scholarships to attract diverse and talented

students

to their campuses.
Tips for finding and applying for
scholarships
and grants
Start early.

Begin your scholarship and grant search early to meet application deadlines.

Do your research.

Explore scholarship databases, college websites, and community organizations to find many opportunities for

paying for college

.

Check the eligibility requirements.

Make sure you meet the requirements for each scholarship or grant before wasting time on the application process.

Personalize your applications.

Tailor your applications to meet each scholarship's specific criteria and highlight relevant accomplishments and experiences.

Highlight your achievements.

Highlight your academic, extracurricular, and personal accomplishments to distinguish yourself from other applicants.

Stay organized.

Keep track of the application deadlines, requirements, and documents needed for each scholarship.

Proofread carefully.

Submit polished, error-free applications to make a positive impression on admissions committees.

Use various resources.

There are different ways to pay for your education, and you should use all of them. For example,

Scholarship Portal

,

Bold.org

, and

College Board

will help you find scholarships. Your

school

counselors can provide you with reliable advice, and community organizations can tell you about possible funding options that are right for you.
How to Pay for College
: Apply to Work-Study Programs
Attending college requires students to be flexible financially and combine their studies with work. The least painful way to do this is through specialized work-study programs. They allow you to fit your class schedule around a part-time job.
Income from part-time work can help with paying for college. It covers expenses such as textbooks, supplies, and even living costs. Additionally, a part-time job allows you to earn money to pay for tuition and gain valuable skills for your future career. This experience gives you a competitive edge in the industry and demonstrates your ability to balance your academic and professional commitments.
Colleges try very hard to provide their students with the best conditions for their education. Being aware of the funding issue, they usually offer a variety of positions with flexible schedules. Work-study programs are the best way to pay for college.
Jobs with work-study opportunities cover various roles and responsibilities and cater to different skill sets and interests. Common examples include positions in administrative offices, libraries, research labs, and campus facilities. If you are passionate about a particular field, consider work-study opportunities related to your major or career aspirations. For example, an aspiring journalist might find a job in the media department on a university campus, while a budding scientist might find a position as a lab assistant.
"Part-time work is a great opportunity to earn money and pave the way for a future career. I took advantage of this opportunity and now work in my university's admissions office."

Wang Shu Huang, a recent university graduate
Ask Your Employer for Tuition Assistance
One of the ways to pay for college is through employer tuition assistance programs. Seventy-one percent of employers in the United States offer tuition aid to help their employees further their education. They recognize the value of an educated workforce and are willing to invest in their employees' professional growth.
Applying to your employer for tuition support requires a strategic approach. First, conduct a thorough review of your company's tuition aid policies. This may mean reviewing the employee handbook, visiting the organization's human resources department, or seeking advice from colleagues who have used similar programs. With this information, prepare a thoughtful proposal emphasizing the benefits of learning for you and the organization. Clearly outline how the knowledge and skills gained will contribute to your role and the company's overall success. Open communication is key.
"Tuition aid from the company is a lifeline for students who enter college later in life. I was fortunate enough to be someone who took advantage of this opportunity."

Patric Johnson, a 4th-year student and assistant engineer
Use
Tax
Credits for Your
Education
How to pay for college? Take advantage of tax credits! They can help you reduce the taxes you have to pay out. For students, the following tax credit options are available:
The American Opportunity Tax Credit (AOTC)
The government introduced the AOTC to help students pay for the cost of higher education, including fees and necessary materials. This option allows an undergraduate student to receive $2,500 to cover tax liabilities. To qualify for AOTC, you must be a part-time or full-time student. You can use this option to cover taxes once every 4 years.
The  Lifetime Learning Credit is more flexible in its requirements. It can also be useful for graduate students. This option provides up to $2,000 per return to pay for qualified education expenses. The requirements for this tax credit are the same as for the AOTC. There is one very important detail that distinguishes the LLC. It has no maximum number of years during which a student can apply for it.
Follow these steps to apply for one of these incentives and reduce your tax liability:
Gather the necessary information.

Request a 1098-T form from your educational institution. It shows the amount of tuition you've paid.

Determine your eligibility.

Make sure you meet the eligibility requirements for the AOTC or the Lifetime Learning Credit.

Complete IRS Form 8863.

Use this form to claim education credits. You must provide information about yourself, your educational institution, and your qualified

expenses

.

Complete your tax return.

Attach Form 8863 to your tax return. You can do this using taxation software, a tax professional, or filing a paper return.

Take advantage of the credit.

Once your return is processed, the credit will be applied to your taxation liability, reducing the amount you owe or increasing your refund.
How to pay for college? The American Opportunity Tax Credit and the Lifetime Learning Credit are great ways to ease the financial burden of education. Consult an IRS counselor or taxation professional with concerns or questions.
How to Afford College:
Consider Student Loans as an Option
Regard student loans as a last resort after exhausting scholarships, grants, and personal savings. Student loans are borrowed money you must repay, usually with interest. It is vital to approach this issue carefully to avoid unnecessary debt.
There are two main categories for borrowing: federal loans and private loans.
1. Federal student loans
The government backs federal loans and generally offers more favorable terms to borrowers than private lenders. They come in several types:
Direct subsidized loans.

These loans are available to

students

with

financial

need. The government pays the interest while you are in

school

and during specific deferment periods.

Direct unsubsidized loans.

They are available to both undergraduate and graduate learners. Authorities charge you interest at the time of the loan disbursement, even when you are in college.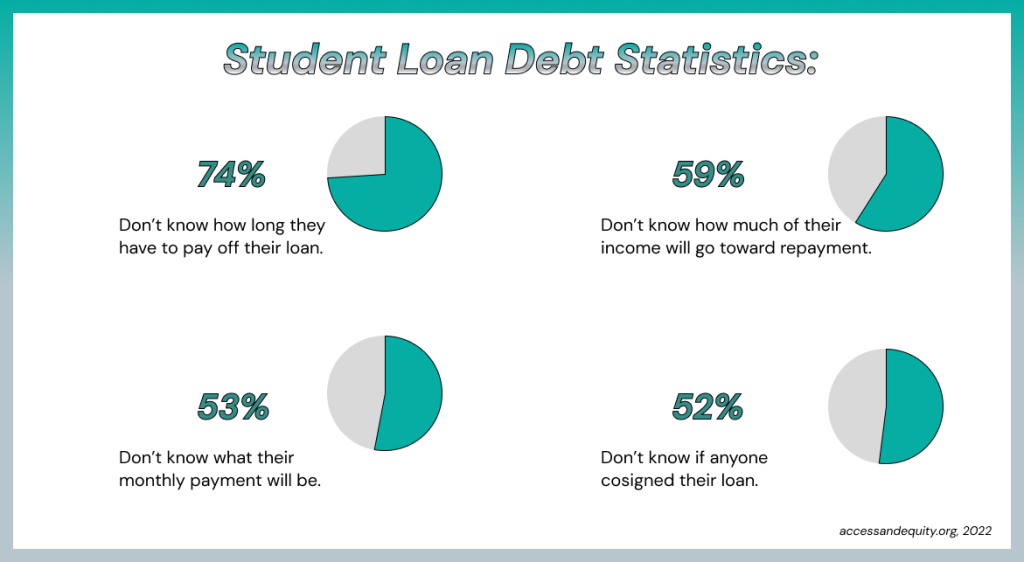 2. Private student loans
Banks, credit unions, and online lenders eagerly offer private credit options. They vary in terms and interest rates based on your credit score. Unlike federal loans, private ones do not offer federal protections such as income-driven repayment plans or debt forgiveness.
If you're considering taking out student loans, it's important to borrow responsibly and plan for repayment to avoid overwhelming debt. If you are unsure of your options or need advice, contact a financial aid counselor or a trusted financial advisor.