Before getting into university to obtain my Bachelor of Science in Nursing (BSN), I investigated the nursing profession, the subjects it required and, of course, the opportunities it provided after graduation.
As a BSN graduate that went through enrollment, studying, graduation, job searching, and finally, employment, I was concerned with four particular questions:
Is there a need for more qualified nursing professionals? 

What is the future of the role of nursing, or will there be a need for nurses?

What is the purpose of a BSN?

How do I obtain a job after graduation?
The short answer to the first question of whether more nursing professionals are needed is "Yes, the demand in the US and Canada is huge." 
The pandemic launched big changes in healthcare systems all around the world, and the one in the US is no exception. The pressure on healthcare caused by COVID-19 affected the number of registered nurses working. As stated by the American Association of Colleges of Nursing, between 2020 and 2021, the number of working U.S. nurses dropped by over 100,000, the largest one-year decline in history.
Although, it should be stated that even before COVID-19, the nursing profession was facing many challenges. The striking nurses say that problems in nursing started years ago, but the problem has obviously been exacerbated by the pandemic. 
For example, here is one of the strikes organized by the Nursing Union in the USA in 2019:
In the beginning of 2023, my colleagues continued to strike: 
According to the U.S. Bureau of Labor Statistics (BLS), the country will need an additional 203,200 registered nurses (RNs) each year from now through 2031. While California is experiencing the biggest gap in RNs, the deficit estimation is around 44,000. In general, the western states have a bigger demand for healthcare staff. It's interesting to know that north of the border, nurses get paid 15% more. According to the most recent data released by the U.S. Department of Health and Human Services, 15% of U.S. hospitals reported shortages in critical-care staffing as of 2023.
Shortages in Critical Staff at U.S. Hospitals is on the Rise
The share of U.S. hospitals that reported critical staff shortages, per month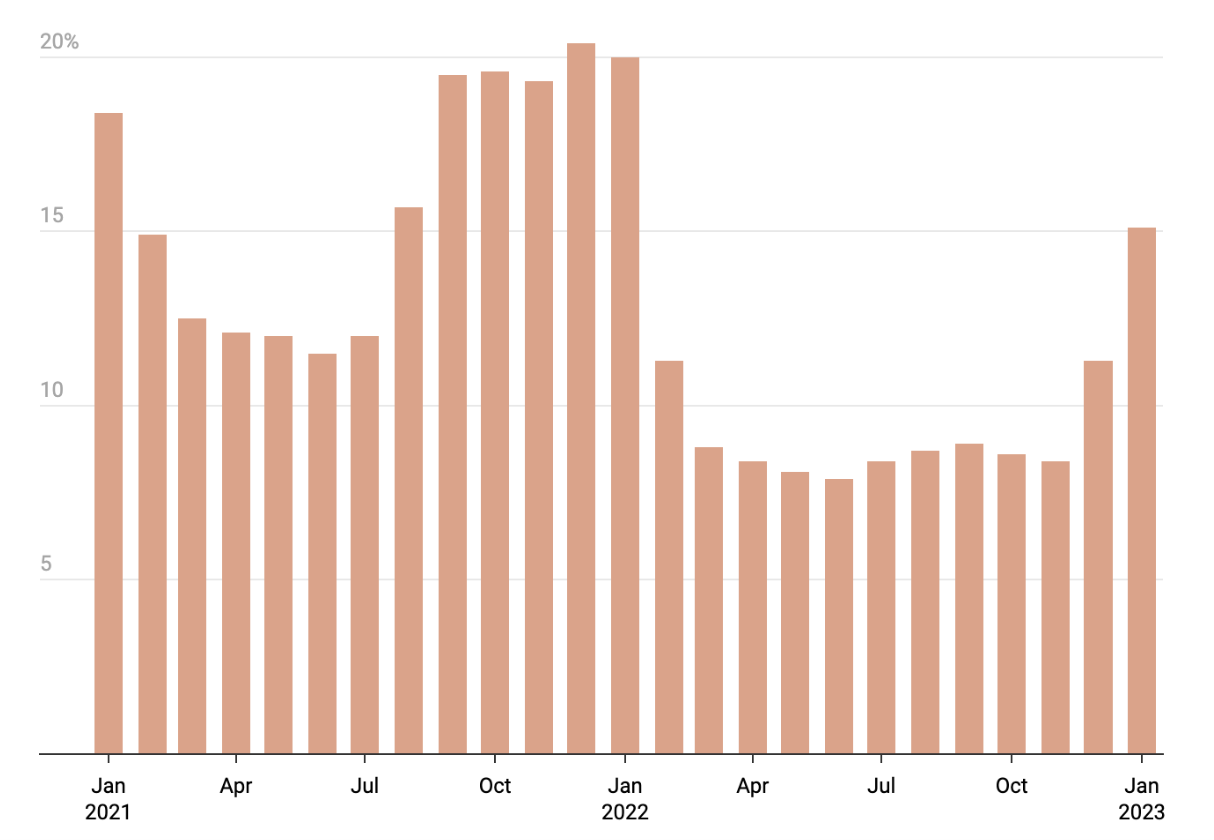 Source: U.S. Department of Health & Human Services
Of course, the shortage in primary caregivers is not only caused by the pandemic, but is also linked to work overload and job burnout. For example, Incredible Health (a nurse-hiring platform) recently did a survey, according to which more than one-third (34%) of nurses say it's very likely that they will leave their roles by the end of 2022, and 44% cited burnout as the primary reason. 
I have been working as a RN for almost 10 years already and must admit that the role of nurses is not always easy, mostly due to stress, responsibilities, shortages in staff, and desperate patients. Many of my colleagues are even thinking of quitting their jobs despite how hard and pricey it was to obtain their degrees, become registered nurses and eventually get jobs. 
On the other hand, the role of nursing in healthcare is about helping people. The nurse's job is very dynamic (believe me, you will never get bored at work); it is well paid and it is work in healthcare.
Therefore, if you are keen on helping people, supportive, reliable and love studies (oh, yeah, nursing is about studying all the time), here is some information about a Bachelor of Science in Nursing. 
The degree grants you a thorough grasp of patient-centered care. BSN-prepared nurses are taught to consider each patient as a person with distinct needs, values, and beliefs. The programs stress the importance of delivering holistic treatment that includes the patient's emotional, psychological, and social well-being, as well as their medical demands.
Moreover, a BSN degree equips nurses for leadership positions within their organizations. Such programs promote cooperation, communication, and collaboration, which are important for successful leadership. As a BSN graduate, I have acquired the skills required to manage teams of healthcare professionals and fight for patients' best interests.
Nevertheless, despite the many advantages of a BSN degree, obtaining nursing employment may be difficult, particularly for recent graduates. Many healthcare organizations want previous experience due to the competitive nature of the employment market. 
Tips on How to Get a Job as an RN:
Even though RNs are in high demand, employers choose wisely. Therefore, here are some tips on how to get a job as an RN:
1.Networking is vital to any job hunt. However, it is especially crucial in healthcare. Participating in job fairs, joining nursing groups, and networking with nurses on social media may assist recent graduates in acquiring insight into the field and possible employment prospects. In addition, networking may assist new graduates in learning about the most recent trends and advances in the healthcare field, which can be useful for interview preparation. For example, I got my job as a registered nurse by going to a job fair organized by my college.
Apart from networking, here are some vital websites for the nursing job search:
Indeed

– a global website for job searching

Nurse

– a vital source for those who are pursuing nursing careers. It has ample information about education, APRN certification, and more than 200k medicine-related jobs listed, as well as a great community of coworkers.
Many staffing agencies, such as Avant Health Care and O'Grady Peyton, offer employment.
Moreover, don't hesitate to use LinkedIn. It has plenty of job postings, communities and just interesting profiles to follow. I get additional information  LinkedIn groups: Nurse Practitioner and Physician Assistant and Nurse Practitioner Network.
2. Having a high-quality CV and cover letter is another vital component of seeking a nursing job. Relevant experience (including clinical rotations), volunteer work, and internships should be highlighted on the resumes of recent graduates. In addition, they should highlight their schooling and any leadership positions they may have had. Changing their resume and cover letter for each job application is crucial, as it helps them to demonstrate why they are the most qualified applicant for the particular position. My CV was very mediocre, but I applied for help from a CV advisor at my college, and even though I didn't have much relevant experience, he helped me to pull out the best from my volunteering work and babysitting. 
This is how it looked before: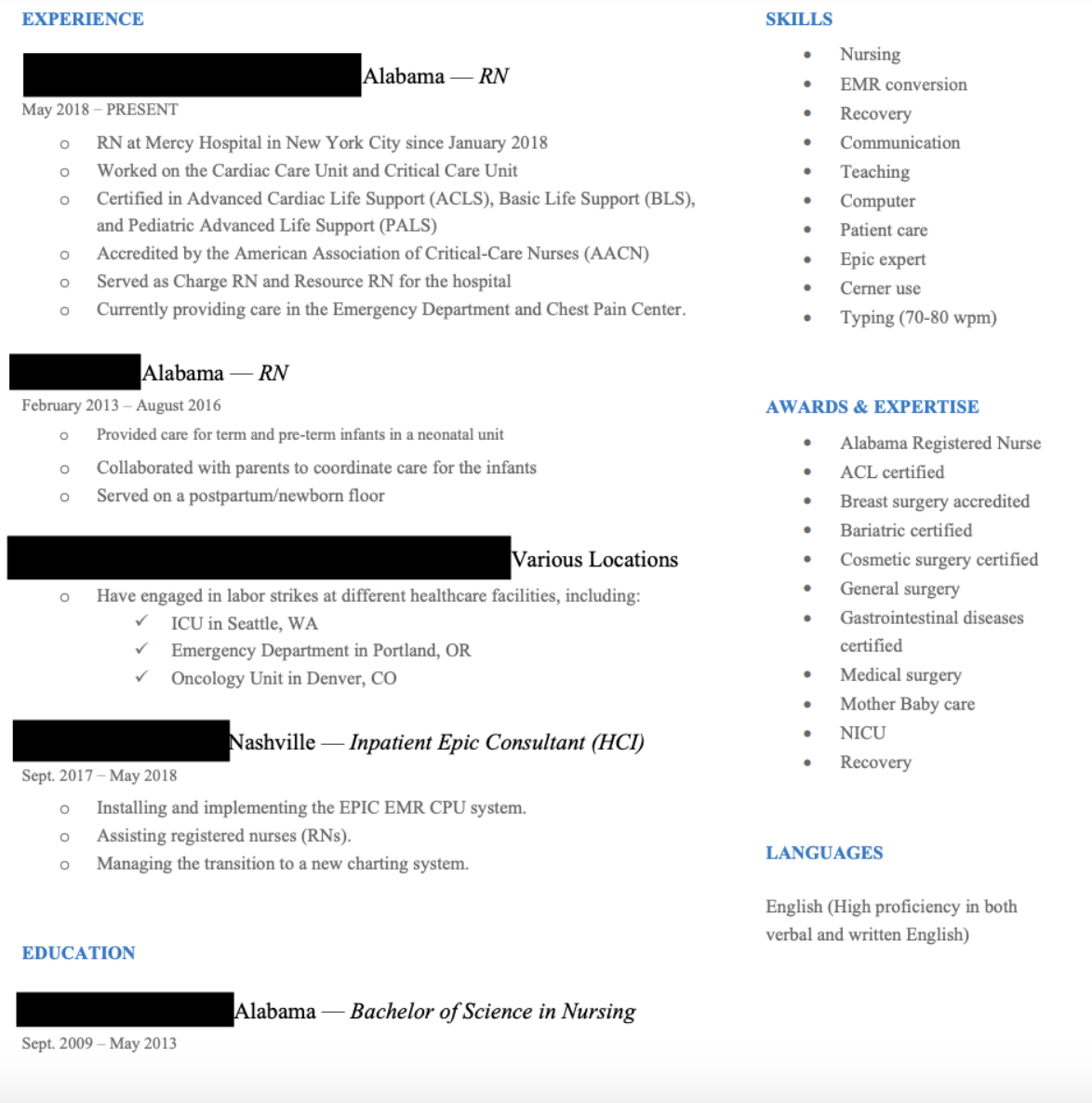 And this is after: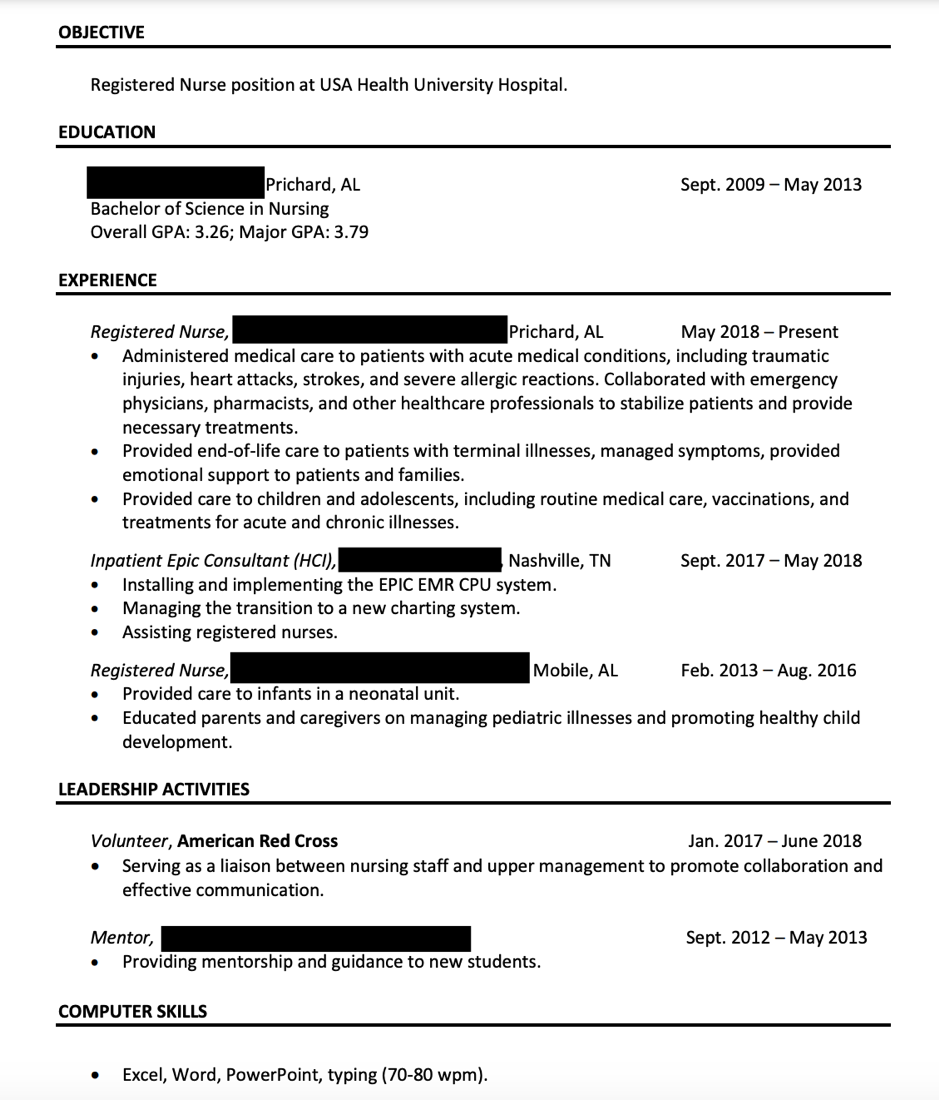 In conclusion, a BSN degree gives an in-depth knowledge of patient-centered care, evidence-based practice, and leadership. The nursing profession is highly diverse and provides several career prospects, yet it may be difficult for fresh graduates to secure employment. Networking, creating a compelling resume and cover letter, and stressing relevant experience may assist new nursing graduates in securing their first job. Hence, a BSN education is an excellent investment for anyone seeking a successful and gratifying career in the healthcare field, given the growing need for healthcare workers. 
Don't worry about the stress, craving for sleep, or permanent lack of time. We are saving people here; what could be more important?! 😉