British writer and poet Warsan Shire once wrote, "No one leaves home unless home is the mouth of a shark." The life of a non-native in a foreign country is usually tough, but fortunately, some scholarships and grants make this experience easier. In this article, you will find up-to-date grants and scholarships for immigrants and new Americans in the US.
Grants and Scholarships for Immigrants and First Generation Americans. Know the Terms
First, let's get a quick clarification of the terms so you can jump right to the category you are interested in. Different community or personal financial aids target one or a few beneficiaries simultaneously. You will have higher chances to get help if you precisely know your "category." So, here they are:
Students

– people who are currently enrolled in educational institutions in the United States.

Immigrants

– people who have moved to the United States but have no intention of permanent residency.

First-generation immigrants

– a specified category of immigrants who are the first in their families to immigrate to the United States. It's important to differentiate this category as they often need help the most among other categories.

Second-generation immigrants

– people born in the United States to immigrant parents. It's important to differentiate them as the category represents huge communities, especially among Latino second-generation immigrants.

Asylum seekers

– people who have applied for asylum in the United States due to fear of persecution in their home countries.

Refugees

– people who were forced to flee their home countries due to conflict, persecution, or other dangers.

New Americans

– a broad term that refers to all newcomers who may need an integration into society.
The difference between a scholarship and a grant lies in the reasons to provide financial aid to the person. The first type usually supports students based on their achievements, and the second one is given mainly because of financial need.
Education for Immigrants and First Generation Americans and Second Generation Americans
There are quite a few scholarships for immigrants covering both specified categories and non-specialized help. Check out the following options, deadline, and application details included.
TheDream.US Opportunity Scholarship for immigrants in USA. Support for the First Generation Americans
Among other scholarships for first generation immigrants, this one has the benefit of allowing undocumented students to apply. However, after pursuing eligibility, the student still stays among the program's applicants. The application process opens on November 1, 2023, and lasts until January 31, 2024. To meet the basic scholarship requirements, you have to:
Be a current high school senior or high school graduate or a current college or university undergraduate student
Have a 2.5 or higher GPA
Have come to the US before the age of 16 and before November 1, 2018
Live in the "locked out" state (the foundation supports those who live in the states where undocumented students cannot be enrolled in any university)
Although this foundation scholarship is highly specific, the level of support for eligible students is also high. The scholarship proposes up to $20,000 annually for all four years of a bachelor's degree, which expands to the education cost, fees, and living expenses.
A few highly prospective scholarships for second generation immigrants
Searching for highly-paying scholarships for immigrant students sometimes gets complicated as only a few propose full or almost full education coverage. Here are a few scholarships for second-generation immigrants that may cover a solid part of your educational fund.
Achievement Scholarship Fund for Refugees and Immigrants in Wake County
If you are a citizen of Wake Country in North Carolina or plan to move there, this immigrant scholarship is for you. The award amount is $2,500, and the scholarship deadline lasts up to March 31, 2023. To get funding support, you must achieve at least a 2.5 GPA in school and enroll in a postsecondary institution in North Carolina.
Hispanic Scholarship Fund
If you have a Hispanic legacy and have an immigrant family, this opportunity for second-generation immigrants will meet your needs. This fund stands out among others because of the consistency and volume of help to the targeted beneficiaries. Each year, Hispanic Foundation scholarships are awarded to 10,000 outstanding students.
Also, the differentiating point of this fund from other college scholarships for immigrants is that it proposes mentorship, career service, and training. The second-generation American scholarship may vary from $500-$5,000, based on the need and student's merits. The application must start on January 1, 2024. For more information, you can contact the fund through the website and various social media.
AMS Scholarship for Underserved Communities
This scholarship is financed by the American Meteorological Society, so their funds are aimed to help those who are interested in atmospheric, oceanic, and hydrologic sciences. The program also cares about underrepresented communities, especially Native American, Black/African American, and Hispanic students. However, the two last categories are often asylum seeker scholarship applicants or immigrants, both in the first and second generations. Hence, this particular grant may be a good fit for you.
The due date is February 23, 2024, and the winner gets a $6,000 two-year scholarship. Second-generation Americans must be U.S. citizens or hold permanent residency and have at least a 3.0 GPA to apply for this opportunity.
Scholarships for Refugees. Where to Apply in 2023-2024?
As the time we live in becomes more and more turbulent and unstable, more people seek asylum in countries untouched by wars and genocides. With the increase in conflicts, there is a growing need for scholarships for refugee students in USA. Here are a few scholarships for refugees you can apply to:
Emergency Refugee Assistance Scholarship Fund
The University of People is an online tuition-free and accredited educational institution. Recently, the university has opened a few asylum seeker scholarship funds to help those in high need of accessible education. The fund predominantly helps Syrian refugees, but applicants from other unstable regions are also welcome to fill out the form. The scholarship for asylee in USA will cover up to ten assessment fees for recipients. Also, the beneficiary can potentially get full coverage of a bachelor's or associate's degree.
Like many other scholarships for refugee students in USA, this one is merit-based and only considers high-achieving students. However, the benefit of this program is that by applying once, you can participate in qualifying for six different scholarships. Their worth varies from $10,000 per year to $25,000 per year.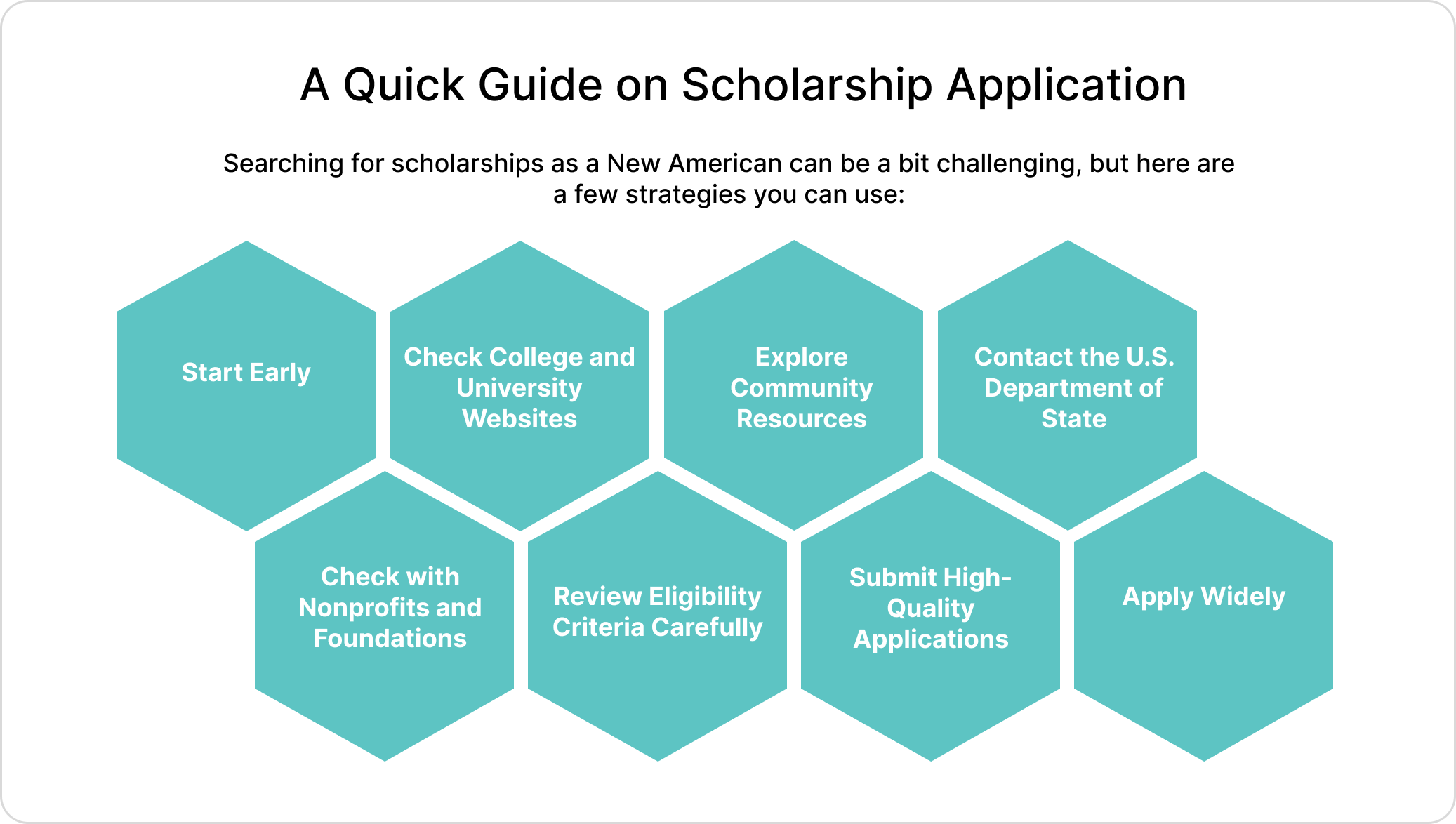 A Few More Scholarships for Asylum Seekers
Grants, scholarships, and other support programs are, in fact, one large memorial to the experience of those forced to flee their homes. Here are a few more scholarships for asylum seekers in USA that may simplify the adjustment process for people in need.
Columbia University Scholarship for Displaced Students
Columbia University is a part of the Ivy League and hence is considered one of the best world universities. Apart from the possibility of studying in such a rigorous place, the scholarship winners will receive up to the full coverage of all educational and housing expenses. The program chooses 30 students annually and provides $6 million of support funds in total. Currently, the university does not accept applications for scholarships for new Americans, but you can check the university's website for updates, which are coming soon.
The One Refugee program proposes full tuition and mentoring for freshmen students in public colleges or universities in Idaho or Utah. The application will start on December 1, 2023, so you have some time to learn more about the program and key requirements.
Wheaton Refugee Scholarship
The scholarship from the University of Wheaton awards one student with the full 4-year cost of education. The program supports those who come from a war-torn region and who apply for the first time to a liberal arts and sciences bachelor's degree. You can send your application letter up to January 15, 2024.
How Do I Search for Scholarships for New Americans? Top Three Helpful Tips
Searching for scholarships is a long and energy-consuming process that requires a lot of patience and perseverance. However, there are a few methods that may simplify this task for you:
Check the university's websites.

Each university typically has some academic tuition support for prospective students.

Search for scholarships in your current state.

The financial aid in this article is general and not closely related to particular states. However, your local community may have a few other options for you to apply to.

Check official services.

For instance, by searching through the US Citizenship and Immigration Services website, you may find official data on what states received financial aid aimed at immigrant support.
In 2023, US Citizenship and Immigration Services awarded more than $22 million in grants to support the integration of new Americans into society.
Grants for Immigrants Worth Applying to, and What You Must Know About Grants
Three good grants to apply to in 2023
Refugee Cash Assistance. This program is not a grant, in fact, but a state program. After applying for cash assistance, you can get financial support for up to eight months after you arrive in the United States.
2023 Sparking Change Grant. The grant from the UN Refugee Agency is open for applicants from Louisiana, Oklahoma, and Texas. The grants for immigrants will be distributed among community leaders who have experienced forced displacement.
Hegg Hoffet Fund for Displaced Women. The most vulnerable scholarships immigrants in the community are displaced women. The Hegg Hoffet fund supports them by providing short-term grants, training courses, and moral support while adjusting to a new country.
College grants for immigrants. What you must know as an applicant
When applying for college grants as an immigrant, there are several key things you must know to increase your chances of getting financial assistance. First, check whether you are eligible for Free Application for Federal Student Aid.
Second, you must be aware of different types of grants, such as federal grants, state grants, and private grants from organizations and foundations. By creating a list of such institutions and checking their updates, you are more likely to be the first one to apply for new grants.
Finally, keep your documents organized and ready, and know what eligibility requirements you can easily pass. This will help you apply for new scholarships and grants quickly and efficiently.