According to the latest estimates, there are almost 6.5 million international students in the world today. Among the most popular countries to study abroad are the United States, the United Kingdom, and Australia. They offer quality schooling and degrees that are respected all over the world. However, everything has its cost, and education is no exception. To obtain the desired specialization in America, a young person must spend a hefty sum, which not everyone can afford. One of the best possible solutions to this issue is fully funded scholarships in USA for international students 2023 without IELTS. If you want to learn more about these scholarships, you are welcome to read further.
Fully Funded Scholarships in USA for International Students 2024 Without IELTS: Addressing the Basics
Let us begin by defining fully funded scholarships for international students without IELTS. These are prestigious monetary awards that cover the entire cost of studying at American universities or colleges. The financial assistance usually includes:
Tuition fee.

The prime objective of the entirely financed stipends is to cover schooling costs, including all academic fees, study materials, and access to university facilities.

Living expenses.

The funding support covers accommodation, food, transportation, and other daily needs.

Health insurance.

Many of the fully funded scholarships in USA for international students 2023 without IELTS provide health insurance so that foreign learners have access to medical services and treatment during their stay in the United States.

Grants for research and conferences.

Some fully-financed stipends offer additional funds for research projects, conferences, or seminars related to the student's field of study.
What is IELTS, and why is it important?
The International English Language Testing System (IELTS) is a standardized exam that assesses English proficiency. Its importance is quite obvious: without a sufficient level of English, an aspiring learner simply will not be able to study. However, if, for some objective reason, a young person cannot present the results of this test, many other examination options are also globally recognized. Sufficient results from the TOEFL, PTE Academic, or Duolingo English Test will be enough to send an application for many different scholarships for foreign learners.
What are the basic eligibility criteria to apply for fully funded scholarships in USA for international students 2023 without IELTS?
Convincing academic achievements.

Most totally funded awards require applicants to have a good to high GPA.

Enrollment in an accredited university.

To qualify for financial aid to cover educational costs, students should confirm that the college of their choice is a recognized accredited school.

Citizenship and place of residence.

Some scholarships 2024 for international students are only available to scholars from certain countries or regions. Applicants need to verify that they meet the citizenship and visa requirements.

Knowledge of English.

Although the stipend may not require IELTS scores, young students may still be required to demonstrate English language proficiency through prior English language education or by submitting results from other internationally recognized tests.

Statement of Purpose (SOP).

Many scholarships require prospective enrollees to submit a well-written SOP that outlines educational and career goals.

Letters of recommendation.

A fairly common requirement for receiving fully-financed awards for international students with tuition fees is to provide letters of reference.
The specific requirements may vary from one scholarship to another, but these are the foundational qualities that make applicants stand out.
In the United States, fully funded scholarships for undergraduate international students 2022-2023 without IELTS can be provided by both governmental organizations and private ones.
Fully funded scholarships from the USA government in 2024
As mentioned earlier, the United States is one of the most popular countries for international students to study in. Apart from other factors, this is due to the numerous award programs that the government offers to foreign learners. Here are some of the many options available:
Global UGRAD exchange program
This program is sponsored by the US Department of State. It provides funding for one semester to undergraduate students in 2024. To be eligible for this scholarship, applicants must be over 18 years of age, a citizen of a UGRAD participating country, and have a solid command of the English language.
US South Pacific Scholarship Program
The Bureau of Educational and Cultural Affairs of the US Department of State administers and funds the initiative. It encourages qualified young people interested in pursuing undergraduate or graduate degrees at the University of Hawaii. Candidates must have a high GPA and choose for their studies programs directly related to the development of Pacific Island countries.
Hubert Humphrey Fellowship Program
The US Department of State finances the initiative. Under the terms of the scholarship, applicants are eligible for a year of non-degree academic study. The Humphrey Fellowship Program focuses on a wide range of fields, including public policy, management, health, education, agriculture, and many other areas.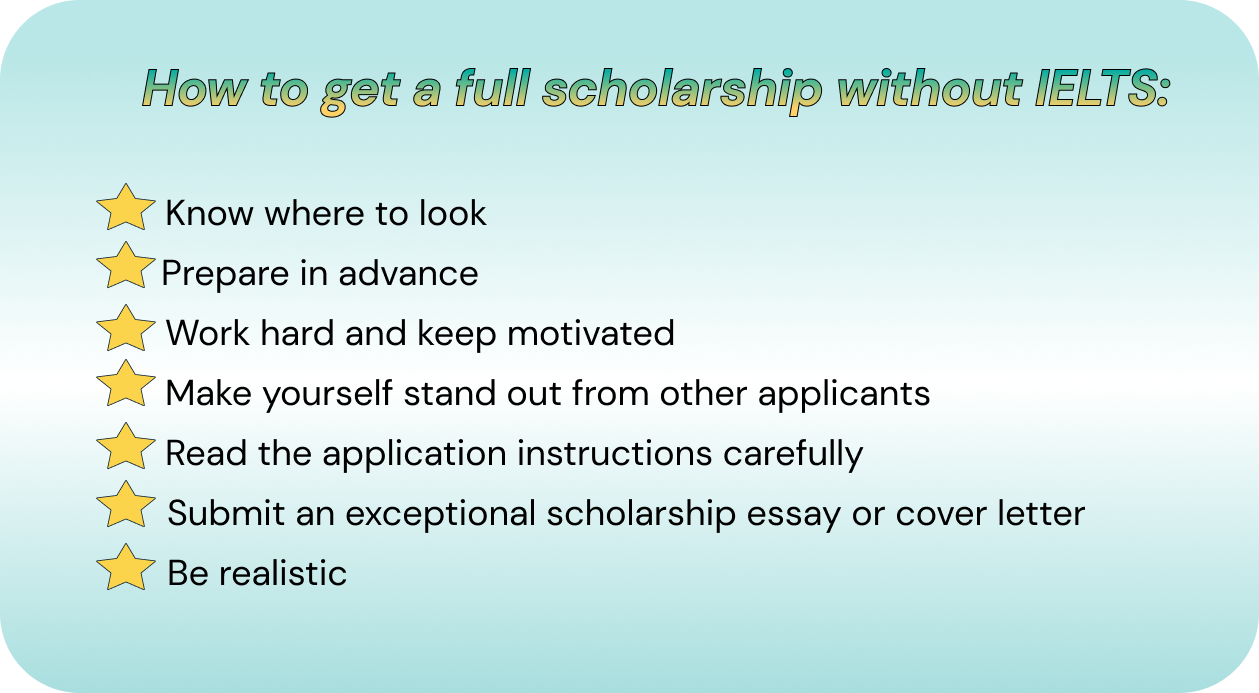 Fully financed scholarships for overseas learners without IELTS offered by universities and private organizations
Numerous non-profit private organizations and universities are not lagging behind government agencies. They also offer many interesting options for entirely subsidized stipends in 2024.
The Clark Merit Scholarship is a totally funded stipend program for learners at Clark University in the United States. To participate in it, candidates do not need IELTS scores. These fully funded scholarships for international students 2023 without IELTS are awarded to remarkable foreign learners who demonstrate academic excellence, leadership, and commitment to community service.
The Harvard University Boustany MBA Scholarships without IELTS are open to young people who have successfully passed the admissions process and have a letter of acceptance to Harvard Business School. Under the terms of the program, selected contestants receive a 75% tuition reimbursement and the opportunity to intern at the Boustany Foundation in 2025.
The NextGen Scholarships are fully funded scholarships in USA for international students 2023 without IELTS. Young people from different countries with a GPA of 3.0 or higher can apply for funding. Applicants must also submit two 1000-word essays, a copy of their high school transcripts, and recommendation letters. Under the terms of the initiative, the monetary assistance can cover either the full cost of education or a part of it.
The International Admissions Scholarship from Illinois State University is available for learners with a 3.0+ cumulative grade point average who plan to pursue a bachelor's degree at the school. Financial aid is renewable if the person maintains a 2.75+ cumulative GPA.
Rotary Peace Scholarships 2024 for international students are among the most prestigious fully funded scholarships for international students without IELTS. Applicants for financial assistance with tuition must have a bachelor's degree in peace or leadership-related fields and at least three years of relevant full-time work experience to qualify.
"Rotary Peace Scholarships are a great opportunity to complete a master's degree at Duke University or the University of North Carolina at Chapel Hill. I took advantage of mine and gained one of the most valuable experiences of my life."

Ibrahim Hiary, an Emirati student in the USA
Fully Funded Scholarships for International Students 2023 Without IELTS: What Are the Honorable Mentions?
Along with the USA, many other countries offer financial assistance for tuition at their accredited schools. There is no shortage of entirely financed awards globally. The list of some of the most notable mentions includes:
Australia Awards Scholarships 2024 for international students.

The Australian government provides fully funded stipends to overseas scholars from countries located in the Indo-Pacific region in 2024. Applicants are encouraged to pursue undergraduate and postgraduate studies at participating Australian universities and Technical and Further Education (TAFE) institutions. The awards include schooling costs, living allowances, and other benefits.

Swedish Institute Scholarships.

The Swedish Ministry of Foreign Affairs offers fully funded scholarships for international students 2023 without IELTS. Eligible applicants must provide evidence that they have a minimum of 3,000 hours of work experience. Only learners who already hold a bachelor's degree can participate in the program.

New Zealand Scholarships 2024 for international learners.

The Tongarewa Scholarship at Victoria University of Wellington is financial assistance in paying for education for other-country-origin learners who wish to obtain a bachelor's or master's degree. Among the important conditions for receiving funds are full transcripts and a personal statement of up to 500 words.
Young people who want to study in another country have plenty of opportunities to realize their intentions. With the support of fully funded scholarships in USA for international students 2023 without IELTS, everything is possible.