Being a first gen college student, you have rewritten your family's history once and for all. We are proud of you and guarantee your entire family is, too. Now, you have the power to reach new heights and move up a rung on the social ladder. However, when you step on campus, be prepared to face challenges different from those of other students. Today, we will discuss what first-generation students should expect from school, what to do about it, and how to succeed.
First Gen College Students
: What to Expect?
If you are a first-generation college student, you are among 40% of all college freshmen in America. You've worked hard, and now you can prove to the world that you can do more. College is an excellent opportunity to learn valuable skills to get a good job and build your desired future. So, what are the first things you should prepare for as a first-gen college learner?
High academic standards
In colleges and universities, the academic bar is set higher than in schools. The scholastic rigor you faced in high school is only a harbinger of the challenges ahead. Prepare to work harder, persevere, and put more effort into your studies. Academic requirements demand deeper understanding, critical thinking, and independent problem-solving. While this may seem daunting, know that your effort will be the foundation of your future success.
Dormitory life is not like the movies
Often portrayed in movies as a place of non-stop partying and meeting new, exciting people, dorm life is more diverse in reality Yes, you'll likely make meaningful connections but also be immersed in responsibilities. Taking care of chores, coordinating schedules with roommates, and learning to coexist in a shared space are all integral aspects of dorm life. This first gen college student experience teaches you valuable life skills and allows you to build lasting friendships through mutual respect and understanding.
Independent study is the key to mastery
In college, the dynamics of learning change significantly. While professors provide foundational lectures, much of your learning will depend on independent work. This transition requires developing practical study skills, absorbing and processing information unassisted, and refining written communication skills. Understanding the nuances of self-reliant study to achieve academic success is essential.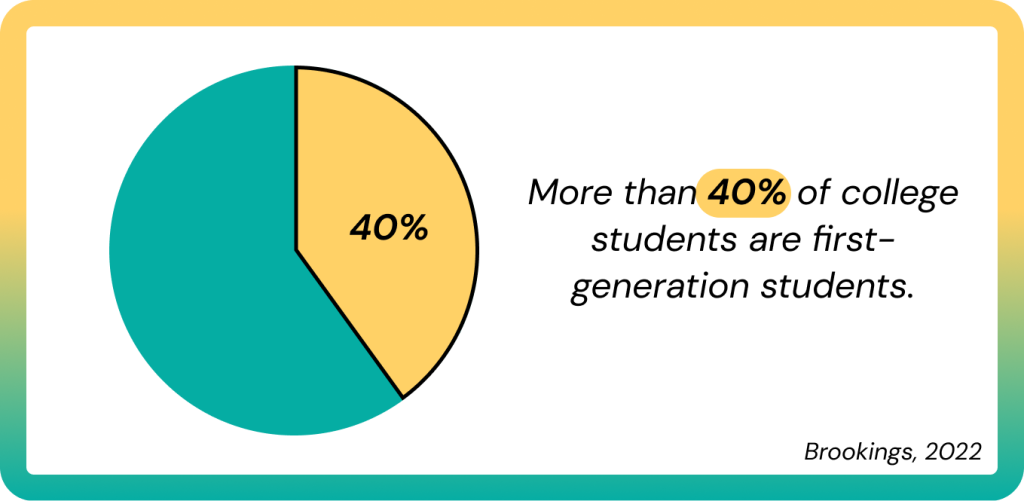 Excessive expectations from all sides
If you're used to having high expectations from your parents, college adds a new dimension: higher expectations from your teachers. Professors treat you as an adult and expect you to complete your assignments on time and with decent quality. Gone are the days of constant supervision; you are fully responsible for your academic performance. This transition strengthens your autonomy and emphasizes the importance of commitment.
Navigating adult responsibilities as a
first gen college student
College is more than an academic journey; it's a step into adulthood filled with choices. From choosing courses to managing your time and finances, these decisions shape your college experience. The responsibility for organizing your studies, work commitments, and social life falls squarely on your shoulders. Making informed decisions and managing your time effectively are invaluable skills that will serve you well beyond your university years.
Unique Challenges for a
First Gen College Student
Attending college is a giant leap into the unknown, especially for first-generation students. While this path leads to many promising future opportunities, it also comes with challenges. Here's a closer look at the unique obstacles first-gen college learners face.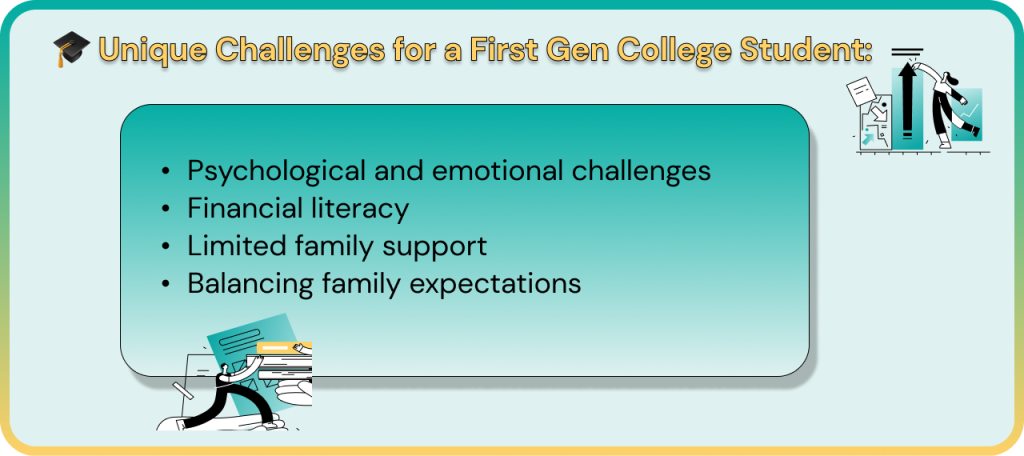 Psychological and emotional challenges
It can be difficult for first-generation college students to adapt psychologically to school. One of the most common problems they face is imposter syndrome. What is it? Imposter syndrome is the fear that you don't have the right to be in a given group and don't deserve to succeed. These feelings do nothing but harm your self-confidence and mental health.
Tip: To cope with the imposter syndrome, you must seek support from student groups, counseling centers, mentoring programs, academic advisors, and professors at your college. Remember, your experience is valuable and worth celebrating.
Financial competence
First-generation students usually do not understand how to plan and manage their college expenses. The lack of experience of their parents or guardians only makes the problem worse. It is difficult for these children to distribute funds for tuition, textbooks, housing, and daily expenses.
Tip: In this situation, it is most appropriate for you to contact the financial aid office at your college or university. They will provide information about scholarships, grants, loans, and work-study programs. They can also guide you through the application process and help you understand the funding support packages available. 
Developing financial literacy from the beginning of your studies will give you the skills to make informed decisions about long-term financial planning. 
Limited family support
Navigating the college environment without the support of family members who have been through the process before can be a significant obstacle. First-generation college students may need an understanding of study strategies, course selection, and the nuances of campus life. 
Tip: To address this issue, use academic advising services, peer mentoring programs, and workshops. They are designed to help first-year students succeed.
Balancing family expectations
Although college is a time of personal growth and independence, first-year students often must balance family expectations with their desire for education. This can lead to feelings of guilt or pressure from a family that wants to see them succeed to set an example for younger family members.
Tip: Open communication with the family and realistic expectations can help reduce this pressure. Only through honest, constructive dialogue can you establish mutual understanding.
Frequently Asked Questions of
First-Generation College Students
Q: What does it mean to be a
first-generation college student
?
Being a first gen college scholar means you are the first in your family to pursue higher education. Neither of your parents or guardians has earned a bachelor's degree.
Q: How can I overcome imposter syndrome in college?
Imposter syndrome is common among incoming first-year students. Remember that your admission is based on merit and potential. Seek support from mentors, join student groups, and remind yourself of your accomplishments to build confidence.
Q: What is the best place to look for scholarships for
first-generation college students
?
Many different organizations offer stipends for first-generation students. You can use platforms like Fastweb and Scholarships.com to find suitable options. Also, your college's financial aid office is a great place to ask for help. 
Q: How do I balance work, school, and family responsibilities?
It is possible to combine all of these things through thoughtful time management. Make sure you have a structured schedule for all your responsibilities and activities. Include time for studying, work, and family. Don't hesitate to set your boundaries and priorities.
Q: What college resources for
first-gen students
should I use?
You should take advantage of academic advising, mentoring programs, and support groups for first-generation students. These services can provide guidance, insight, and practical advice to help you succeed.