Hey there! My name is Akari, and I'm a 21-year-old marketing specialist from Japan. I recently moved to New York to pursue my education in marketing, and I'm now in my final year of college. As a creative type of person, marketing has always been the perfect major for me. I love experimenting with different marketing strategies and coming up with fresh, innovative ideas. Creating a cv is important in marketing, but a good Cv is not easy, you may think. If you are still struggling with how to create cv, I'm here to share my experience with you, guys! It's easier than it seems 🙂
Why is a Cool CV Important in Marketing?
My fascination with how branding and commercials may affect people's actions started my marketing path. I love experimenting with different marketing strategies and coming up with fresh, innovative ideas. That is why I wanted to find out how to create a cv that will reflect me.
As a marketing student, I've learned that creating a strong personal brand is key to standing out in a competitive job market. And creating cv is an essential part of that brand. As a graduate student with limited professional experience, I understand that my CV is one of the primary ways I can showcase my skills to potential employers.
My Challenges in M
arketing Resumes
I realized that the task to create cv is not an easy one. With so much advice available online and in my university's career center, it was difficult to know where to start. I struggled with questions like: What should I include? What format should I use? How do I highlight my skills and achievements for the jobs I'm applying for?
Another challenge in building a resume was how to balance my creative personality with the more formal, structured nature of a resume. As someone who loves experimenting with different designs and visual elements, I wanted my marketing resume to stand out and reflect my personal style. But at the same time, I knew I needed to maintain a professional tone and not go overboard with creativity.
I also wanted to ensure that I create a cv that was easy to read, well-organized, and communicated my strengths and qualifications.
All these challenges made it clear to me that I needed help with creating a strong CV. I took several online courses and used templates for resume, but I still felt like my CV was missing something. That's why I decided to turn to a professional CV writing service for help.
CV Writing Tips
When it comes to marketing resumes, it's essential to showcase your creativity and innovation. Any template for resume is useful, but it can also be limiting. As a marketing specialist, you need to think outside the box and create a resume that will impress potential employers.
A marketer resume can be tricky to create, but with the right approach, you can showcase your skills and experience in a way that will make you stand out. Digital marketing resume, in particular, requires a keen eye for detail and an understanding of the latest marketing trends.
During the process, I learned some valuable tips that I want to share with other students who might be struggling with writing their CVs. Here's some tips I can share with you, guys!
Emphasize your distinctive abilities and experiences for your cv create

. It's simple to think that you don't have much to contribute as a graduate student. Yet you may show off your potential and prove your capacity for success in the workforce by highlighting your academic achievements, extracurricular activities, and any internships or voluntary work you've done.

Tailor your CV to the specific job you're applying for.

Instead of having a generic, one-size-fits-all CV, take the time to research the company or position you're interested in. Use a

template for resume

to write a cv that highlights the skills and experiences most relevant to your job.

Be concise and organized.

Employers are often inundated with CVs. So it's crucial to make sure you

build a resume

easy to read and doesn't contain any irrelevant information. Use bullet points and clear headings to break up the text and make it easier for the employer to scan.
How did I Prepare My Dream CV?
So, I went a long way to create my perfect cv. I used numerous marketing resume templates, but I still struggled to make a clear and well-developed resume.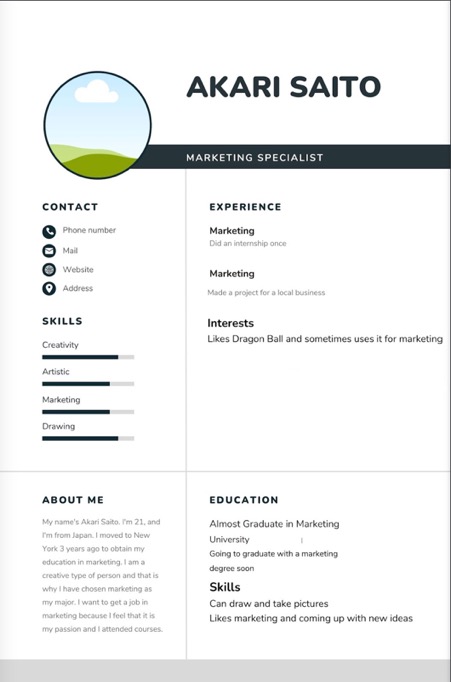 I always wanted to create a cv that will show all my strong points in an official manner. That's why I decided to ask for help at cv writing service, and I did not regret it.
Working with a CV writing service allowed me to get a fresh perspective on my CV and receive expert advice on how to make it stand out. I received a marketing resume example and template resume which I used in my cv. The editors helped me refine my content, optimize my format, and make sure that I was presenting myself in the best possible light. 
Here's my cv after the editors' help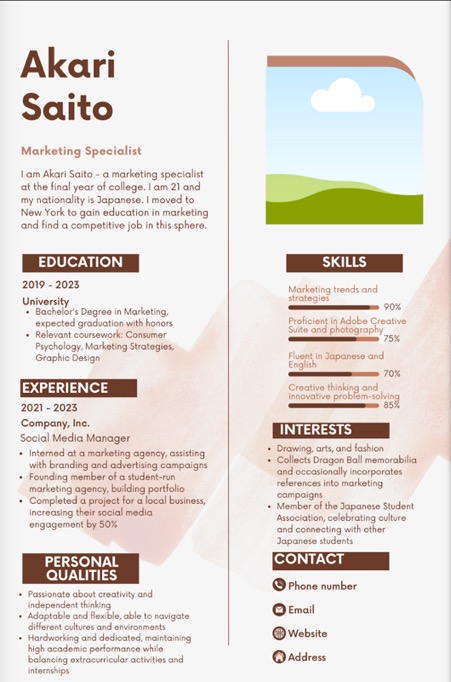 By the way, Canva is a great tool for a fascinating marketing resume!
The comparison of my original resume and the final product impressed me! I couldn't believe how much better the edited version was. It was clear, concise, and showcased my achievements in a way that was easy to understand. The key takeaway from the edited resume was the importance of highlighting my accomplishments and skills, and showcasing them in an original way. I managed to create cv that was perfect!
So, if you're looking to create a special marketing resume, make sure to emphasize your creativity, innovation, and marketing skills. Use templates for resumes as a starting point and resume building tips. But don't be afraid to customize them to showcase your unique strengths. And remember, a cool resume can make all the difference in getting that dream job!