Hi there, beautiful people! It's Akari Saito with you again, and today I'm going to prepare us all to absolutely slay every day at college! I was preparing my fall wardrobe recently and thought that maybe you would like to hear about that, too. So, if you are a college girl, hold on tightly, for I will present you with my wardrobe essentials for a new semester. Boys, please let me know in the comments, whether you want me to do the same article for you too!
Wardrobe Essentials List
. Combine Your Capsule for the College
Let's start with the basics. I assume it is a fact that you know what the capsule wardrobe is. If you don't –  it's a short list of clothes, including tops, bottoms, and all other essentials, where every piece fits well with every other piece. To collect the capsule clothing essentials, you must consider just a few factors: 
Your figure type

The season and weather conditions

The social situations that you spend most of your time in

Your budget
While I can't cover all aspects at once (but I will in other articles, if you let me know that you need me to), I will delve into what parts are the first ones to buy this fall. 
A capsule wardrobe is a short list of clothes, where every piece fits well with every other piece.
Capsule wardrobe. What are the absolute closet essentials?
So, a capsule wardrobe usually consists of about 10 to 15 pieces, including tops, bottoms, shoes, and accessories. But what are the basic essential parts of each of these? Here are some insights on what it can be. I will just write about many possible options, but it does not mean that your college clothing must have all of them. I recommend you choose about one or two pieces of each category. 
Tops
Warm-weather tops:

t-shirts, tank tops, polo shirts

Cold-weather tops:

sweaters, hoodies, long-sleeves, cardigans, pullovers, flannels, blazers, vests

Outerwear layering pieces:

coats, jackets, trench coats
Bottoms
Must-have bottoms:

jeans (straight-leg jeans, boyfriend jeans), pants (pleated pants, dress slacks, suit trousers) skirts (pencil skirts, maxi, a-line skirts)

Casual bottoms:

shorts, leggings, culottes
Accessories and shoes
Shoes:

boots, sneakers, flats, sandals, heels, 

Accessories:

bags, scarves, hats, belts, sunglasses, jewelry
Yes, yes, I know, that typically the essentials are supposed to be much more restrained and that your college probably has a dress code. I am just taking into account that we all are in different situations, so you need to know that there are diverse options, and you always have some freedom to choose. However, I imagine that you could use some clarity for picking your closet essentials, right? I've got you. Now I will propose some options that are most likely to fit everyone and please even the strict college outfit rules.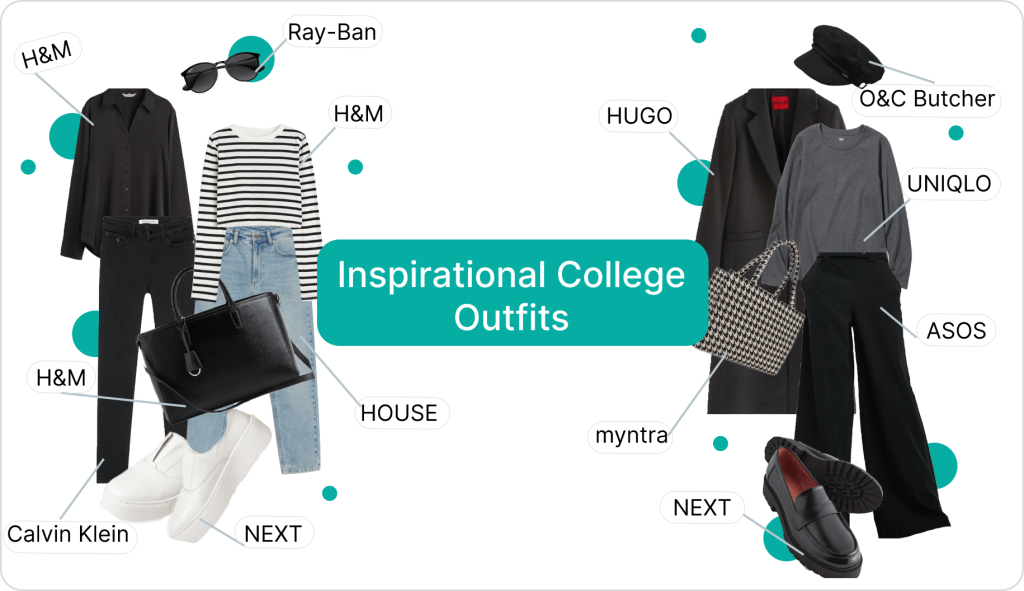 Top
Warderobe Essentials
College clothing essentials must be discreet, a little bit classical, and a little bit casual. Depending on your university location, you will also need something for the rainy weather, sunny days, and frosty winter weather. Moreover, your wardrobe basics must fit your classes, going for coffee with friends, and going for walks in the cozy evenings. So, here are some items that you can go for and some to skip:
Choose
T-shirts.

Stock up on classic

crewneck or V-neck t-shirts

in neutral colors like black, white, gray, and navy. These are the backbone of your casual look and can be layered or worn alone. 

Button-up shirts.

Think of one

basic button-up shirt

, preferably in white color. It is one of the most universal things on your

list of clothes

, as it suits any weather, and it looks nice both as a solo bottom piece and as a layering piece. 

Sweaters.

You can choose

cropped v-neck cardigans

or

sweater jackets

with a dense fabric; they fit well with jeans, cargo, and balloon pants. However, the correct fabric is a crucial criterion here: it must hold the shape. One more trendy knitted piece in 2023 is a

polo sweater

. If you are into the light or dark academy aesthetic, consider

classic cable-knit sweaters

or

cashmere sweaters

, those never get outdated. 
Skip
T-shirts.

Avoid overly flashy or branded t-shirts with loud graphics or slogans. They can be distracting and may not fit the discreet, classical style. The same relates to excessive branding. Even if the brand's logo looks neutral, it's better to choose options with no graphics at all. The best brands display the quality of their production, not the name. 

Button-up shirts.

As said above, avoid overly slim shirts. They barely fit most figure types, so it's better to go with a little bit of loose style. Also, pay attention to stiff collars and French cuffs. You are not a state representative and not the first political figure in the country, so no need for that many official details. Choose a casual, comfortable shirt with a relaxed fit and neutral colors. This way you balance between casualty and official dress code. 

Sweaters.

You definitely must avoid bulky or heavily textured sweaters. These are fine if you need a grunge style or want to create a more street-fashion look, but those are not the college case. For instance, skip the options with excessive texture like cable knits, ribbing, or heavy patterns. Stick to simpler and smoother knit styles that can be dressed up or down as needed.

Bottom
College Clothing
. How to be Fashionable and Still Not Get in Trouble? 
I would say that it's a little bit easier to work with the bottom closet essentials for college than it is with the tops. A generic rule is as follows: "Nothing ripped, cropped, too much baggy, or extremely tight". As for the skirts, the rule is to avoid everything extremely short, everything with extensive volume, like flared styles skirts or tutu skirts. 
No worries, that still leaves us with some good options. 
Pants.

Opt for classic styles like straight-leg or slightly tapered pants. The time of slimy pants has far gone, and overly loose pants are not the best choice for college

wardrobe essentials

. Yes,  balloon pants are trendy. No, unfortunately, they are not

good clothes for college

. 

Jeans.

The perfect option for your

closet essential

jeans is to go for a black color, or at least the dark navy blue ones. These are more versatile and classical, so you get jeans instead of pants, and they are still classic and universal. 

Skirts and dresses.

Actually, my advice is to avoid skirts for college altogether, at least for your

wardrobe essentials list.

They are not the comfiest things, as for me. However, if you need one, consider A-line or pencil skirts, and wrap dresses. 
How to Spend Less on
Closet Essential
Pieces?
As a college student myself, I know that you want and need a lot of things for your life's comfort. Buying luxury branded designs is not always an option for us. So, here are a few tips on how to purchase everything you need and fit into your comfortable budget:
Think about your must-haves and second-priorities.

No, really. I usually want to buy a few things simultaneously, and in many cases, they are from the same "top" or "bottom"  category. 
For instance, here are my recent desires from macys shop. I found a v-neck long-sleeve in a gorgeous burgundy color and a turtleneck poncho sweater in a deep majestic green color. They have a $10 difference in price, and both are top pieces. I wanted both, but spending $130 in one minute was too much at the moment. So, I thought about which one of these is more essential for me now and picked the beige sweater. I have some colorful pieces, so out of these two options, the long sleeve fits better into my college clothing list. 

Check secondhands purposely and strategically.

I love going to the thrifting stores just for fun sometimes. The excitement and thrill you get from these small adventures are addictive. It's like a clothing gambling. However, if you exactly know what

clothes for college

you lack, you can use these little adventures to cover the gaps. 
53% of customers in the U.S. have a positive attitude toward second-hand clothes and thrifting. The report respondents either had the experience of buying thrift clothes or are open to that option (ThredUP resale platform's Report, 2023)
I hope these recommendations will help! See you soon, and let this study year be the time of your ultimate and divine shining, both internal and external!