Hello, everyone! It's Nicholas, and I'm finally back with some new suggestions just for you. Do you want to write the college cover letter of your dreams? I often meet students-to-be who don't know how to write a cover letter for a university. For some learners, the idea of creating a letter for a university is so stressful that they put it aside for as long as possible. In this short text, I will share some of the good tricks that managed to help me when I researched every university in the U.S. and the strategies to write a cover letter. While we're learning about how to make a university proud of your cover letter, take notes and prepare for an entertaining journey!
Cover Letter for University Application 101
So, what is a cover letter, and why should you write one? A cover letter for a university is similar to a cover letter for your job, but I want to focus on the former in this short review.
Essentially, it is a one page text that you attach with the other documents when applying for a university. Usually, it serves to help your application officer get a fast glimpse into your personality and achievements.
In it, you describe the purpose of your writing and inform the audience about how your skills are relevant to the university you are applying for. It should include your motivations for studying at the chosen institution among all the universities and highlight how your achievements and skills make you a good candidate for this application. It also saves time for the committee when reading all your documents because it is a short but well-packed representation of your personality. So make sure to really include all you've got in this letter.
Trick 1. Know the difference between an admission letter for college vs a cover letter
Unsurprisingly, you can not know the difference between the admission letter for a university and a cover letter because they are often used interchangeably, which is actually confusing. However, they aren't similar, and a student must know the key distinctions between them. Both can be sent with all the other documents, but the cover letter is usually shorter and much more precise. Each of these uses a similarly formal language, but the application letter is longer and can be more extensive than one page, which is quite rare for the cover letter. It tells a more detailed and sometimes more personal description of the notable capabilities and goals you have achieved in life, and you can even send it without the other texts. For the sake of clarity, I will tell you more about a cover letter for a university and explain an application letter in a different article later.
How to Write a College Letter: The First Steps
Now that we've covered the basics, here is how you should go with this university application process.
Trick 2. How to write a college application letter
You don't need a header. Unlike when writing a resume, a header is too much for such a short text. Instead, begin by collecting information and considering what comes first. The structure of a typical letter might already be familiar to you, but if not, let's quickly review it.
Include the basic information. Nothing fancy must be added here. For such a letter, provide your address, street name, date when you write your text, and move forward to the head of admission's name and the address or other info for your university. Every cover letter for a university begins that way; it's the most mechanical part, but you still should be careful with it.
Here is the typical example of a cover letter:
Jane Smith
8951 Old Mill Pond Ave.
Spring, TX 77381
13 October, 2023
Linda Mason
New York University
50 West 4th Street
New York, NY, 10012
As you might see, it's at least easy to write a cover letter at the beginning. But make sure to include the actual address (the information above is partially fictional, so don't take it at face value).
Trick 3. College cover letter beginning
Now that we've got that covered, we should move towards another stage of your cover letter for a university. While you add your short salutation, such as Dear Mr./Ms [Name], the beginning of your cover letter should present your purpose for writing the following text. Don't be afraid to state your needs boldly: when writing a university application letter, students should cut the excess. State the name of the university, the department and major you are applying for, and what makes it your chosen place to go.
The main mistake here is making one cover letter for all universities at once and simply changing the titles. Don't do it: every location has its unique features, isn't that why you've decided to go there in the first place? Every good cover letter is unique.
Here's how your first paragraph can look:
Dear Ms. Mason,
I would like to apply for the Film Studies program at New York University because it has become my primary choice based on the impressive research and material base and the culture your university promotes. As a passionate learner, I was fascinated by the diverse resources in your institution, including libraries, research laboratories, and training facilities. Your values of innovation, inclusion, and community deeply resonate with me. Your university's social media presence has also illustrated the diverse and active work of the student clubs, which makes such a community an outstanding place for me. Many alumni currently known for their artistic contributions to the contemporary movie industry also signify its importance regarding my academic and career goals.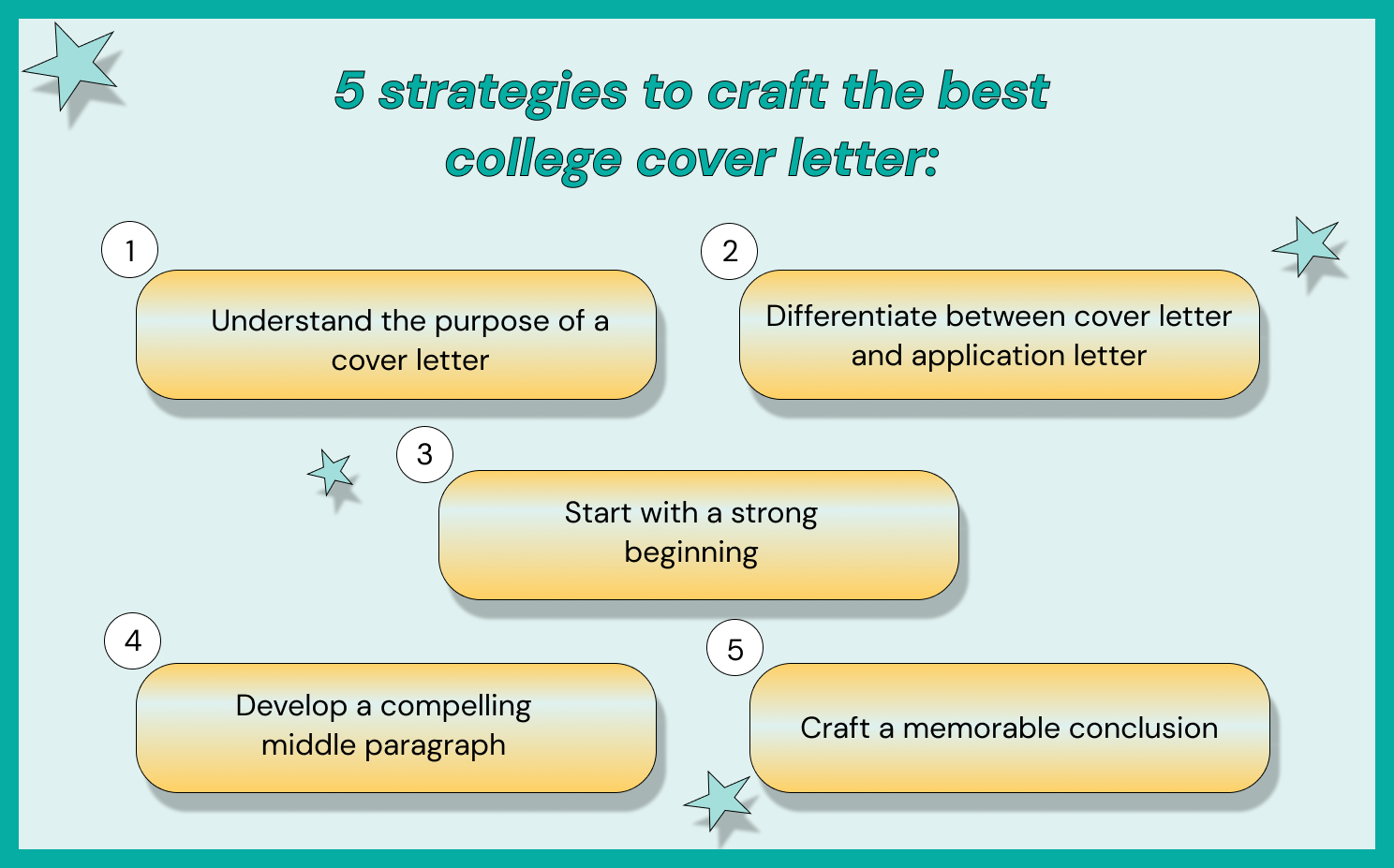 College Application Letter Examples of a Strong Middle Paragraph
When continuing with your letter for a university, you should next write a middle paragraph that details your personal motivations and past experiences that are relevant to your goals. While you don't have to provide all the information because you already include the additional documents when you send the form to the admission officer, some facts will be good for you to share. For example, if you want to be a journalist, this is the time for you to express which of your journalistic activities made your decision so important. Did you write anything for your LinkedIn or Facebook account? Are you a Twitter celebrity known for great photographs?
Make sure to write about it at least briefly, but you must keep in mind that it should be relevant to your major and this university in particular.
This way, the person reading your application cover letter will know why you're interested in them specifically.
Trick 4. College application letter middle paragraph example
Let's imagine that this is the middle paragraph of a cover letter for a university with an art major:
I have decided to pursue my dream career as a contemporary artist using mixed media, and my previous experience has already prepared me for this field. I have participated in [Exhibition title] and [Exhibition title] dedicated to the issue of environmental protection and women's body autonomy. I received [Title of the award] and [Title of the award] in 2018 and 2020. After graduating from your university, I intend to become a cover artist and work with social media platforms, such as Twitter and Facebook, to enter a digital field through a mixed media approach. I believe that your university is a perfect place for my pursuits.
Trick 5. Making College Application Letters Endings Appealing
And here we are, at the last stage of your university application process. The endings should be short and memorable. Basically, it's a solid and good conclusion that tells your admission officer and the committee that you've provided all the information and documents with your cover letter. In it, write your motivations and desire to contribute to the good and healthy environment of your future university. Remind your readers that you are always ready to answer questions for them and are open to an interview.
Here's an example of the conclusion:
I am grateful for your consideration of my application. I have included the other documents with the following cover letter. I firmly believe that this application proves my desire to study and support an active team in your university community. If you have any questions or want to invite me for an interview, please feel free to contact me.
Create Your Dream Cover Letter Today
Now that you have an idea of how to write a cover letter, you can start your first university application today. Always try to reach out for help; writing isn't easy, and when you struggle, there are many things that you can learn from others. Draft, edit, revise, and submit your cover letter with strong hope. You must be confident! You can do it; after some practice and a few letters with mistakes, you'll create the best mind-blowing cover letters. Good luck!