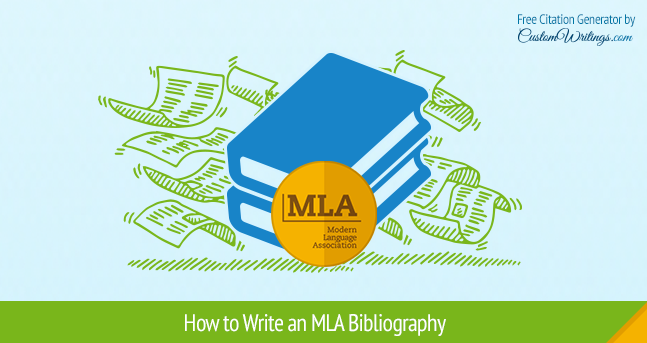 Writing a research paper can be difficult, not only because it requires "research" and dedication, but also because writing styles vastly vary from field to field. Students can often get lost in details not because the subject of the research is difficult, but because the rules and regulations of a specific research paper style are painful to follow up on, and an MLA bibliography section is just one of them.
More often than not, students cut corners and hope for the best, not because of laziness, but because they've had enough and feel like their actual work will suffer because of the rules. What ends up happening is that the paper is either graded poorly because of the lack of proper styling and citation or the student gives up on turning over the paper all together, pushing for more time and further deadlines, which again create problems. Well, take a look at how it can be amended with MLA bibliography formatting. So, how should an MLA style bibliography look like?
Works Cited
When using an MLA style, the last page of our research paper must be the list of works we've cited in the paper. Simply writing "Works cited" at the top of the page and using the same formatting as the rest of the paper will do just fine. When listing your sources, alphabetize the authors by last name. When writing dates in the bibliography, be sure to use abbreviations except for May, June, July and be consistent about your formatting; whether it's DD/MM/YYYY or MM/DD/YYYY, be sure to use only one.
Publication Titles
The names of the publications should always be in italics if not told otherwise. They used to be underlined when the papers were written by typewriters, but since then, we've moved on to more digital formatting and it allows us more flexibility. Italic by default, underlined only if told so.
Indents
All the citations should have so called "hanging indents", meaning that the first line should be indented left like any other text, and subsequent lines should be indented by 1/2″.
Formatting
MLA style bibliography rules state that first words, last words and any principal words should be capitalized. Whenever possible, abbreviated names of publishers should be used, but only if it's possible to tell which one it is. The author, title, and publication info should all be separated by a comma and a space.
If you're having issues understanding how to write an MLA bibliography, these 4 steps of using Citation Generator should help you make things a lot easier.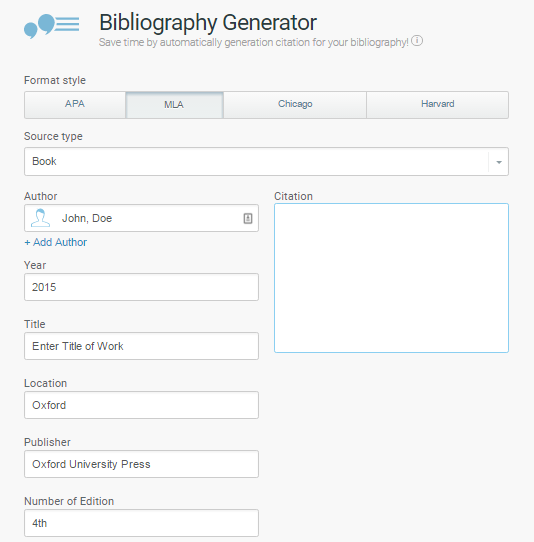 1. Select your preferred citation style – in this case MLA.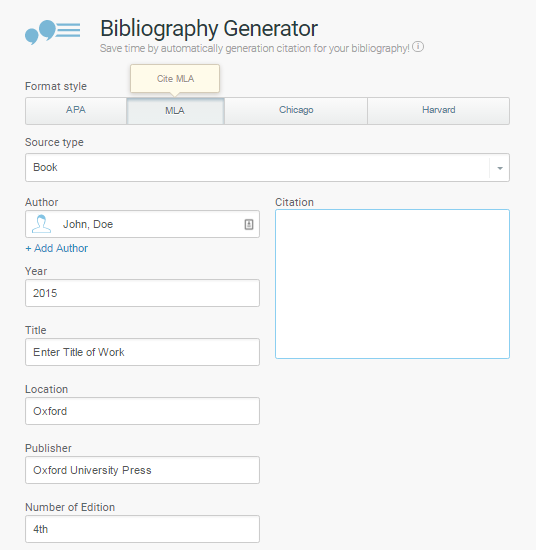 2. Choose the type of a source from the presented list (books, newspapers, ebooks, journals and more).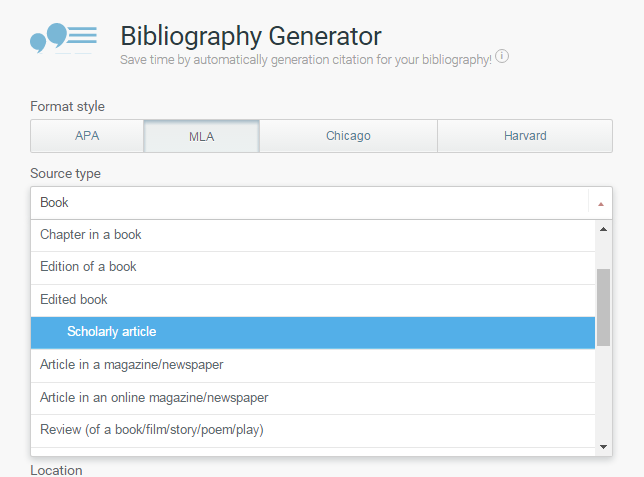 3. Enter the name of the author, source title, publishing year, location, and publisher, or any other official information that you can find (page number, website address).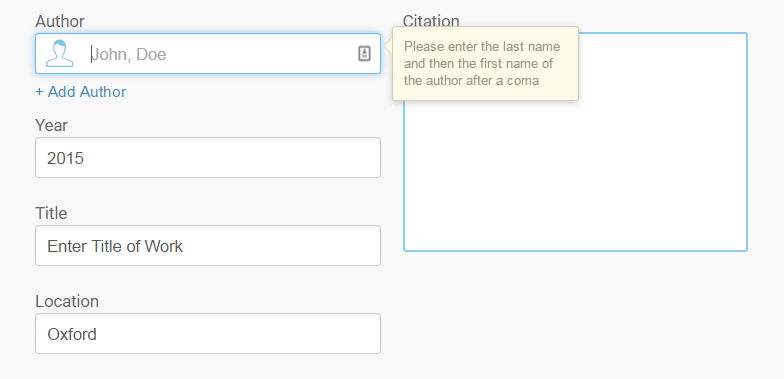 4. Click "Generate" and you're done.
As you can see, these are some of the main problems you might be facing when writing a bibliography for your MLA paper. You could get it right, but you also could get it wrong. Be sure to double check before handing in your paper, and use Citation Generator to make your job easier.