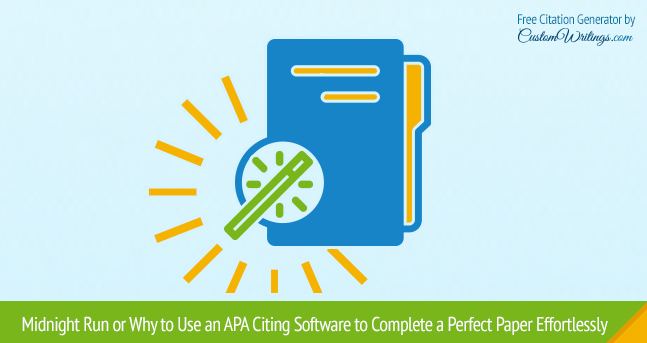 Writing a paper – regardless of its nature – is challenging, although that's not the most difficult task. The hardest part is to finish it on time. It doesn't matter that professors allow 10 days to write an essay or research paper because usually students choose to do it in the last 24 hours. Pulling off an all-nighter is risky. Since you can't afford to make any mistakes, the key is to be meticulous and choose sources carefully. But then again, citing those sources comes next. How can you cope with the pressure? The APA format style is quite complex, and everyone knows it. To make sure your paper is up to par with your professor's demands, we recommend using our APA citing software. Why? Read on to know more about the perks.
Time-Saver
What's truly amazing about APA citation software is that it saves time. Students won't have to know the formatting by heart, meaning that they can devote the rest of their time to crafting an amazing paper. The best works need proper research. However it's tough for students to joggle more than one paper per week, especially if all require citations. With APA software to help them stay organized, things will become a lot easier.
Correct Formatting
Citation software programs are extremely precise. Whether you have to cite a research paper, essay or you need more in-depth citations for a dissertation, APA citing software will make sure to render the right format. All you have to do is enter the name of the source, title, publication year, origin, and you're done. Let the program handle the rest.
No More Mistakes
The APA formatting style is detailed and extremely thorough. There's a complex manual students would have to consult to make sure their sources are cited properly. But with a software program, you're on the safe side. Forget about spending days looking for citing rules for specific sources such as websites, journals, books, and magazine articles because now you can stay focused on writing the best content.
Easy to Use
Consulting the APA formatting manual can be nerve-racking. Since you have little time to spare, it's a lot better to use a software program. You won't believe how easy it is to use these online programs. Type the name of your publication, and fill in some basic info related to the source, and just hit the enter button when you're done. You should see your source cited properly just having clicked on the button.
Why should you spend 24 hours formatting your sources when you can use APA citation software? Writing a paper is hard enough. It's time-consuming, demanding, and challenging. But at the end you can be rest-assured it will be phenomenal. But wait! Your paper is not done until you've added citations. Since mastering the APA manual guide demands time that you probably don't have, the smartest thing to do is use the APA citation software program.
Use our Free Citation Generator to help you tackle any citation in your paper. It will serve you as a guidance to help you while crafting your writing piece.