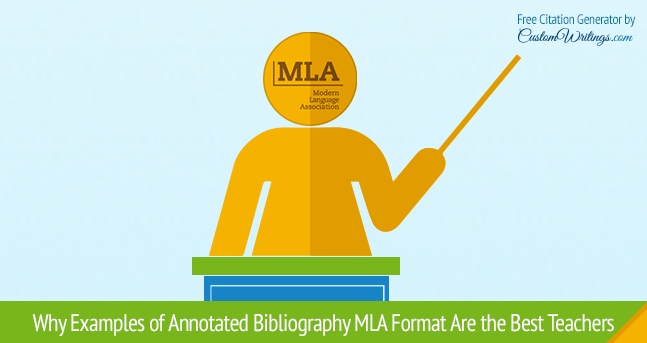 As opposite to simple guides explaining you what an annotated bibliography in MLA format is, actual examples are a lot better because they show exactly how the formatting should look like. Many students prefer to learn from examples rather than receive theory books and study the rules mechanically. Worked-examples are meant to support the preliminary use of one's cognitive skills by introducing a problem with step by step guides to a final solution.
That being said, students may already know that an annotated bibliography is a thorough list of citations to all kinds of books, documents and articles. Each and every single citation comes with an introductory paragraph of the source cited, which is no longer than 150 words. Here are some basic examples of annotated bibliography in MLA format. These should help you master annotations a lot better.
MLA Annotation Sample
Isaacson, Walter. Steve Jobs. Washington D.C.: Simon & Schuster, 2011. Print
Walter Isaacson's book is a very thorough autobiography of the acclaimed tech guru Steve Jobs, the founder of Apple. Based on many interviews (over 40) spanning over the course of 2 years with friends, colleagues, family members and adversaries, the book emphasizes in 656 pages the life of Steve Jobs in the most realistic and accurate way. The author manages to describe his personality, drive for perfection, and passion for advanced technology in a really engaging and motivating way.
Jobs was an icon of ingenuity and applied imagination. He added more value to the 21st century by connecting technology with creativity. His company – the famous Apple – combines staggering imagination with remarkable engineering to make gadgets that have completely revolutionized the way we use technology today. Even though Steve Jobs cooperated with the author, he didn't ask for control over what was written nor he wanted right to be the first to read it.
In the book, Jobs speaks honestly. He talks about colleagues, friends and foes, and offers great advice on what everyone should do to attain greatness. To succeed in business, people must pursue their passion, and even their obsession to shape their approach and be 100% pleased with the final outcome.
The above example is a useful sample of an annotated bibliography in MLA. Under the book citation in MLA, we have three paragraphs that every annotated bibliography must include, namely a summary, a text evaluation, and a personal opinion on how the source applies to a given paper.
When creating annotated bibliography, students must learn to apply certain intellectual skills: clear exposition, short analysis of the book, journal, article, etc. and informed research. Main steps to consider:
Locate and record sources to documents, books and periodicals. Then examine and review the source briefly.
Cite the book, document, article, etc. in MLA format.
Write a brief annotation – a summary that explains the theme and scope of an article, document or book cited.
Actual examples of annotated bibliography MLA format are excellent at teaching you more about proper formatting and annotations when writing a paper. To make the whole process easier, check out the Free Citation Generator. The tool will help you cite in the MLA  style perfectly, thus saving time and allowing you to just compose the annotation and move on to the next source.