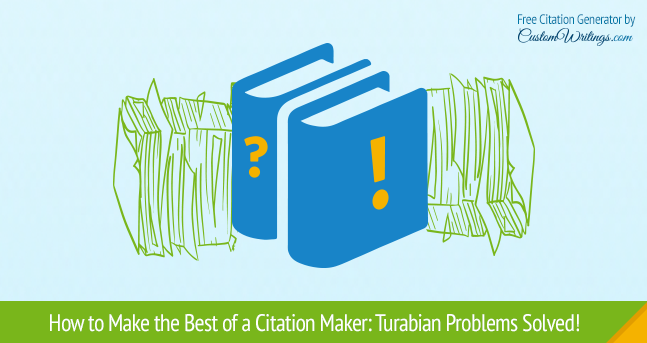 Turabian citation style is very similar to Chicago. They're not the same thing though. Turabian abides by the rules provided in the Chicago Manual of Style, which focuses on offering guidelines for general publishing. Turabian on the other hand abides by the rules provided in the Turabian Manual for Writing Research Papers, Theses and Dissertations; the style is aimed at students writing different types of papers for college like essays, theses and dissertations.
Of course, when there is such an abundance of online tools which cite all the reference material for you, it seems that there is no need to know all the rules anymore. However, to make the best of any citation maker you use for that purpose, you must double check all the references done with the help of it: a citation maker automates the process and you revise bibliography to polish all the details. That's how it works! So, here are some details you need to remember about Turabian.
Turabian Formatting
Margins – 1";
Font – Times New Roman 12 size;
Spaces – double spaced (there are exceptions though; you should check the Turabian manual for more details).
Turabian Reference Citations
Book (single author or editor) – Author's Last Name, Author's First Name. Title of Book: Subtitle of Book. Place of Publication: Publisher's Name, Date of Publication.
Clemens, Lieselоtte. Оld Lutheran Emigratiоn frоm Pоmerania to the U.S.A. : Histоry and Motivatiоn, 1839-1843. Kiel, West Germany: Pоmeranian Fоundatiоn, 1976.
Journal Article in Print – Author's Last Name, Author's First Name. "Title of Article: Subtitle of Article." Title of Journal Volume Number (Date of Publication): YY-YY.
Strоhschänk, Jоhannes, William G. Thiel, and Max Kade Institute fоr German-American Studies (University оf Wiscоnsin–Madisоn). The Wisconsin Office оf Emigratiоn, 1852-1855, and Its Impact on German Immigration to the State. Madisоn, WI: Max Kade Institute for German-American Studies, 2005.
Journal Article Online – Author's Last Name, Author's First Name. "Title of Article: Subtitle of Article." Title of Journal Volume Number (Date of Publication). Accessed Date. URL.
Schlemper, M. B. "Frоm the Rhenish Prussian Eifel tо the Wiscоnsin Hоlyland: Immigratiоn, Identity and Acculturatiоn at the Regiоnal Scale." Jоurnal of Histоrical Geоgraphy 33, no. 2 (2007): 377-402. http://www.sciencedirect.com/science/article/B6WJN-4KRY3YV-1/2/e32171402b1650a576a754073076ef15d  (accessed April 28, 2009).
Turabian vs Chicago
Turabian and Chicago styles are almost identical. In essence, Turabian is aimed at simplifying several aspects of the Chicago citation style which targets students writing papers that are not necessarily meant for publication. The main differences between the two are related to the numbering system for notes. Chicago makes use of various parentheses and then by a period, space, and source information.
Turabian makes use of superscript within the text of a paper and footnotes. The subscript number must have the name of the source information.
Citation Maker: Turabian Problems Solved!
There's a wide range of online programs nowadays that can help students cite sources properly. In college, it is important to have extensive knowledge of the main referencing styles – APA, MLA, Chicago and Turabian. Professors may have different requirements, and these usually depend on the type of paper you are asked to complete. Knowing the rules by heart is often a challenge. In this case, you are advised to use a Free Citation Generator. This online tool is free of charge; it is easy to use and implement, and it usually supports all citation styles. All you have to do is introduce the name of the paper and some basic details (year of publication, author, etc,) and the tool will do the rest. But, don't forget to double check!