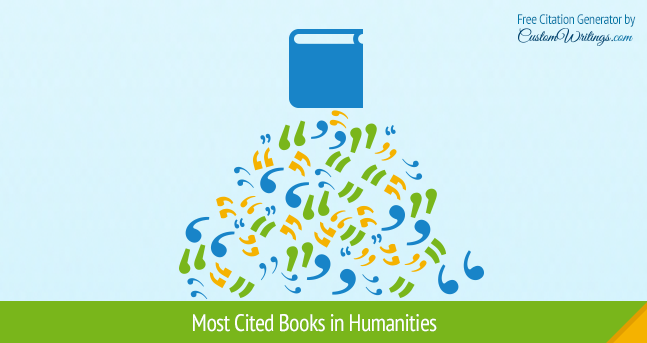 Humanities can be described as the study of how human beings operate and document their experience. Since the beginning of civilization, we have used philosophy, religion, history, art, literature, music and language to understand and record our world. These methods of expression and comprehension have become subjects under the humanities umbrella and philosophers, sociologists, anthropologists, historians, linguists and artists are the preachers of this field of study. So, let's find out which ones have become the famous authors of 8 most cited books in humanities.
"Discipline and Punish" by Michel Foucault
French philosopher Michel Foucault was also a philologist, historian, and literary critic. His "Discipline and Punish: The Birth of the Prison" was published in 1975. The book studies the social and theoretical mechanisms behind the major changes that took place in western penal systems during the modern age.
"Distinction" by Pierre Bourdieu
Bourdieu's theories are concerned with the dynamics of power within society. The book is basically a sociological report on French culture, based upon the author's practical research, from 1963 until 1968. Bourdieu suggests that those with immense cultural capital, which is a non-financial social asset such as education, are most likely to establish cultural patterns and preferences in society.
"Of Grammatology" by Jacques Derrida
"Of Grammatology" was published in 1967 and is still acknowledged as a fundamental text for deconstructive criticism. The core subject of the book is philosophy and it discusses writers such as Claude Lévi-Strauss, Jean-Jacques Rousseau, Ferdinand de Saussure, and Edmund Husserl. "Of Grammatology" argues against the concept of writing being merely a derivate form of speech.
"Self-Efficacy" by Albert Bandura
Albert Bandura is an expert in the field of psychology, including social cognitive theory, therapy, personality psychology and cognitive psychology. His "Self-Efficacy: The Exercise of Control" is a book which covers topics such as theoretical perspectives, the nature and structure of self-efficacy, sources of self-efficacy and various others.
"Critique, Action and Liberation" by James L. Marsh
"Critique, Action and Liberation" is Marsh's original work where he discussed and developed a social and ethical theory of the self as a communicative subject. The book discusses work of Habermas, Adorno, Offe, Marcuse, Marx and David Harvey.
"Truth and Power" by Michael Foucault
In this book Foucault focused on the queries and major theoretical trends he faced during his career. He established in the text that truth and power had always been somehow intertwined with human experiences. He conducted studies in asylums and prisons as they replicate a strict power structure.
"Moral Disengagement" by Albert Bandura
If you are among those who wonder why good people commit bad actions, then you must read this book. Bandura described moral disengagement in detail. He provided a definitive explanation of why people often disengage their moral self-sanctions from their harmful conduct.
"Human Nature and Conduct" by John Dewey
John Dewey assumes that there is an inherent lacking in human nature. In this book, he explained why he thinks rules, various punishments, and threats can make humans behave differently, perhaps against their nature.
These books are the core of humanities. Thus, every person who deals with this field should know these authors and their works in detail. So, be sure to copy this list and use the books as your sources for research in humanities.
Also make sure you use our Free Citation Generator, which will help you prepare proper citations in no time at all!