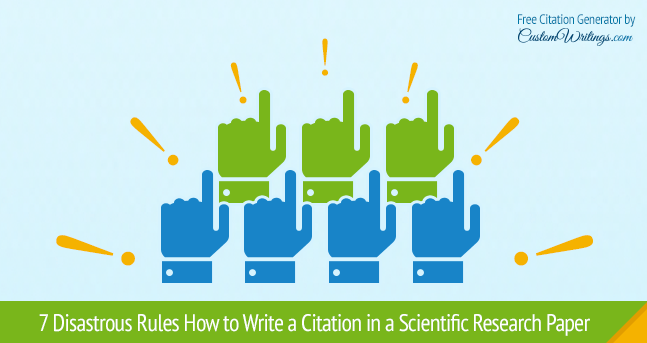 Wouldn't you like to know the secrets of writing an excellent scientific research paper? Sure you would. But to do that, you need to learn to add citations into your paper to steer clear of plagiarism accusations, as well as back up arguments and claims. Do it in a style to wow your professors and you will gain their undivided attention! We've prepared some amazing tips to help you out. Craft a "masterpiece" with the following guidelines on writing a citation for a scientific research paper.
1. Ignore the Running Head
You shouldn't even bother to write a running head for your scientific research paper. It doesn't matter that much. Who cares that a running head is actually the title of your paper?
2. Writing Citations without Commas? Sounds Nice!
While writing a citation, commas are not required. So why add them? It's better just to ignore them and move on.
3. Bogus Quotes? Hell, Yeah!
When creating a scientific research paper, adding the right quotation is not at all recommended. False claims or statements that cannot be backed up with proof are the "real deal" for your paper.
4. "Their" Quotes? My Property!
Adding quotes in a scientific research paper will help you craft a "masterpiece". It doesn't really matter to whom those quotes belong. Just write them down, and make them your own. Copy and paste complete paragraphs from books and journals, and you'll be a star writer. Nobody will know that they are not your own thoughts.
5. Oops, Forgot to Write the Name of the Author for a Citation
You are advised just to write the name of the author when adding a citation. No need to include the name of the paper, publishing year, or number of pages. In addition, you do not have to pay attention to formatting; professors will not even tell anything if you mix APA with MLA.
6. Quotes, Quotes, Quotes … They Must Be Everywhere!
Quotations are highly advised when writing a research paper. Add them whenever you feel you're running out of ideas. Stop worrying about adding the name of the author or any other details; they do not matter.
7. I Guess this Citation Was Written by …
Guessing an author's name when citing a source will do just fine. Do you really think someone will check to see if the paragraph was actually written by the person that you have mentioned? Nope! Guessing source's authors is trendy these days. Everyone else is already doing it, so why shouldn't you do it too?
No matter how great these rules sound, these 7 insane "rules" we have presented above about how to write a citation in a research paper are a huge No-No. If you want to gamble, you should do it somewhere else. Writing scientific research paper is a lot more challenging than it may seem. The first thing you need to do is to pay close attention to the details. Knowing the rules mentioned above will spoil your work and your final paper will have zero value in the eyes of your professor. Thus use our Free Citation Generator to have a splendid citation in your scientific research paper.